If you're fond of a special place in New England, you can use natural stone in your home improvement project to incorporate that same feeling into your living space. When you're in the planning stage, having an idea of the color scheme and style you're looking for is an essential starting point. Here's everything you need to know about three classic New England stone options you might consider to add the right touch to your home.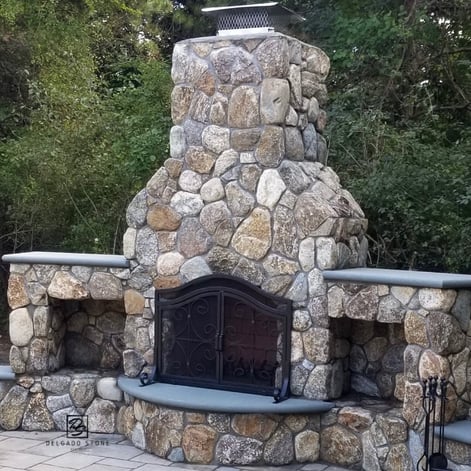 Old New England Rounds Fireplace in Plymouth, MA (Credit: Nickerson Masonry)
This stone is weathered fieldstone harvested in Connecticut and native to the New England area. It's the most traditional stone wall material used in New England, and is commonly used for chimneys, fireplaces, and retaining walls as well. The weathered, monochromatic earth tones and rugged texture create the rustic, traditional feel of a cabin in the woods or a house on the lake. Old New England Rounds are most popular in the New Hampshire Lakes region, as well as on the shores of New England from Maine to Rhode Island, Cape Cod, and Martha's Vineyard, but you can use this stone to build the same peace and tranquility wherever you are.
A collection of five different stones quarried in Connecticut, our signature collection features a full range of colors native to New England. It's frequently selected for exterior siding, patios, foundations, chimneys, and fireplaces. With a light to medium textured surface, Connecticut Blend combines shades of blue and light grays, tans, and cream to create a traditional New England look. Connecticut Blend is available in five different shapes: strip, ledge, ashlar, mosaic, and square and rectangle. The variety offers versatility when coordinating with your home's existing features, making it easier to connect colors and themes when personalizing your indoor and outdoor space.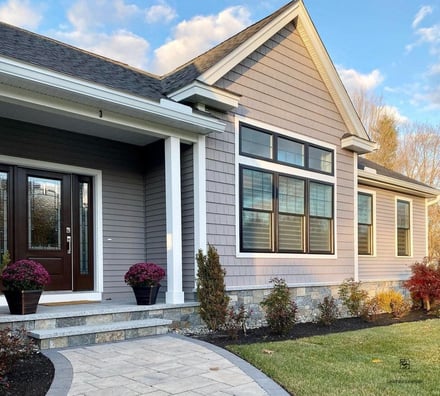 Connecticut Blend Thin Veneer Foundation (Credit: Landscapes by Aurelindo)
Sterling Tan is a light to medium textured quartzite, also quarried in Connecticut. This unique stone gained its popularity in Narragansett, RI and along the eastern Connecticut coastline in the early 1900's. It's most common application is a stone veneer but has recently gained popularity as a flagstone on walkways and patios, especially along the shore and waterways. The light cream colors naturally blended with shades of tan and gray and an overall shimmer create a warm, beachy feel to any project. Like Connecticut Blend, Sterling Tan is also available in five different shapes including strip, ledge, ashlar, mosaic, and square and rectangle, offering a variety of ways to incorporate it into your vision.
Looking for additional inspiration? Download our catalog!