In relation to the long history of natural stone as a building material, thin veneer is still in its introductory stage in the industry. With the introduction of thin veneer, architects and designers have been able to push the boundaries of projects incorporating natural stone. This is due to the sawn thin veneer pieces being significantly lighter weight than their full bed counterpart. One project type that has benefited from thin veneer are interior design upgrades. These inspirational projects are only the start of how natural stone can transform an interior space.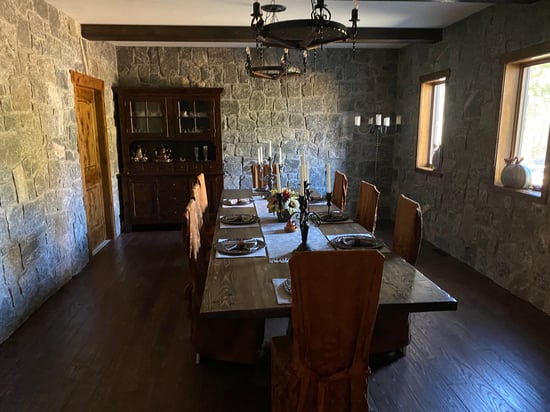 Greenwich Blue Roughly Sq/Rec Dining Room
Interior Walls/Dining Room
Adding natural stone to an interior wall, whether that is a hallway, dining room space, or even a wine cellar can transform the feel of the entire home. Unlike a paint color, a natural stone wall can not be replicated and will immediately be a talking point of the home. This project above is the dining room of a home castle project completed last year in Connecticut. The Greenwich Blue collection was used to create a consistent look from the exterior through the entryway and dining room of this new home build and completed this castle look.
Interior Fireplaces
Connecticut Blend Interior Fireplace by Northeast Walls and Patios Supplied by NH Thinstone
The most popular natural stone project throughout both interior and outdoor spaces is a fireplace. Fireplace features are often the focal point of the home and the unique characteristics of each piece of stone veneer are what make it the premier option for interior fireplaces. When many aspects of interior design can be duplicated, each fireplace project in the hands of a talented mason will be different. The versatility and impact of fireplaces are also what make them a must-have for new home builders.
Kitchen Upgrade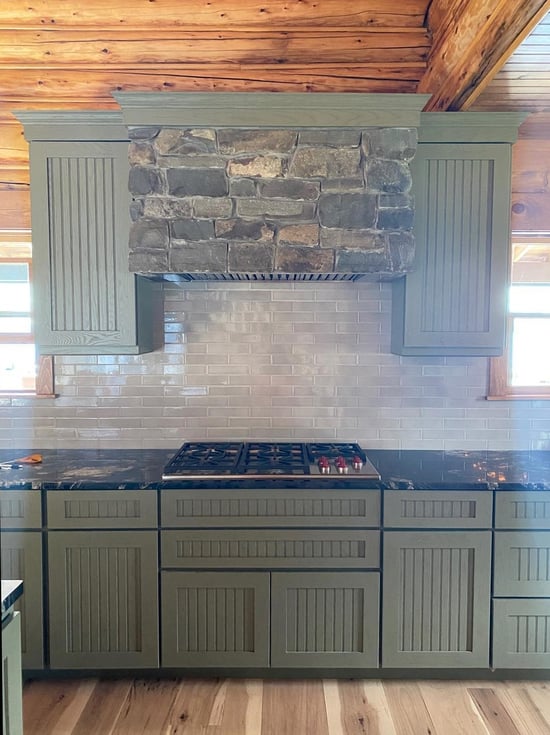 New Kitchen with Fieldstone Dark Ashlar Custom Hood
When discussing using natural stone in a kitchen upgrade most designs will incorporate a natural stone countertop or backsplash. The design team at Rangeley Builders thought outside of the box and created this one-of-a-kind stove hood using the Fieldstone Dark thin veneer collection in the ashlar pattern. The weathered tones of the Pennsylvania fieldstone complimented the natural wood and olive green cabinets beautifully, and even with only a small amount of thin veneer, the impact is undeniable.
Interior design is one of the biggest areas of focus for homeowners looking to upgrade their property and these projects are an inspiration for incorporating natural stone veneer. For more inspirational natural stone projects, download our catalog.