Outdoor living spaces are one of the most common home projects of the 2020s so far. With all of the time spent at home in the past year and a half, escaping outside the house was vital. With this, we saw an increase in all of the popular outdoor projects like fire pits, pool/patio spaces, outdoor kitchens, and exterior living areas. These features often draw inspiration from each other and tie in existing designs and styles. One of the strengths of natural stone is that two projects can be the same size, use the same material and still look different from each other because of the characteristics of each individual piece of veneer. To put a twist on common outdoor projects these talented masons included unique aspects that were made to inspire.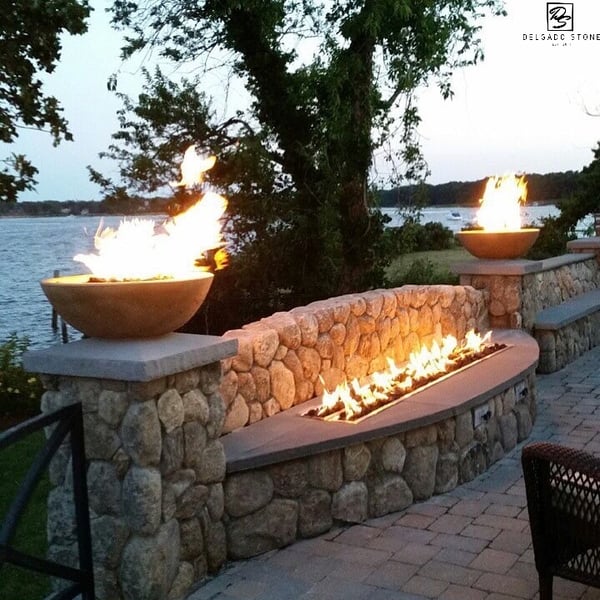 Old New England Rounds Wall/Bench By Able Landscaping (MA)
1. Multifunctional Fire Pit
During a warm summer day, sometimes you need to take a break and sit down on a stonewall bench like the one at the top of this piece. Conveniently enough, when the sun goes down and the temperature drops this bench doubles as a fire pit. This stunning Old New England Rounds wall and seating area are a twist on a conventional fire pit and provide a multifunctional aspect to this space. One of the most important aspects of an outdoor living project is how functional you can make the space you're working with and this project executed on that.
2. Rooftop Living
We mentioned how crucial maximizing the amount of functional space is and this feature is another example of that. When outdoor space is limited by a city-style development, sometimes the only option is to build up. This outdoor kitchen project used a custom blend to create a rooftop escape for the residents of Beacon Hill 2 of Greenwich. This space will be host to many events and also serve as an accessible outdoor space that can be reached by residents without leaving the building.

Rooftop Outdoor Kitchen Made With Custom Blend of Natural Stone Designed By Granoff Architects (CT)
3. Extensive Outdoor Kitchen
Outdoor kitchens are a very common application for natural stone and are typically built as somewhere to spend time with friends and family. Most outdoor kitchens are built as a housing unit for a grill and usually have a small amount of counter space. Sometimes they will be covered by a pergola or gazebo, this feature took coverage of the entire space very seriously. When designing a project of this size that features a bar counter, built-in grill and hood, and a custom pizza oven it requires a structure of this size. This keeps the fun going even when the weather is a factor. This space will serve as a year-round escape with features fitting all seasons and can host groups of all sizes.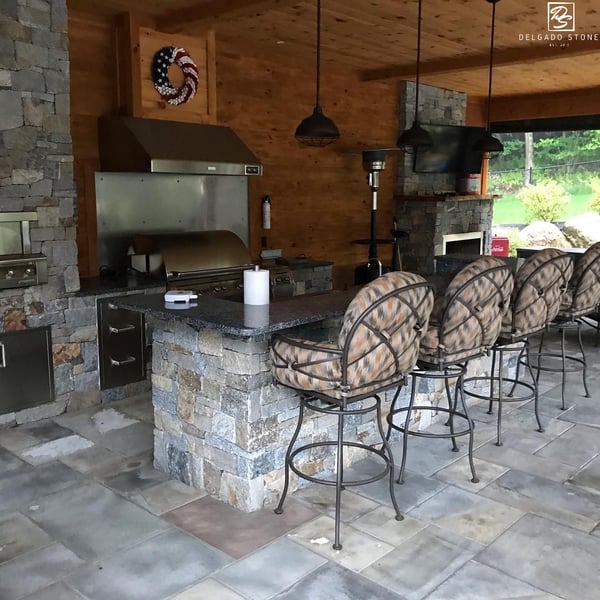 CT Blend Ashlar Outdoor Kitchen Area By CR Hardscapes (NH)

4. Raised Fire Pit Project
Inspiration can be drawn from anywhere and this project inspires creativity in a number of ways. Most patio spaces that incorporate a fire pit will include it atop the leveled space. This feature put a unique spin on that by adding a raised area that helped bridge the bigger patio space to the yard. By adding landscape boulders and a mulch bed around this space it helped not only complete this look but make it the star of this whole landscape. The mason for this project used fieldstone for the patio material and Split Fieldstone Mosaic for the stone veneer.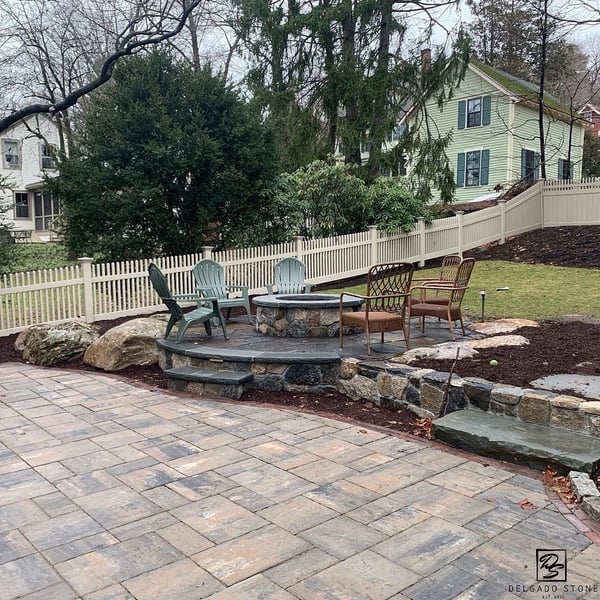 Split Fieldstone Mosaic Patio Space By Redmond Design Group (MA)

The outdoor living trend will continue to dominate throughout the industry as more people look to upgrade their space with areas to host their friends and family. These 4 projects serve as inspiration for any traditional feature looking for its own individuality.