Starting a new home improvement project is always exciting and whether it is an interior, exterior, or landscape project there is a lot that goes into it. That excitement of starting a new project fades quickly when it comes time to choose a material. Not only are there hundreds of options depending on what you are building or creating but they all vary in costs and are going to take different amounts of time to arrive on site. For natural stone thinstone veneer alone there are over 100 options with around 20 collections available in 5 different patterns. Sometimes choosing only one pattern is too hard and we are left with these custom masonry projects that mix patterns together for a unique look.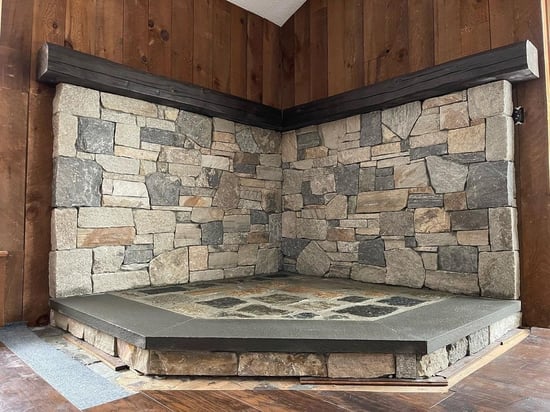 Custom Interior Fireplace Surround by Northeast Walls and Patios
Material Used(Above): Connecticut Blend Collection in the Roughly Square & Rectangle, Mosaic, and Ashlar Patterns.
Natural stone and wood complement each other very well and this interior platform is no different, even when using a small amount of stone a huge impact can be made. What is special about this custom masonry project is that although it features 3 different stone veneer patterns all of them are installed to look as though this is how they were intended to be installed from the beginning. That speaks to the quality of the masonry work to make three very different patterns look as though they are one.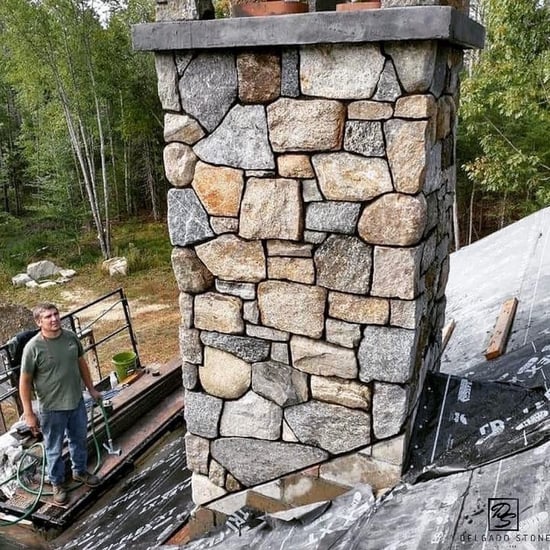 Custom Chimney Project by Mountain Stoneworks (NH) using Material Supplied by NH Thinstone.
Material Used: Old New England Wall Collection in the Roughly Square and Rectangle Pattern, Connecticut Blend Collection in the Mosaic Pattern, Old New England Rounds.
When mixing collections and patterns is brought to the next level we get custom masonry projects like this one. This chimney project is one of the few times that rounds have been combined with other materials. The fieldstone colors from the Old New England Rounds and Old New England Wall are very prominent however the tans and grays of the Connecticut Blend still add a special aspect to this one-of-a-kind chimney.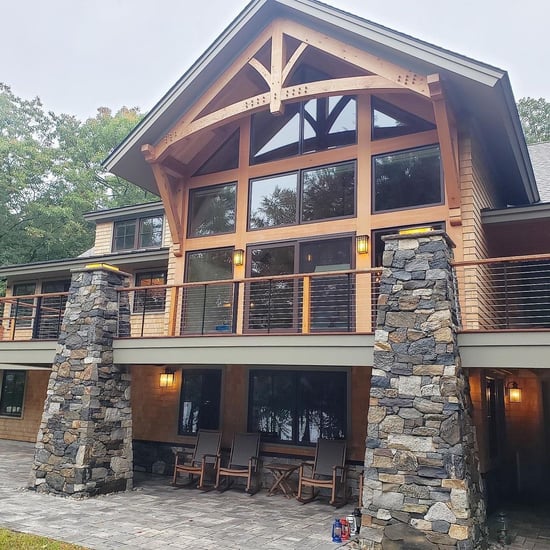 Old New England Wall Pillars by Matt Brannon Masonry (ME)
Material Used: Old New England Wall Collection in the Mosaic and Ashlar Patterns.
The Old New England Wall Collection is the classic, rustic, timeless, collection of earth tone colors that range from weathered white pieces to a dark almost black grey with a lot of tans and browns in between. When this fieldstone collection is used together in a blend of patterns and shapes it fully captures its rustic and classic feel. The mosaic pattern is already irregular-shaped stone and accompanied by the end grain ashlar pieces this project looks like it incorporated material found on-site instead of natural thinstone veneer.
Masonry is an art and much like art every project is unique and custom in its own way. Although these projects used a mix of patterns to create their custom looks there are many masons using one building material to create custom features every day.