Landscape design projects come in a variety of sizes and can be tailored to meet the homeowner's specific needs. Regardless of the size of the property, the primary objective for outdoor living projects is to create a functional and enjoyable space. For smaller landscape designs, this can be a fire pit for the family to gather around while larger projects are often multifaceted with the goal of being ready for any occasion. The landscape design, patio, and outdoor living space created by the design team at Fischer Design LLC successfully provides the homeowners with privacy and the ability to host events of any size. Additionally, the execution of this design has resulted in a stunning and tranquil space that seamlessly ties the entire property together.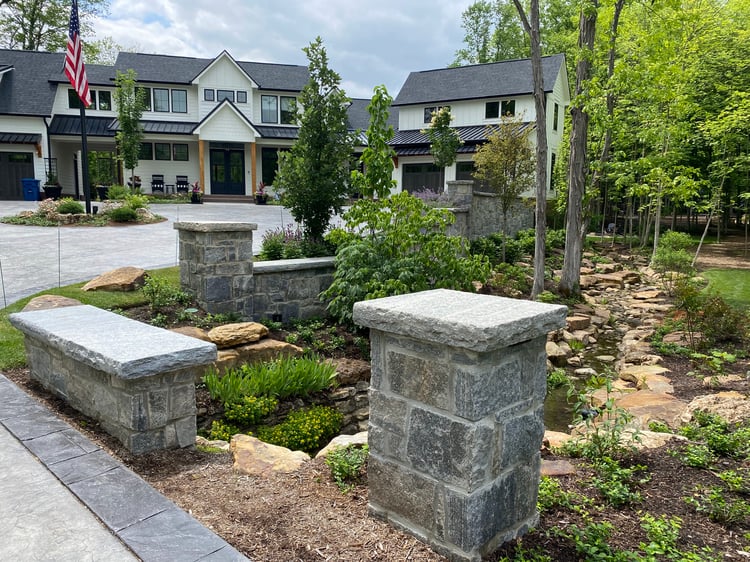 Landscape alongside the driveway featuring Liberty Hill Veneer & Wall Caps supplied by Warsaw Masonry.
The front of the home sets the tone for this design, where immediately upon entering the driveway there are stone pillars and benches featuring Liberty Hill veneer and fabricated Liberty Hill Wall Caps. These are the first of many natural stone aspects across the property. Although the stone pillars and privacy wall are our favorite components of the landscape design in the front of the property, the plantings and natural stream that run alongside the wall add to the overall beauty.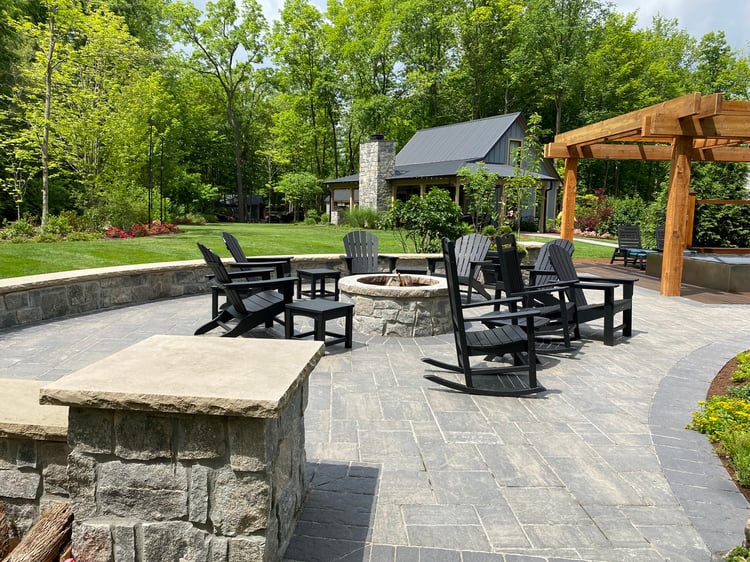 Liberty Hill Veneer seating wall and fire pit.
This space serves as a prime example of a multifaceted landscape design. It includes several seating areas: one surrounding the firepit above that offers a view of another section of the stream from the front of the property, and the complete kitchen and dining setup beneath the covered guest house space.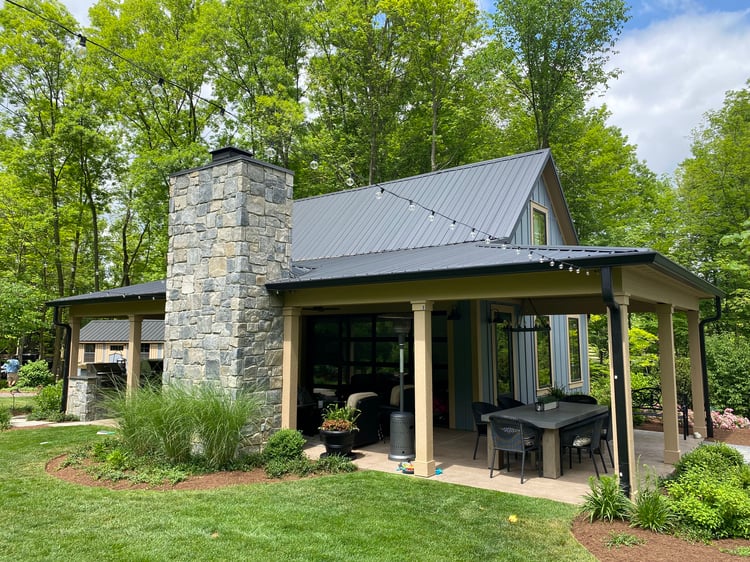 Guest home with outdoor kitchen & dining area.
Whether it's a cozy dinner with family and friends, a peaceful evening around the fire pit, or a grand backyard event, this property is equipped with all the resources needed to ensure an enjoyable time. The incorporation of Liberty Hill Squares and Rectangles in various elements of the design, including the landscape in the front of the property, outdoor kitchen, fire pit, fireplace, chimney, and seating walls in the backyard, effectively unites the entire design. The stream that flows through the property and the lush greenery that complements it are the finishing touches to this masterful design. If you're considering adding natural stone to any part of your property, our E-Book is a great resource that provides inspiration with 27 Ways To Upgrade Your Home Using Natural Stone.