One of the best parts of the holiday season (and the entire winter) is enjoying the warmth and coziness of a fireplace. Whether looking to escape the cold or enjoy the company of family and friends, a fireplace renovation or addition is a worthwhile investment when it comes to visual impact and functionality. If you're looking for inspiration for stone fireplace designs, these holiday-decorated projects are a great place to start!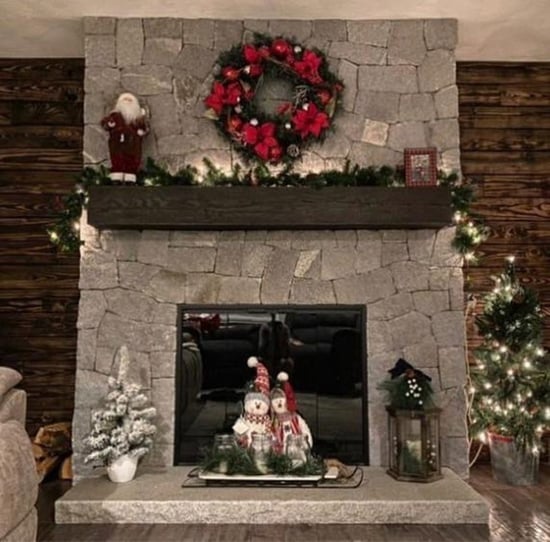 This Fitzwilliam granite fireplace with holiday accents adds extra warmth to the season.
The Fitzwilliam granite fireplace project consists of a mostly grey color, with occasional white veins and weathered pieces. The floor-to-ceiling design and craftsmanship by Fougere Landscaping created a great centerpiece for this living space that complements the wood flooring and walls (with stone provided by Landscape Depot and with the assistance of Hardscapes by Design.) This project is sure to be a conversation starter and a great spot for entertaining all year long.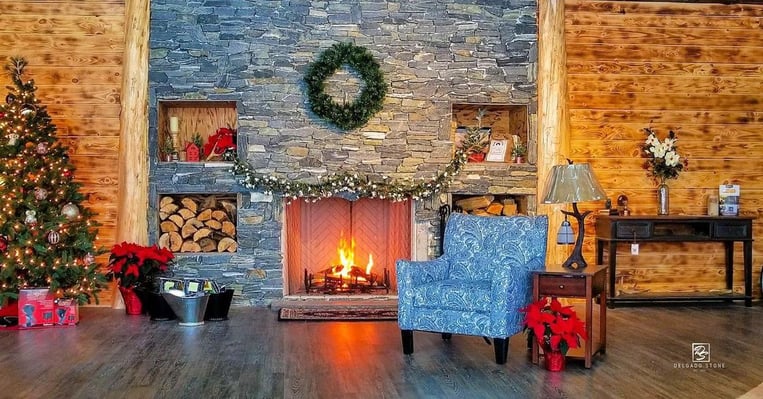 American Mist Ledgestone fireplace makes a perfect spot to celebrate the season.
This American Mist Ledgestone fireplace is a showroom display at one of our Authorized Dealers, Gagne & Son in Maine, and is undoubtedly a favorite spot to gather, especially during this season! American Mist, with its dark grey tones, with some white, tan, and hints of green makes a stunning backdrop and accent wall, and the shelves and storage space make it even more functional.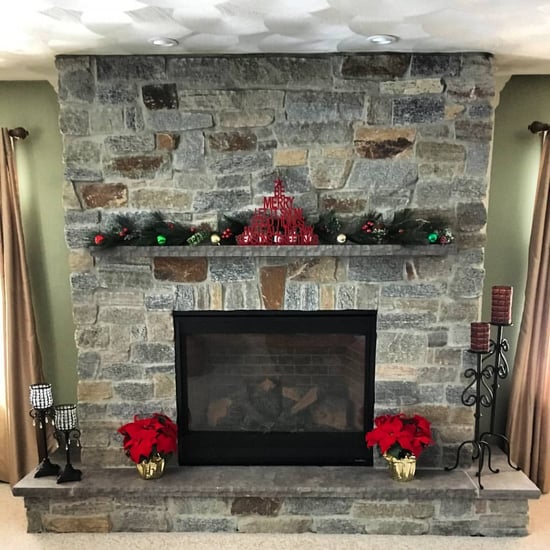 Connecticut Blend Ashlar adds a classic New England look to this living space--and cozy holiday setup.
The Connecticut Blend Ashlar is a great choice for a variety of projects because of its color range and versatility. Shades of blue, grey, tan, brown, and cream in this collection make it ideal to coordinate with different features and spaces, and can add a touch of New England anywhere. As seen in the photo, the classic look and color scheme adds extra warmth to the holiday glow and makes a great spot to enjoy special occasions and downtime.
Even on regular days, fireplaces add a special atmosphere and create focal points for indoor spaces, which are extra valuable during cooler weather. While these stone fireplace designs create impact all on their own, we think they're more magical with the holiday cheer! For more stone fireplace design inspiration, download our catalog.