A well-designed patio adds value to your home in more ways than one. Going the whole nine yards in setting up your patio, however, can get expensive. The cost of the finest patio furniture and materials can easily run up to thousands of dollars. You can still achieve amazing patio designs on a budget though. Here are some ideas that may help you achieve just that.
Colorful concrete
If you have a concrete patio, just adding a splash of color to each concrete tile can make an otherwise bland space into a rich and vibrant area where your kids can enjoy endless hours of fun activities. Using spray paint would be a good idea, and you can change the colors anytime.
Outdoor curtains
Is your west-facing patio soaking up a little too much sun? If you and your guests are bothered by the intense rays of the sun, you can always set up a simple shade solution using outdoor curtains. Aside from blocking out some of the direct sunlight, these curtains can also provide more privacy for you and your guests.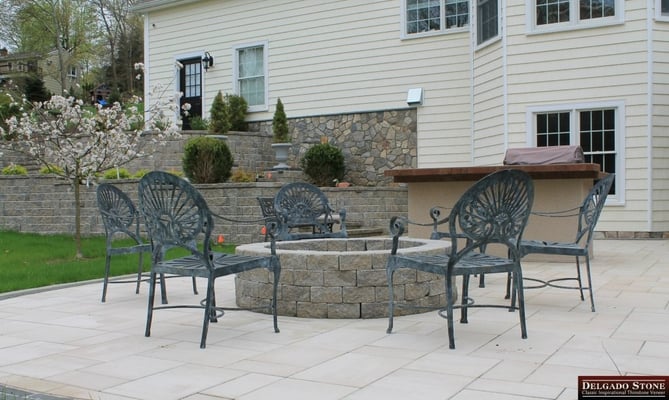 Fire pits
A patio with a fire pit will always look great. A patio fire pit with natural stone veneer facing will look even more incredible. Come to think of it, any part of your patio that makes use of natural stone veneers gives the space a touch of elegance without breaking the bank.
Use salvaged materials
The word "salvaged" alone should give you an idea that you can design a fabulous patio using materials that are inherently cheaper. The salvage bins of home improvement stores can provide you countless inspirations for an eclectic and budget-friendly patio. Do some mixing and matching, and you will come up with a patio with a look that your guests won't forget anytime soon.
Old tires as planters
Many homeowners who want to beautify their patio with plants typically go for store-bought planters. Instead of spending money on these fancy containers, why not recycle your old tires and create an outdoor container garden using them? You can paint the tires with bright colors and put them in strategic spots around your patio.
There are unlimited ways of making your patio look as amazing as it can get without having to spend a fortune. The ideas mentioned above are just a tiny fraction of what you can do for your patio. All you need is your imagination, and you'll come up with many more ideas for your patio.
______________________________________________
About the Author
Thomas A Barnhart is a content writer for Patio Star AZ who enjoys writing about anything under the sun. When he's not busy creating online content, he runs 5 miles a day, hoping to one day qualify for a marathon. He lives in the suburbs with his wife Kaitlyn and three adorable kids. Check out https://www.facebook.com/patiostaraz/ to know more about Patio Star AZ.