One of our most popular collections, Connecticut Blend, is selected for a variety of interior and exterior home improvement projects, and it is a common choice for a new fireplace feature. One appealing characteristic of natural stone is the different colors and textures in each piece, and Connecticut Blend showcases this even more because it has five individual stones within the collection. It offers a full range of color and depth to each project with shades of blue, grey, tan, brown, and cream. The projects featured here are a great example of how one collection can inspire different creativity, designs, and installations, and each highlights a different aspect of what Connecticut Blend offers as a fireplace stone.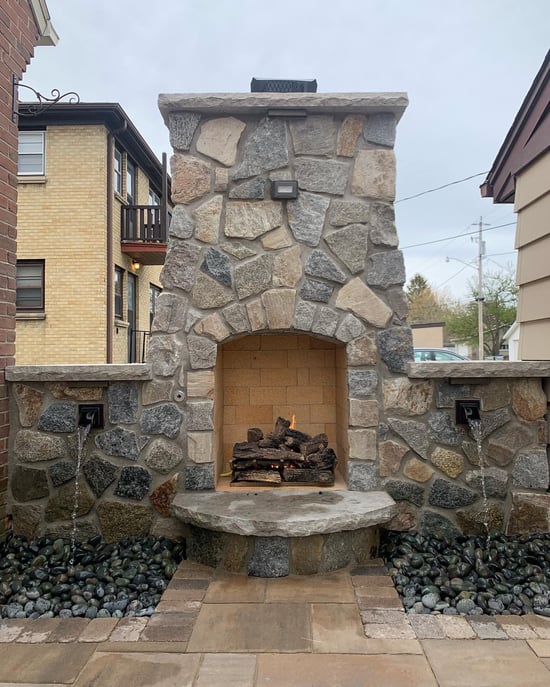 CT Blend Mosaic supplied by Halquist Stone
This Connecticut Blend Mosaic fireplace is part of an outdoor living project in Wisconsin, designed and installed by Kelly's Greenscapes. The design multitasks as a fireplace and a wall creating separation between spaces. As impressive as it looks during the day, especially with the water feature and pebbles to add contrast and an element of relaxation, this space makes an equally special impact when lit up at night for gatherings.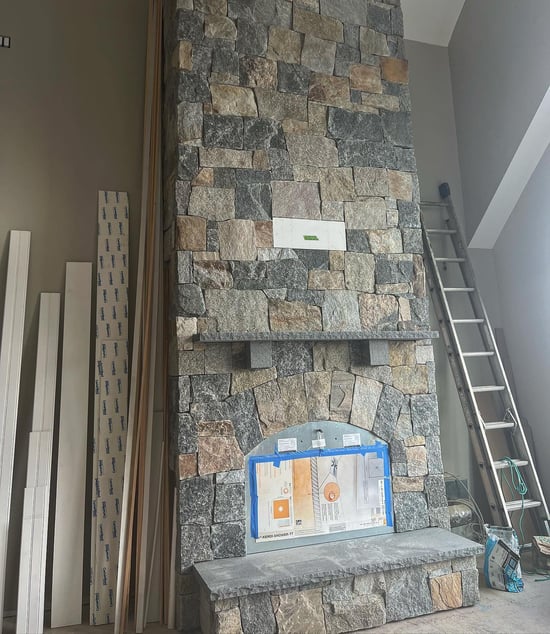 The skilled craftsmanship in this floor-to-ceiling fireplace project in New Hampshire really makes the Connecticut Blend Square and Rec stand out. The masonry work was completed by Old Stone Farm for a Raleigh Lakeside Builders home project. The same stone was also used in the exterior design along the foundation, adding consistency to the overall design as well as visual impact.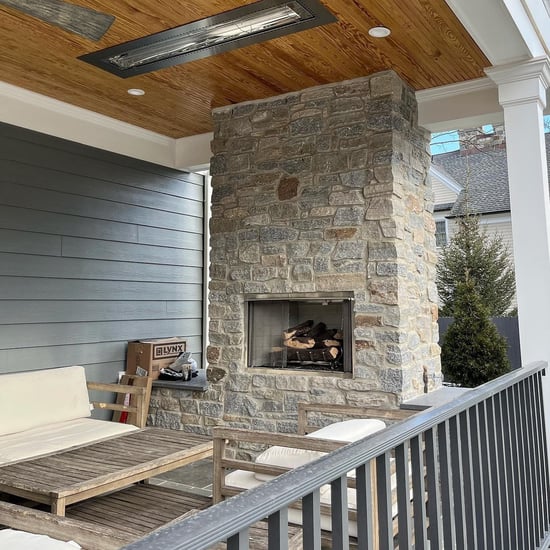 Connecticut Blend Ashlar supplied by Extech Building Materials.
Choosing Connecticut Blend Ashlar for this exterior fireplace project in New Jersey helped blend the different components and existing colors in this outdoor living area. A mix of three different individual patterns, the Ashlar combines different sizes and cuts of stone (including the edge and face) to create a unique but consistent look, with the appeal of the different patterns. The exterior of this home also incorporated the same stone collection for a cohesive and memorable design.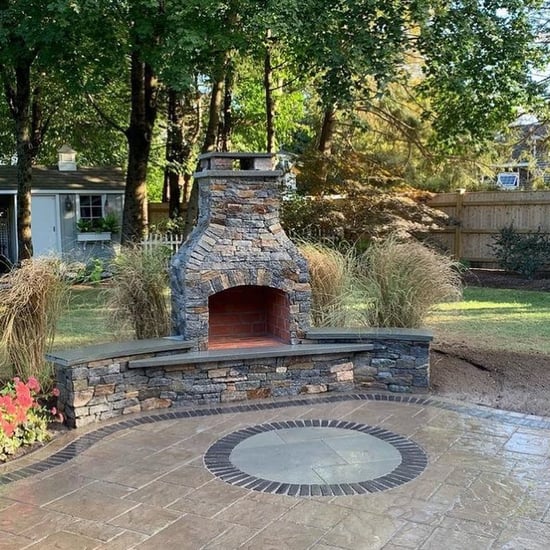 This patio and outdoor living space in Massachusetts was transformed into a beautiful backyard destination to enjoy time with family and friends. With the Connecticut Blend Ledge fireplace as the focal point in this project crafted by BC Murphy Landscape, the patio creates the ideal space for gathering and entertaining across the seasons.
The versatility of Connecticut Blend makes it a great choice for these and other natural stone projects. Even while using the same stone collection, each fireplace has a completely individual look based on natural variations and creative interpretation. The outcome is even more diverse when you factor in the different patterns and installation techniques, resulting in projects that reflect each homeowner's vision, needs, and style. For more natural stone inspiration for your next project, download our catalog.