The majority of masons and contractors know how to install natural thinstone veneers but if it's your first time or you are a homeowner, you may have some concerns. People hear the words "natural stone" and think it's a heavy and complicated process. While we often recommend working with a mason or contractor there are some brave enough to attempt this on their own. This article is for you.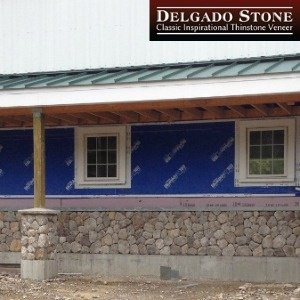 Preparing Your Surface
Ideally the surface you are using is flat and untreated. If it has been treated with chemicals you need to remove it. This can be done by sandblasting, masonry detergents, and in some special cases, acid. Don't worry if the surface isn't smooth. Often times a slightly rough surface can make installation easier.
Installing Over Concrete or Brick
One of the great things about natural thinstone is that it can be installed directly over concrete blocks or brick. You should always check the wall for defects or damage prior to installation to avoid issues later. To be considered natural thinstone it the material must weigh less than 15 lbs per square foot. It's also important that the surface has not been painted or sealed.
If you are not familiar with the concrete or brick wall do some research to find out if it has been treated with any chemicals. Doing it right the first time will save time, money, and stress in the long run.
Installing Over Framed Exterior Walls
When applying natural thinstone veneer to a framed exterior wall a non-corrosive, paper-backed lath must be applied. All studs in the walls should be covered by exterior grade wood sheathing or cement mesh mortar units. The minimum thickness should be ½". Attempting to apply natural thinstone to a wood wall without proper preparation and precautions can cause serious damage to the property and possibly people. As always, take the necessary steps and consult your a trusted mason, contractor or supplier.

It is recommended that you use a Polymer Modified Stone Veneer Mortar for installation. The brand we offer is called Spec Mix but other brands are available. Once again we recommend doing your research to make sure you get the right mortar for your specific job.