We are excited to announce an exclusive partnership between Muskoka Rock Company (Huntsville, ON) and Delgado Stone Distributors (Brookfield, CT). The partnership agreement brings together two of the leading natural stone suppliers in North America and makes Muskoka Granite available across the United States through the Delgado Stone Authorized Dealer Network.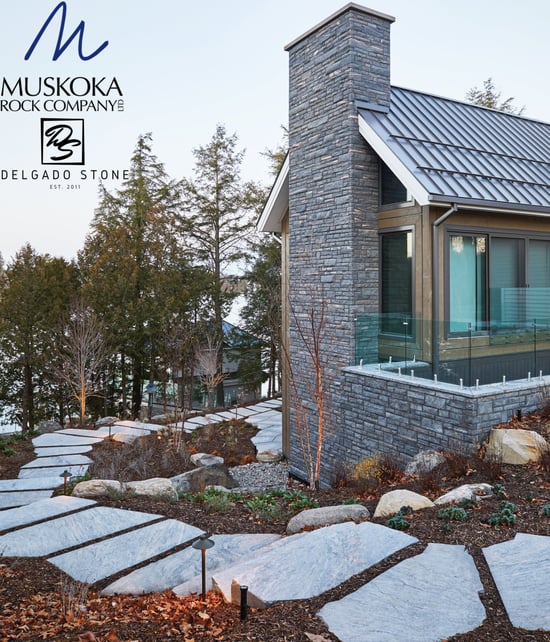 The Muskoka Rock Collection is now available
"It's exciting for this partnership to become a reality", said Delgado Stone COO Mike Wolfe. "The team at Muskoka Rock Company has similar values and culture as our team, and it's reflected in the quality of the material they manufacture. It's a great opportunity for our Authorized Dealers and their customers to work with another beautiful natural stone".
Through the partnership, Delgado Stone will inventory several of the Muskoka Granite products at their Brookfield, CT facility while providing support for the other products available.
About The Muskoka Rock Company
With a mutual commitment to quality and customer service, we have earned the trust of leading professionals in the building and landscaping trades. Locally owned and operated, we provide leading-edge technology and superior customer service for our customers in Muskoka, the surrounding regions and the rest of the North American market.
Our unique rock is found in a number of proprietary quarries throughout the Muskoka region – Van Dyk Natural Stone, Huntsville Aggregates, Milford Bay, Rosseau, Blue Lake and Georgian Bay Quarries. Our quarries are 100% Canadian Shield, offering distinctly different colors and finishes in a variety of textures, creating a robust product line for all of your building, landscaping and aggregate-based projects.