Landscaping stones are quickly becoming one of the "must haves" when creating an outdoor space for your home or commercial project. It's common to see decorative gravel used in walkways and around the pool but this goes far beyond traditional uses. Landscape stone (or rock) is now taking over furniture, driveways, patios, staircases, and barriers.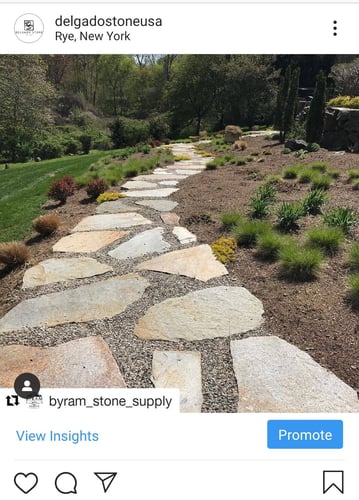 Spruce Mtn. Flagging Post on Instagram
We started seeing an increase in requests for these types of products in 2017 and the trend has taken off since then. As we did our research we learned there are three main reasons why people are looking to use landscaping stone:
It's Cost Effective

Natural Stone is Unique

It's Sustainable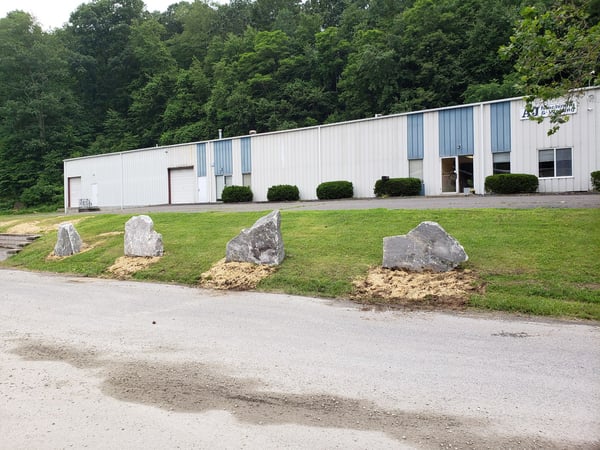 Fitzwilliam Monolithic Landscape Slab Is Preferred to Block or Shrubs
It's Cost Effective
There is a misconception that landscaping stone is too expensive. The reality is that couldn't be further from the truth. Landscape Stone is often competitively priced and when you consider the maintenance and lifetime of the product it becomes much less expensive. Keep in mind the more customization required (fabrication of materials) the higher the cost will be. Keep it simple, natural, and beautiful and you'll be happier with the cost.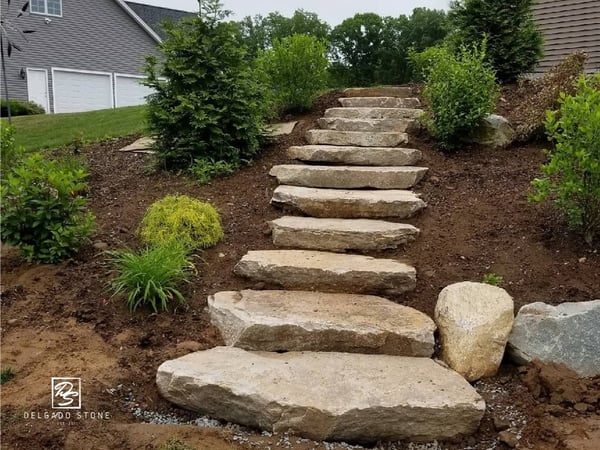 Colonial Tan "Natural" Steps
Natural Stone Is Unique
One of the reasons people love natural stone is that no two pieces are identical. The picture above of our natural Colonial Tan Steps demonstrates how this applies to your project. Although each step is from the same source (quarry) no two are identical and it allows for a natural design that will be unique to your project. Even if your neighbor copied the design with the same stone it would not look exactly the same.
Natural Stone Is Sustainable
Sustainability continues to be a hot button topic as everyone looks to do a little more and be "eco-friendly". We work hard to reduce waste throughout our process and the majority of the waste we create is stone that is crushed and re-purposed. The definition of sustainability is fairly broad (check out the Sustainable Facilities Tool here) but our products are durable, reusable, regionally sourced, and has a minimal negative impact on the environment. Nobody is perfect but we're all looking to do our part to keep the Earth in good shape for future generations.
Landscaping stones come in all shapes, sizes, and have many uses. As you look to reduce your project expenses today and in the future keep in mind how you might be able to save and create a one of a kind project with natural stone.