The increased popularity of natural stone fireplaces has been fueled by the outdoor living trend. Once thought of as secondary, architects, developers, and builders are now including outdoor living spaces as a way to add value and functionality to residential projects. One of the most common features is a fireplace.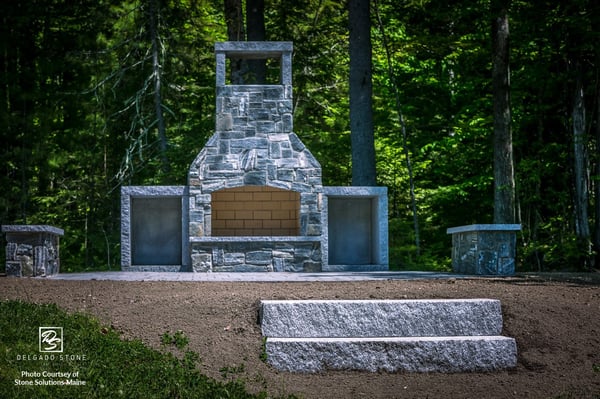 Outdoor Living Space by Stone Solutions Maine
We discovered this project on Instagram (@delgadostoneusa) and contacted the team at Stone Solutions Maine (@stonesolutionsmaine) to see if they would be willing to share some pictures and a little more information.
Natural Stone Fireplace
This residential project was the vision of the homeowner and executed by Stone Solutions Maine. Our American Mist stone veneer was chosen for the fireplace exterior and the foundation of the benches.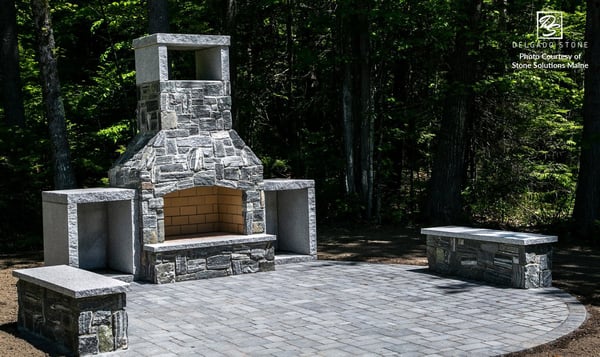 American Mist Featured on the Fireplace and Benches
We were thrilled to see our stone selected for this project and the outstanding craftsmanship that tied in all the parts of the job with the natural surroundings. The granite used for the benches, hearth, and boxes is from Swenson Granite and Genest Concrete while the pavers (Colonial Cobble with a black pearl border) and our American Mist stone veneer came from Gagne & Son, the largest supplier of Delgado Stone products in Maine.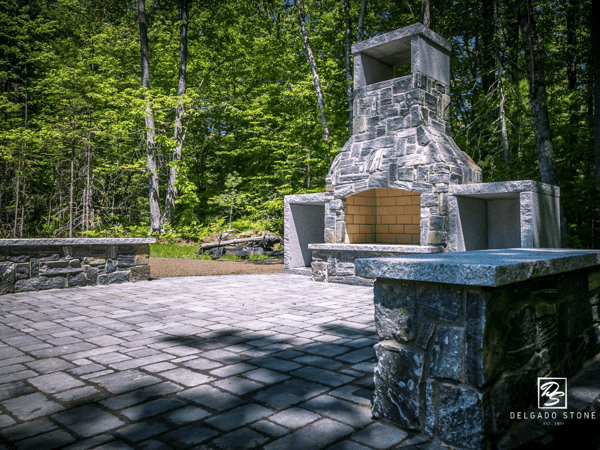 Stone Masonry: Pavers, Benches, and Stone Veneer
One of the most common questions regarding fireplaces and stone veneer is what to do at the firebox. The use of a dark stone veneer, American Mist, allowed for the use of corners along the edge and top of the opening without concern to too much discoloration. A lighter color may have been impacted by the smoke and become noticably darker over time. In some cases people choose to bring the stone to the edge of the firebox opening without wrapping into it.
Fireplace Project Recap
Location: Scarborough, Maine
Masonry & Stonework: Stone Solutions Maine
Stone Veneer: American Mist
Authorized Dealer: Gagne & Son
Photography Credit: Lightwork Photography (Janet Barrett)
Click The Cover to Download Our Catalog!