In 2017 we introduced a line of natural stone flagging and irregular stone steps. These new products were met with excitement as more residential and commercial projects looked for something unique for their landscape. This year we are excited to introduce Sterling Tan Flagging and Steppers.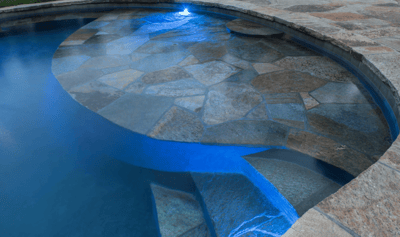 Colonial Tan Flagging Pool Shelf
Sterling Tan stone veneer was added to the catalog last year and has been successful in several of our markets. "When we started to receive requests for additional natural stone flagging products it was the first one we explored", said Director of Operations Mike Wolfe. "We're always looking for new products to meet the needs of our Authorized Dealers and so they can exceed their customer expectations".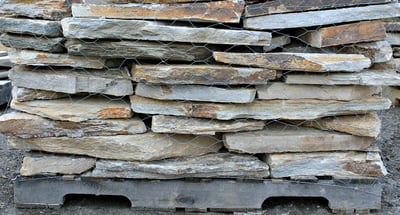 Sterling Tan Flagging Palletized
The addition of the flagging and the natural stone steppers has given us the opportunity to provide another full line to the product catalog. Our Colonial Tan and Spruce Mountain veneer and landscape products have done very well. The Sterling Tan flagging and steppers are available in a limited quantity and can be purchased at an Authorized Delgado Stone Dealer.