We are always on the hunt for project images featuring our natural stone veneer. This project, located in New York, features our New York Blend thinstone in a roughly square and rec pattern. The large residential project called for mostly grey colors with some tan, gold, and yellow.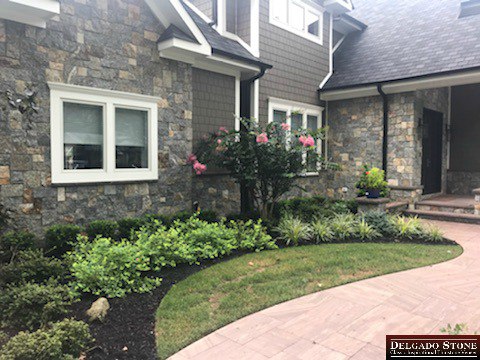 New York Blend Thinstone Siding
Our NY Blend stone veneer combines two locally quarried stones to create a look once popular in Westchester County, NY. Working with a roughly square & rec product allows for a more natural look or in this case, the project called for a more perfect square. It's important to remember any time you cut the sides of the stone it will increase your waste factor.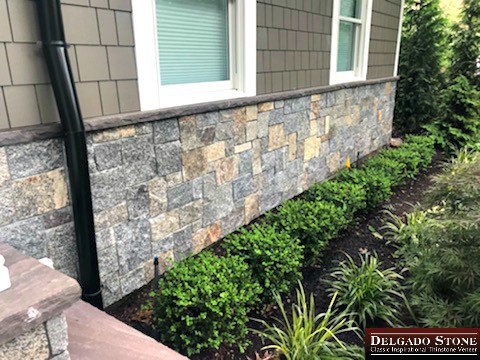 Thinstone Foundation With Siding and Trim
This project called for approximately 1,500 square feet of thinstone and over 150 linear feet of corners. The order was placed and delivered during the Winter (January) so the project could begin at the first sign of good weather. The ability to plan in advance helped this project stay on track and was complete in time for Spring.
NY Blend Entrance with Risers & Column Base Complete
Our NY Blend is often suggested for coastal and "traditional" projects. While it's mostly grey in color, the addition of some yellow, tan, and gold avoids the monotone grey. We created this blend but it is possible to add more tan and yellow if desired. It's your project and you do have some control over the color range within the blend.
At the time this article was written we offer four customer blends: CT Blend, Westchester Blend, NY Blend, and Montauk Blend. Each one is unique and uses the natural stone we source from the Northeast. If one of our blends don't match what you're looking for you can always ask your Authorized Dealer about creating your own custom blend.