It doesn't take a lot of stone veneer to make a big difference in your home. In fact, some of the smallest projects we have seen have had more of an impact than the large ones. It's often not the size of the project that counts, it's what you do with it.
CT Blend Mosaic Fire Pit Adds Color & Texture to This Patio
Everyone may have a different definition of a small project but here are four that we often see that have a big impact on a home.
4 Small Stone Veneer Projects
1. Fire Pit: The picture above shows what approximately 27sf of stone veneer can do. We're seeing more people invest in their outdoor living spaces and even a little stone veneer can help add color and texture to an area. Fire Pits are often small and require a small amount of stone but can round out a project nicely.
2. Risers: As more homeowners create their steps out of bluestone or natural stone they are looking for something for the riser. The most common here is a strip pattern because it provides a longer cut of stone and a flat face but ledge is always an option when working in small spaces. Working with stone veneer adds curb appeal to the front of your house without breaking the bank.

CT Blend Strip Risers Highlight These Bluestone Steps
3. Small Retaining Wall: When you hear the word "wall", your mind immediately goes to a large scale project. A small stone veneer wall along your driveway, garden, or property line, is a nice way to add some natural stone to your property. In most cases these are small and easy projects to get the most out of your natural stone usage.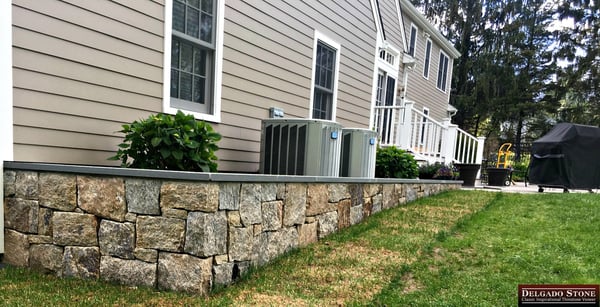 Small Wall: Litchfield Mtn. Square & Rec Full Bed
4. Fireplace: This may be the most common small project that calls for stone veneer. Inside or outside, a fireplace is often what people think of when it comes to stone or brick. We have seen fireplaces of all sizes but if you have a small fireplace this can be a great way to incorporate stone into you home.
CT Blend Ledgestone Fireplace
We have seen many other ways to incorporate a little stone veneer into a home but these four seem to be popular. What other small projects have you used stone veneer? Leave a comment!
Download the Stone Veneer Spec Guide!