The newest edition of the Delgado Stone Catalog was released last month and in less than two weeks all 10,000 copies were distributed throughout the country. As we sent these out to our Authorized Dealers we received countless requests for a digital version.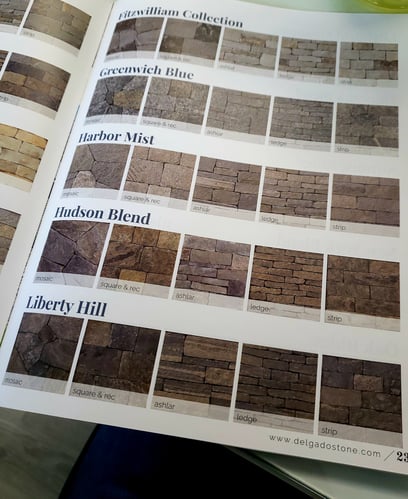 A peak inside the new Delgado Stone catalog
The new catalog was a collaborative effort based on feedback received from our Authorized Dealers, architects, and industry professionals. The collaboration continued as we partnered with a local design firm, River Design (CT), to help bring our vision to life.
The cover features our CT Blend Square & Rec at Del Vino Vineyards
"We were thrilled to receive feedback from our Authorized Dealers and professional network so we could create something they were proud to share with their customers", said Director of Operations Mike Wolfe. "We are always looking for ways to improve and based on the response to the launch of our new catalog this is another step in the right direction".
The collaboration is evident as pictures of completed projects provide product information as well as give credit to the project owner. Additional highlights of the 28-page catalog include product images, product specs (our spec guide is available here), packaging information, and company history.
You can download our digital catalog here or visit your local Authorized Dealer and pick up a hard copy.