Travel and restaurants are coming back strong but outdoor living projects, including outdoor kitchens, are still gaining popularity. Homeowners continue to make improvements to their spaces, which will add joy and value to their lives in a variety of ways. Here are four top perks of adding an outdoor kitchen now!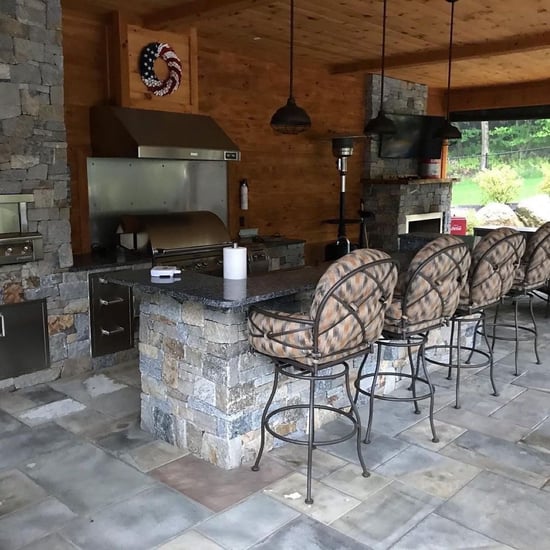 This outdoor kitchen and bar in NH features CT Blend in multiple patterns installed by CR Hardscapes.
1. You can build your own destination.
Eating out is fun and takes the pressure off of hosting, but depending on the space, you're often stationary and unable to connect with guests on the other end of the table. If you enjoy entertaining, an outdoor kitchen is a natural way to create your own gathering space and make the most of the time you have to socialize. No matter how you decide to prepare, cater, or organize a meal among guests, the destination is everything, and you can customize your outdoor design.
2. Make preparing food (and personal space) easy.
No matter how much space you have inside, everyone gathers around the cook, creating unnecessary crowding and overwhelm for the host. When you have an outdoor kitchen, you can lead guests in that general direction to relax, socialize, and enjoy their meal. Carving out a little personal space for food preparation is a benefit, too, and so is the simplicity of cleaning an outside space!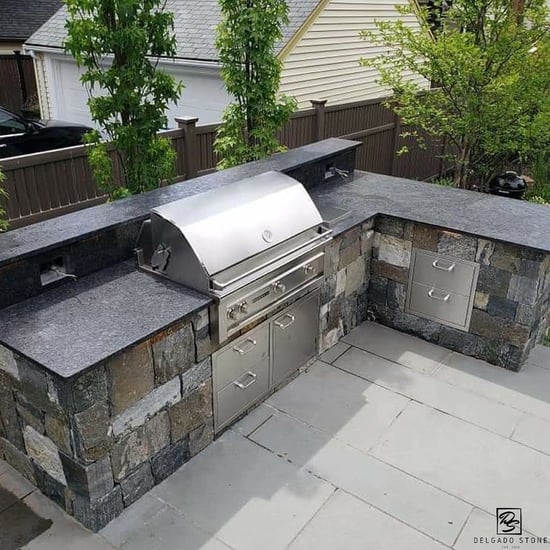 This outdoor kitchen features American Mist by Jason D. Berube with Hardscapes by Design.
3. Extending the living space outside.
Moving outside is a great way to extend your living space, especially if you make special considerations, you can make great use of your outdoor kitchen design for most of the year, depending on where you live. By adding features like a fireplace or fire pit, you can create warmth and a gathering space to make the outdoor entertainment season last longer. Covering your outdoor kitchen with a gazebo or pergola can also help protect it from the elements and give you more opportunities to enjoy fresh air and company outdoors. You can learn more about connecting indoor and outdoor spaces here!
4. Return on investment.
Outdoor kitchens have a higher return on investment rate than other outdoor projects. According to Homes and Gardens, outdoor kitchens are one of the few outdoor home improvement projects that attract buyers and add value to your home. The products you choose, too, especially high-quality materials and appliances, also have a positive impact on the increased value and your return on investment when you sell.
For more inspiration for your next project, download our catalog.