The exterior entryway is one of the first things a homeowner or guest notices about a home. For homeowners, the entryway can become dull over time, which will eventually spark a home improvement project. Both interior and exterior entryways set the tone for the home design so it is crucial for homeowners to be excited about those spaces. One of the ways to positively impact the exterior entryway is by adding natural stone into the design.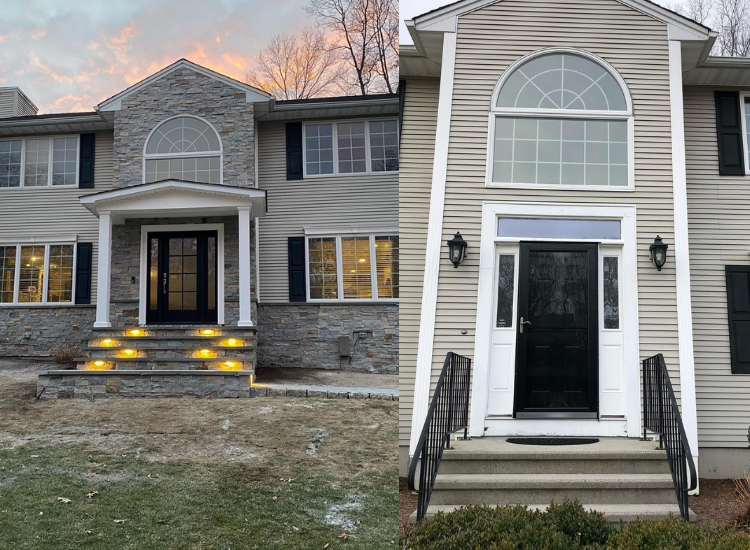 Entryway Upgrade Incorporating Natural Stone by Division One Landscaping Inc.
The entryway design of the home above was in desperate need of an upgrade and the homeowner did not hold back with this design. They decided to extend the entryway in every direction and transform the curb appeal of the home. By adding the pillars and structure over the door, and extending the stone veneer to include the foundation and stair risers, they turned an entryway upgrade into a new home design. This exterior entryway is also more welcoming with a new front door made almost entirely of glass panels and lights along the stairs.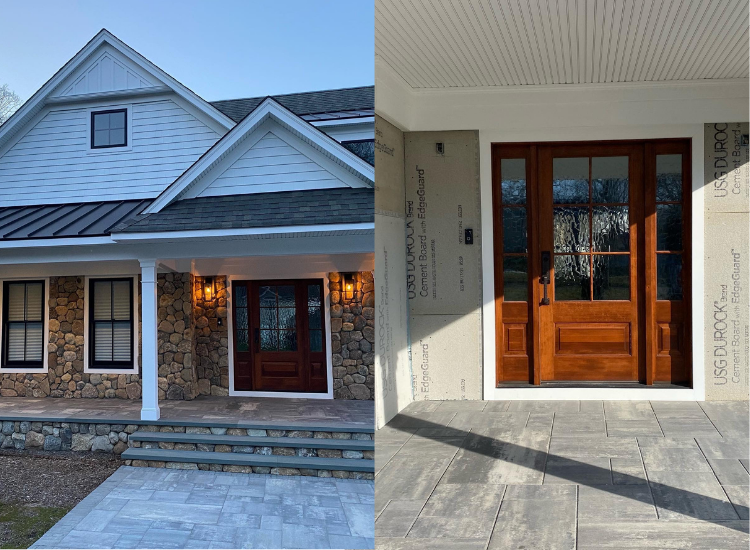 Stone Veneer Entryway and Home Design by Barry Bros. Landscape
The design for this new home build knew exactly which direction to go in and what material they wanted to use. They also tied the whole design together by adding Old New England Rounds throughout this new entryway and alongside the entire front and sides of this home. Another special characteristic of this project is how it combined a modern black and white home design and a timeless fieldstone veneer together. The earth tones of the rounds also help complement the natural wood door. This entryway is one that will get noticed from the street and will hold its value over time.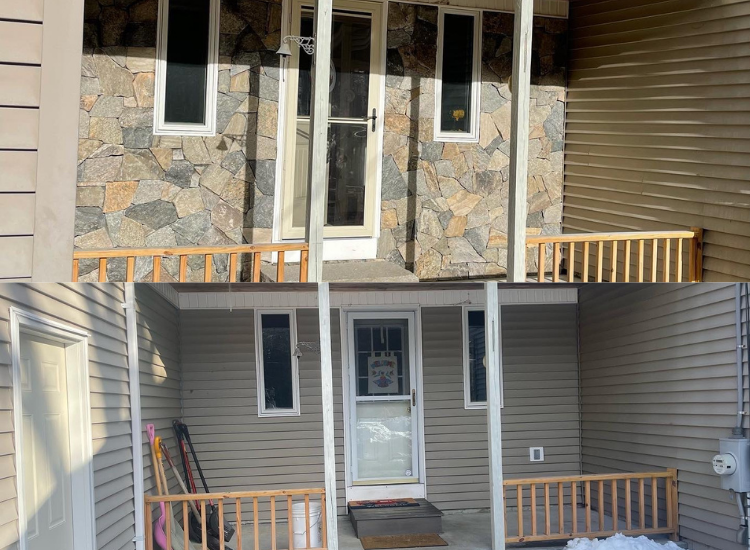 Exterior Entryway Upgrade by Northeast Walls and Patios
Impact is not measured by the size of the project, and without changing many aspects of the entryway, this homeowner was still able to re-energize the space with the addition of the popular CT Blend Collection. This colorful blend of 5 stones will add a pop to any existing space, and the wide color range also helps it effortlessly complement existing features like the wood railing and taupe siding.
The exterior entryway sets the tone for the home, and when it becomes outdated or dull, adding natural stone to the design can completely transform the space, turning it into one the homeowner is excited to enter the home through.
Download The Catalog