When it comes to the technical aspects of installing stone veneers we recommend following the latest recommendations from the Natural Stone Institute and the knowledgable advice of a mason. However, when highlighting different installation styles for natural stone veneer there are two primary ways to classify these different techniques. Most finished natural stone projects will have either a dry stack or mortar joint design. There are many components to both the dry stack and mortar joint techniques however these projects will showcase only the completed look.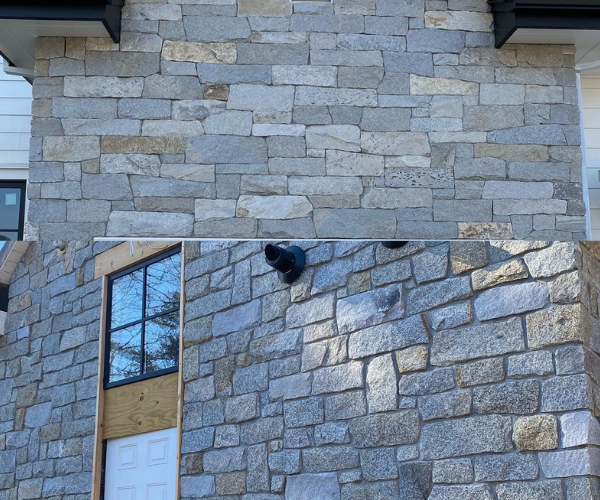 Top: Harbor Mist Strip for a Home Design Project in California, Bottom: Dusty Rose Strip in New Hampshire
What is the dry stack style?
The dry stack technique is when the mason will install the stone veneer pieces flush together leaving no space for a mortar joint in between.
Above are two projects on opposite ends of the country that showcase these two different styles. Both of these projects specified the Strip veneer pattern which is made up of roughly rectangular shapes. These projects showcase how big of a difference a mortar joint can make on the look of the project when using the same pattern. Both the Strip projects above and the Mosaic projects below have very noticeable differences but incorporate the same size/shaped stones. Luckily there are a lot of talented stone workers throughout the country installing stone veneer in both styles depending on their clients' needs.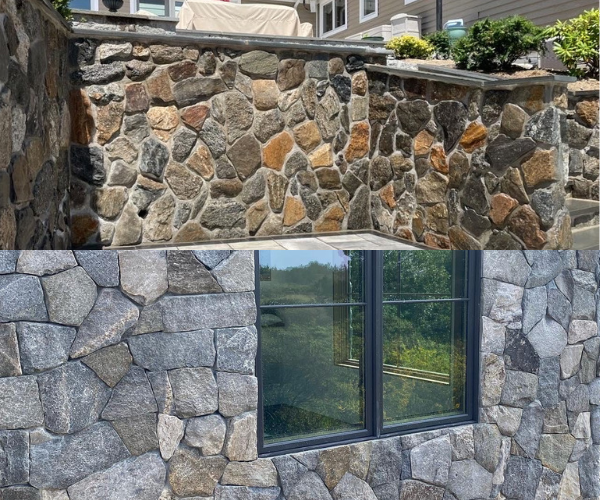 Top: Old New England Wall Mosaic By: S&S Contractors, Bottom: Harbor Mist Strip in California
Although these two main installation styles are easily distinguishable there is also a range of techniques within both styles. For example, the common mortar joint size is typically 3/8 of an inch. However, while 3/8 is the standard masons can create any size mortar joint and can also incorporate different mortar colors as well. The larger mortar joint of the retaining wall above makes the stone look as if it is protruding from the wall. The Dusty Rose Strip project at the top of this page varies drastically from the Old New England Wall Mosaic project shown here.
Whether using a mortar joint or dry stacking the pieces there are still many factors that will impact the style and appeal of a natural stone feature. Every mason, project and piece of stone is different and the end result of the project will reflect that. When choosing an installation style it is crucial to know all of the technical facts and how each style can affect your project outside of the look. Be sure to use the Natural Stone Institute as a resource and consult your mason before deciding on a style.