According to Good Housekeeping magazine, one of the biggest home improvement trends of 2022 is designing bathrooms that feel more like at-home spas. With the addition of clean, simple accents and natural elements, you can build a private retreat to get ready for and recover from long, busy days.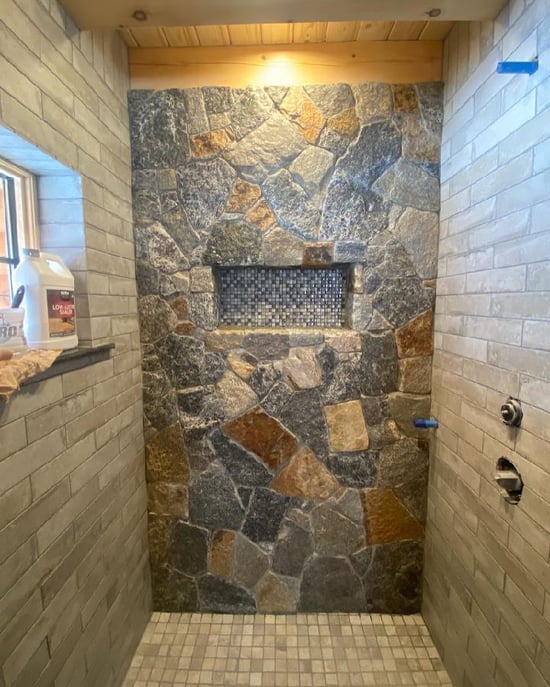 Interior shower wall with CT Blend Mosaic stone veneer
There are a multitude of ways to create the spa atmosphere within your own bathroom space and a variety of materials to help. Popular ways of incorporating natural stone like countertops and backsplashes are now joined by custom shower walls, accent pieces and flooring options as different ways to impact a space.
Stone Veneer Shower Wall
In the New Hampshire residence featured at the top of the page, the Connecticut Blend Collection in the mosaic pattern was a great fit for the shower wall to create a vibrant, naturally calming aesthetic that easily meshes with existing fixtures and themes. This added feature will make showering feel like more of an experience than a routine.
Bathtub Sanctuary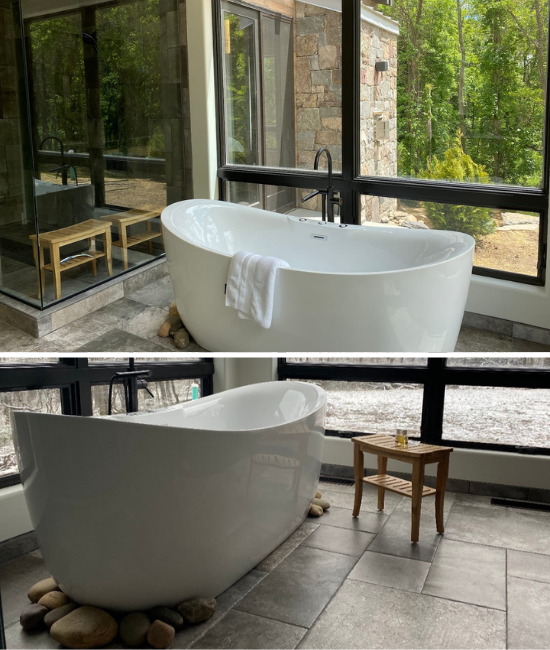 Bathtub with views of nature and river round stone accents
If you're looking for accent inspiration, this is a great example of how a little stone can make a big impact. The homeowner chose Newport Rounds to place around this tub to add an extra connection with nature while you sit and admire it through the large windows. Bath time has never been as peaceful as it is in this home.
Interior Flagstone Floor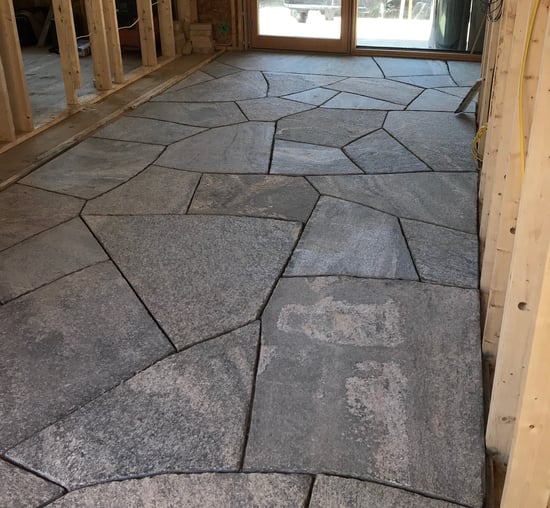 Liberty Hill Flagstone for Interior Flooring in New Home Build
This interior design work-in-progress features natural flagstone material for the floor. Typically featured in landscape design projects like walkways, patios, and pool coping, natural flagstone creates a unique feel inside, too, and is well-suited for an at-home spa. The use of flagstone for indoor flooring helps create a connection between the inside and outside of the home.
Regardless of the size of the space, adding a touch of natural material to a new or existing feature can create a soothing, spa-like atmosphere. Home improvement projects spanning inside and outside of the home continue to be a priority for homeowners spending more time in their own space.