We often have conversations about the benefits of natural stone veneer compared to other materials, and one benefit that always comes up is originality. No two natural stone projects will ever look the same. This is due to the color differences in each individual piece as well as the installation techniques of the mason or contractor installing the material. For the ashlar pattern as well as the other popular veneer patterns, there are many installation techniques and different styles.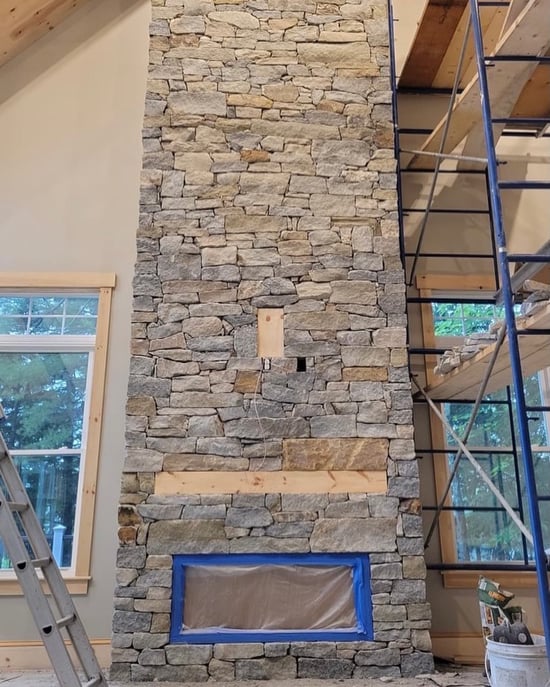 CT Blend Ashlar Fireplace By Casey Lebel (ME)
The ashlar pattern is a unique collection that incorporates approximately 50% Strip pieces, 25% Ledgestone, and 25% small Squares. This makes the installation of every project especially unique because of the variety of designs with each of the three shapes. For the featured project, above this CT Blend Ashlar fireplace used a dry stack technique, which means the mortar used to apply the stone is not visible and the pieces are fit flush to one another.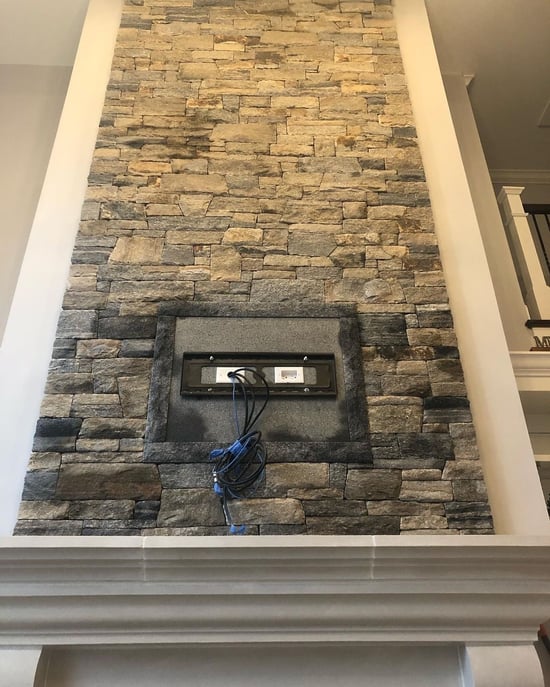 Montauk Blend Ashlar Fireplace Installed by Deluca Masonry (MA)
The ashlar pattern is manufactured from the end grain or inside of the natural stone slab, this creates a more textured material and also exposes different colors than in the stone face. What makes this dry stack fireplace different from the one at the top of the page is the mason "worked" or cut each individual piece to create more of a rectangular and linear look compared to the more natural and rough install on the CT Blend Fireplace featured at the top.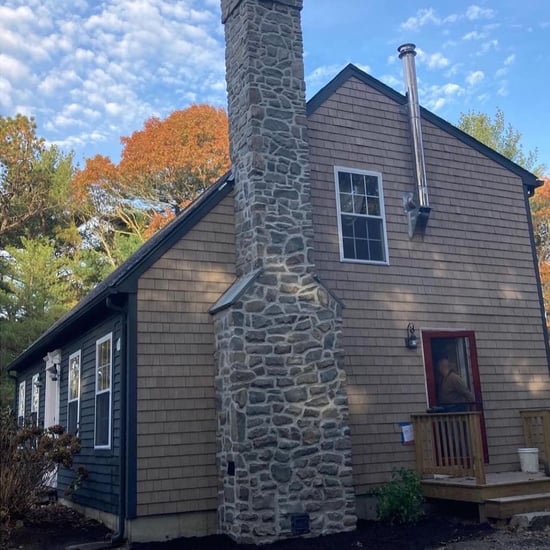 Fieldstone Dark Chimney in Ashlar Pattern by Morgan and Sons Masonry (RI)
A very drastic alternative to the dry-stacked ashlar patterns is this installation of the Fieldstone Dark Collection that incorporated a large mortar joint that turned the material into more of an irregular mosaic look. Adding a mortar joint in between each piece is a common practice for many masons and adds an extra layer of protection from the elements.
There is no right or wrong way to install the ashlar pattern or any of the other stone veneer patterns. Each mason who installs it adds a special aspect to every project by showcasing their technique. Overall there are many ways to install this pattern and masons continue to create one-of-a-kind projects using it.