Selecting a color for a natural stone feature is the first step in your project, and selecting the pattern is another important factor in the outcome--and in creating the atmosphere of the space. There are five veneer patterns: Mosaic, Strip, Ledgestone, Roughly Squares & Rectangles, and Ashlar. The Roughly Squares & Rectangles (Square & Rec) collection pieces are "roughly" 6"x6" and larger, while the rectangular pieces are longer. In contrast to the Mosaic pattern, which fits together like puzzle pieces, and the Strip pattern, which resembles the look of brick, Square & Rec is used to create a clean and more modern look. It is often used for exterior siding, but Square & Rec offers a consistent shape that puts the focus on the color range in a variety of projects. Here are a few different examples that show how you can incorporate the Square & Rec pattern.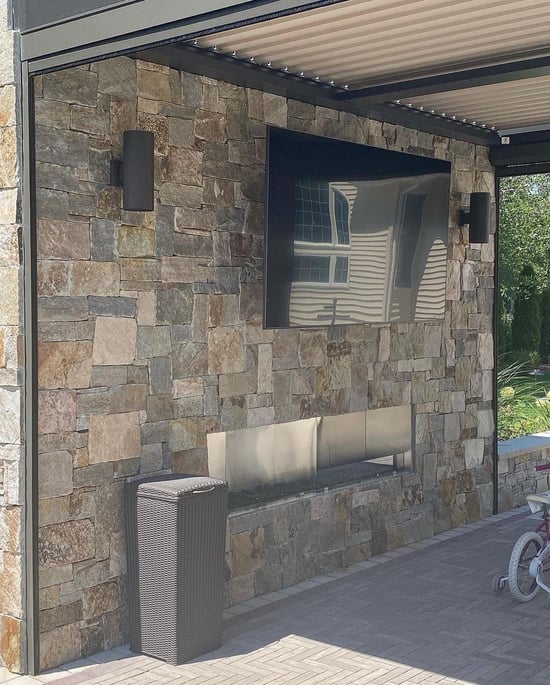 Colonial Tan Roughly Squares & Rectangles supplied by Outdoor Escapes of New England.
In the design above by Division One Landscaping, Colonial Tan Roughly Squares & Rec creates a double-feature entertainment center and fireplace: a perfect spot for gathering and relaxing. The way the Square & Rec pattern showcases the color range is particularly notable here, where the medium tans, greys, and touches of rust and clay colors are on full display. In projects like this one, where more surface area is covered in natural stone, this pattern is particularly flattering.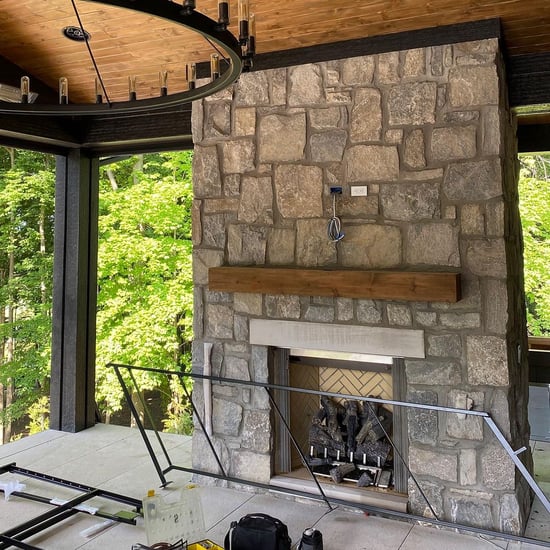 Liberty Hill Roughly Squares & Rectangles fireplace supplied by Brickworks Supply Center.
The Liberty Hill Square & Rec fireplace above showcases the craftsmanship of the design and build team at GG Custom Homes. The clean lines and consistent shapes of the pattern emphasize the blue-grey color and medium texture and add a modern look to contrast with the wood accents on the mantel and ceiling.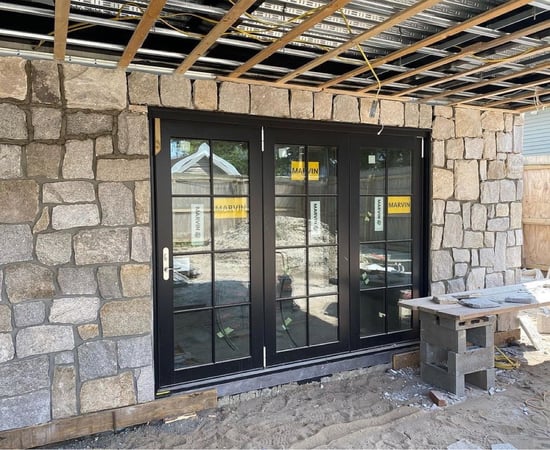 Harbor Mist Roughly Square & Rec supplied by Riverhead Building Supply.
The Long Island home build incorporated Harbor Mist Roughly Squares & Rec on the foundation and exterior accents. As you can see in the photo above, this project exemplifies why the Square & Rec pattern is a popular choice for exterior siding. The face of the stone and the color range stand out, no matter which stone collection is used.
When looking to enhance a modern look, the smooth face of the stone is an asset to any natural stone project, and the Roughly Square & Rec is a great option to showcase it and create memorable features. For more natural stone inspiration, download our catalog.