A new home build brings different designs and materials together to create a personalized finished space. Using thin veneer as one of the building materials can achieve several purposes at once: it is versatile, sustainable, and relatively easy to maintain, and the cost is proportionate to similar building materials. Thin veneer offers all of the visual and long-term benefits of natural stone, but it is lighter and easier to ship and install. There are many ways to incorporate thin veneer into a new home, including these three popular features.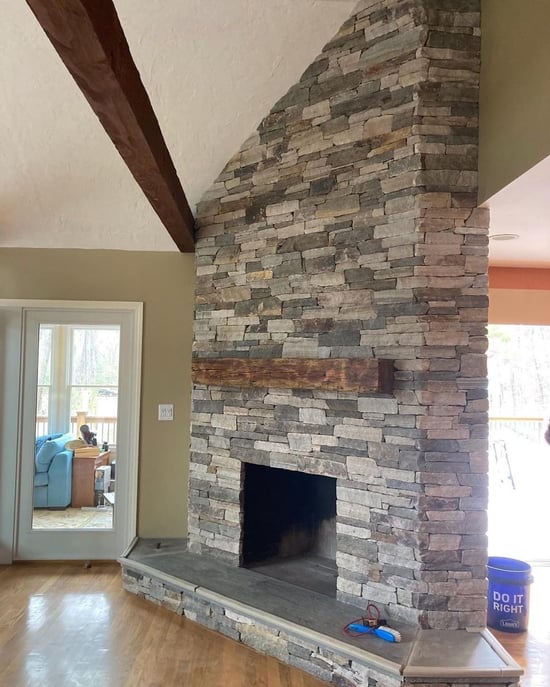 This Colonial Tan Ashlar fireplace was designed by Rob Agocs and the Set in Stone team.
1. A fireplace is so much more than a place to warm up: it creates a focal point for designs inside or outside. Fireplaces easily become favorite spaces for the family to gather and relax, and for entertaining company and hosting special occasions. Using Colonial Tan thin veneer added color and a rustic atmosphere to the fireplace featured in the photo, provided by Georgetown Supply. It has an open layout, which gives structure to the adjacent interior space as well.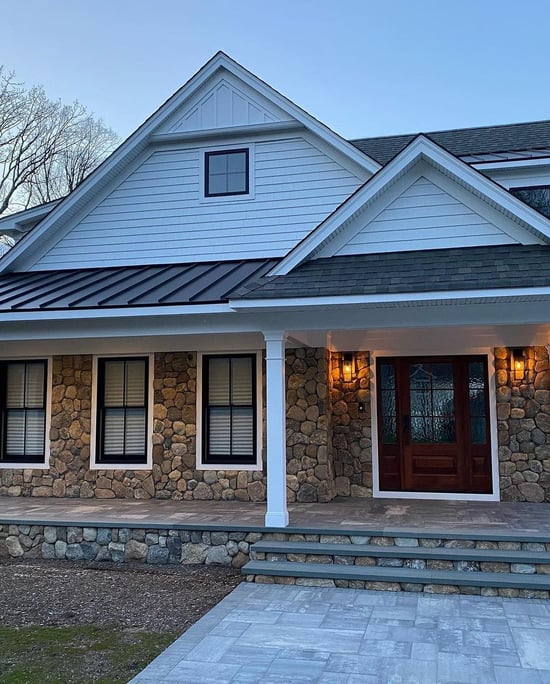 Old New England Rounds exterior design by Barry Brothers Landscape.
2. Using thin veneer as siding is a great way to incorporate the benefits of natural stone and add a distinguished look and color palette to the home build. Thin veneer also coordinates well with a variety of other building materials, and can be used as a main component or to highlight certain features. Adding the same stone in different areas of the exterior design and the landscape adds consistency and brings different parts of the design together, like in the exterior design project above using Old New England Rounds.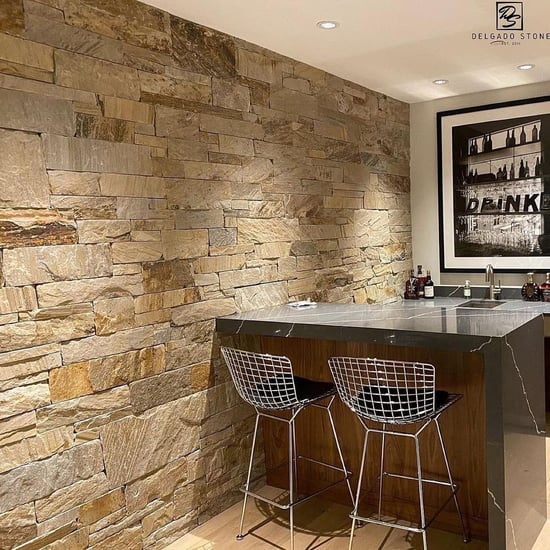 Sterling Tan accent wall
3. Another popular way to incorporate thin veneer into a home build is with accent walls. The Sterling Tan wall shown above is by Lochwood Lozier and Wilson Masonry and is one part of a project that used this stone in multiple areas across the interior and exterior design of the new home. Thin veneer accent walls add a splash of color and personality to make a space stand out, and there is no limit to where they can be added: shower walls, backsplashes, outdoor kitchens, pool areas, etc.
No matter what building materials you decide on for a new home build, there are plenty of opportunities to add a special feature with natural stone. Even a little stone can make a big visual impact, and the installation and durability are equally beneficial. For more design inspiration, download our catalog here.