When it comes to building materials, there are many options to choose from, and each has different characteristics that can meet the needs of an individual project. Natural stone is a great choice for many indoor and outdoor renovations, whether it is used as a major structural component or as an accent. When used for exterior home siding, there are different design possibilities that showcase the visual and functional benefits of using real stone.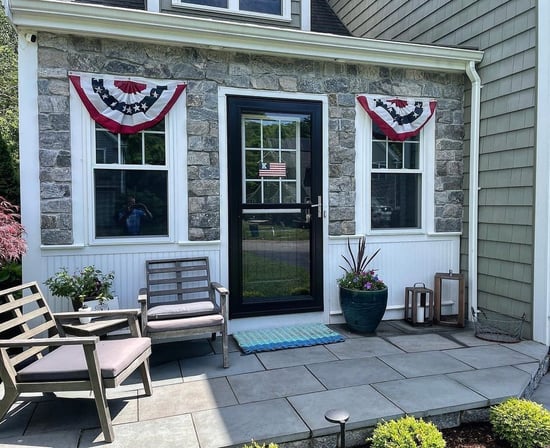 Harbor Mist Strip transformed a small part of this New Hampshire home design
First, on the list of benefits, real stone is a 100% natural material. The stone is split into one of five patterns in the manufacturing process, but only the size and shape are manipulated. If staying "green" is a primary consideration for a home design project, natural stone is an environmentally friendly option both during the production process and over time.
Natural stone siding blends well with other materials, making it easy to incorporate different features and tie them all together while creating a cohesive design between the home and outdoor design. Different collections and patterns accommodate a full range of design styles, from modern to rustic. For example, in the photo above, a small portion of the exterior design uses natural stone. The color range of the Harbor Mist (light greys and occasional tan) provides a distinguished look that coordinates well with the accents and materials used for the rest of the exterior.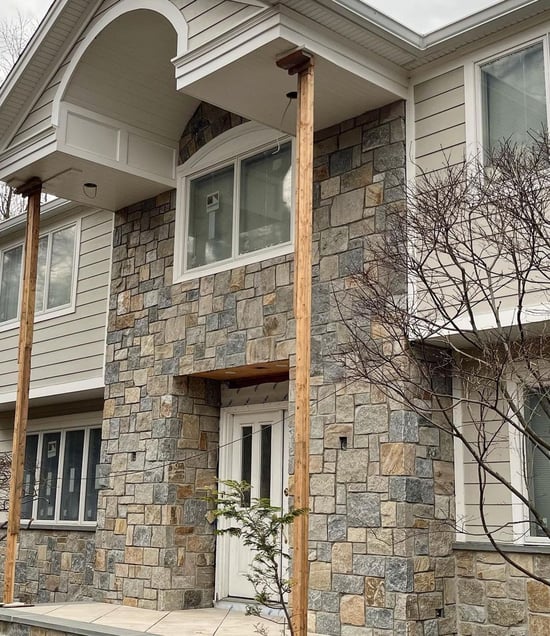 This New Jersey home build incorporates CT Blend Roughly Square & Rec siding into the exterior design.
Another appealing characteristic of real stone siding is its durability. It can withstand constant exposure to extreme weather, temperatures, water, and chemicals without being compromised. This also helps when discussing maintenance, the durability of natural stone leads to little to no maintenance over time, and does not require any special cleaning, chemicals, or care.
Whether deciding to use natural stone siding as an accent in different places throughout a home build or as a major component of the exterior design. The visual impact and long-term benefits are sure to make it a worthwhile investment. For more design inspiration, download our catalog.