Here in the northeast, seasons come and go every few months bringing drastic changes in the weather. These seasonal changes inspire a range of home improvement projects from enclosed outdoor living spaces to pools and spas for summertime fun. Another outdoor living upgrade inspired by the summer is outdoor kitchens. For any patio project regardless of the budget and usable space, the outdoor kitchen is a versatile and trendy feature to add.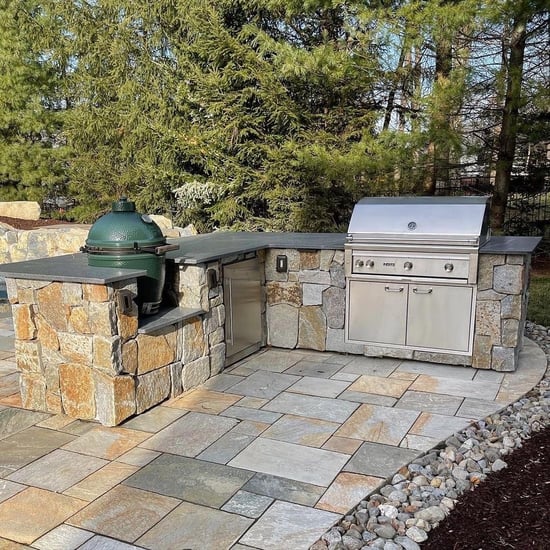 Outdoor Kitchen By TFUF Enterprises Using Spruce Mountain Sq/Rec
A quality outdoor kitchen combines functionality and appearance, and the use of natural stone veneer on an outdoor kitchen hits the mark for us every time. This Old New England Rounds outdoor kitchen (below) is compact but has a set in grill and fridge, which is all you need to start cooking while enjoying a cold beverage.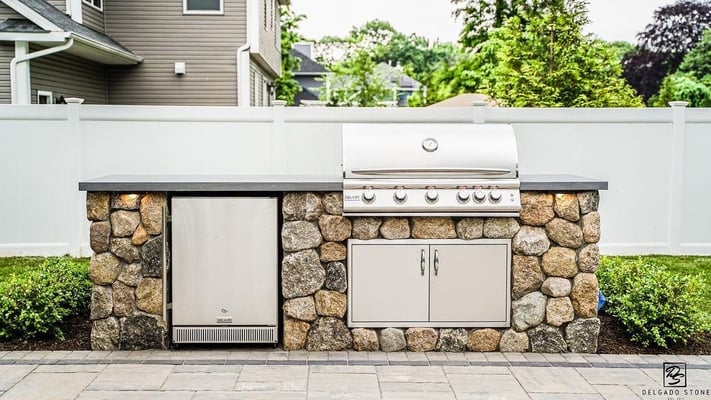 Outdoor Kitchen By Barry Bros. Landscaping using Old New England Rounds
When highlighting functionality, the outdoor kitchen below and its wrap-around design check multiple boxes off including a bar-height countertop for guests and family members to sit at, all the counter space an outdoor kitchen could need, a built-in grill and custom pizza oven, along with enough storage to avoid heading back inside for cooking supplies. Whoever is using this space is set up for success, whether hosting a pizza night with family or throwing a large bash.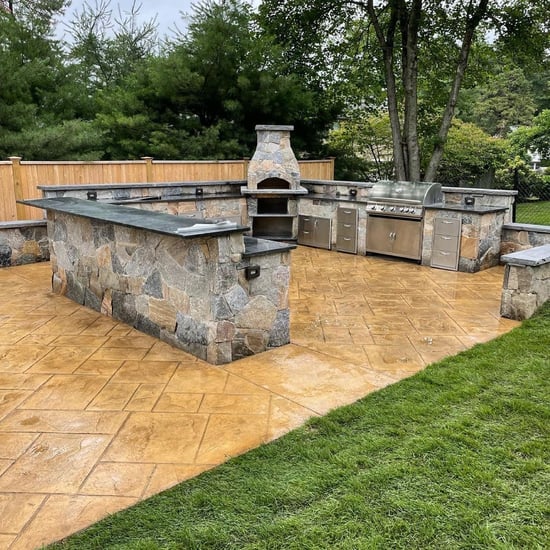 Outdoor Kitchen Design by BC Murphy Landscape & Design Using CT Blend Mosaic
Starting a project looking to completely transform a large outdoor space? Here is some inspiration: this large, covered space features an extensive outdoor kitchen covered in natural stone with a built-in pizza oven, full fireplace, bar, and even a hood vent for the grill. A space that provides something for everybody, whether hosting a large group or watching the kids swim in the pool.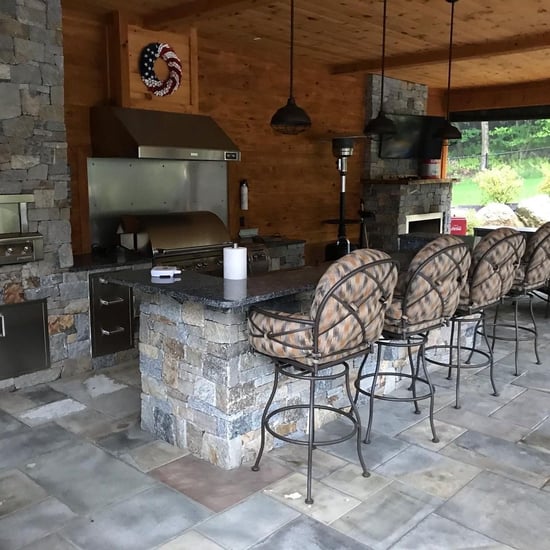 Outdoor Living Space with Stonework by CR Hardscapes
More backyards every year are turning to hardscape projects to create an outdoor space that fits the clients' needs. The customization capabilities of an outdoor kitchen make it a popular option among homeowners looking for a boost to their outdoor living spaces.