The start of this new decade hasn't been what anyone expected and not being able to see friends and family is challenging. When life goes back to normal and we're all able to spend time with friends and family you'll need a place to gather. An outdoor living area is the perfect place to get everyone together. Here's 5 stone veneer outdoor living area designs to inspire an upgrade before your next event.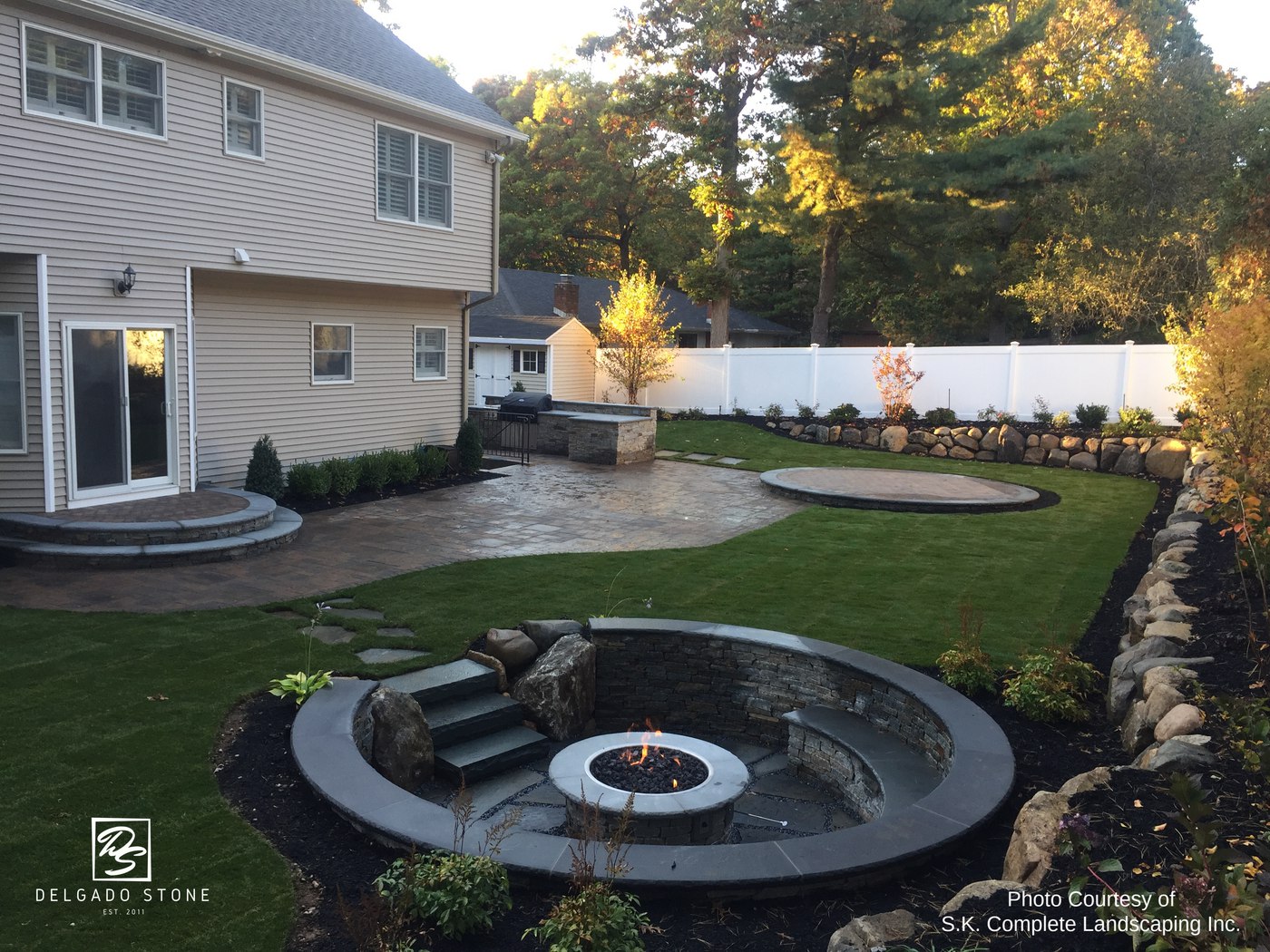 Spruce Mountain Ledge Grill and Fire Pit
1. Spruce Mountain Masterpiece
This Spruce Mountain Ledge stone project shown above checks all the boxes on an outdoor living area designed to host. This outdoor stone veneer kitchen is a perfect place to cook and lay out food. The star of this outdoor area is the 70's conversation pit inspired fire pit area. Made with natural ledge stone this fire pit can seat around 20 people on the outer wall and more on the inside. Perfect place to host a small group or if you're trying to break away from the party. Picture perfect outdoor living area by the S.K. Complete Landscaping team (NY). The detail of the natural ledge stone risers to get into the home can't be overlooked either.
2. Relaxing Hot Tub Space
When the party's over and you need to unwind this outdoor hot tub space is the perfect place to sit back and enjoy life. The central design of the hot tub showcases the landscape and hardscape design. This hot tub is surrounded by a natural stone wall made with Old New England Rounds and four natural stone pillars supporting the canopy above. The risers again are made with the same stone to keep the fluid design. This outdoor living area is perfect for hosting a small group and forgetting about the outside world.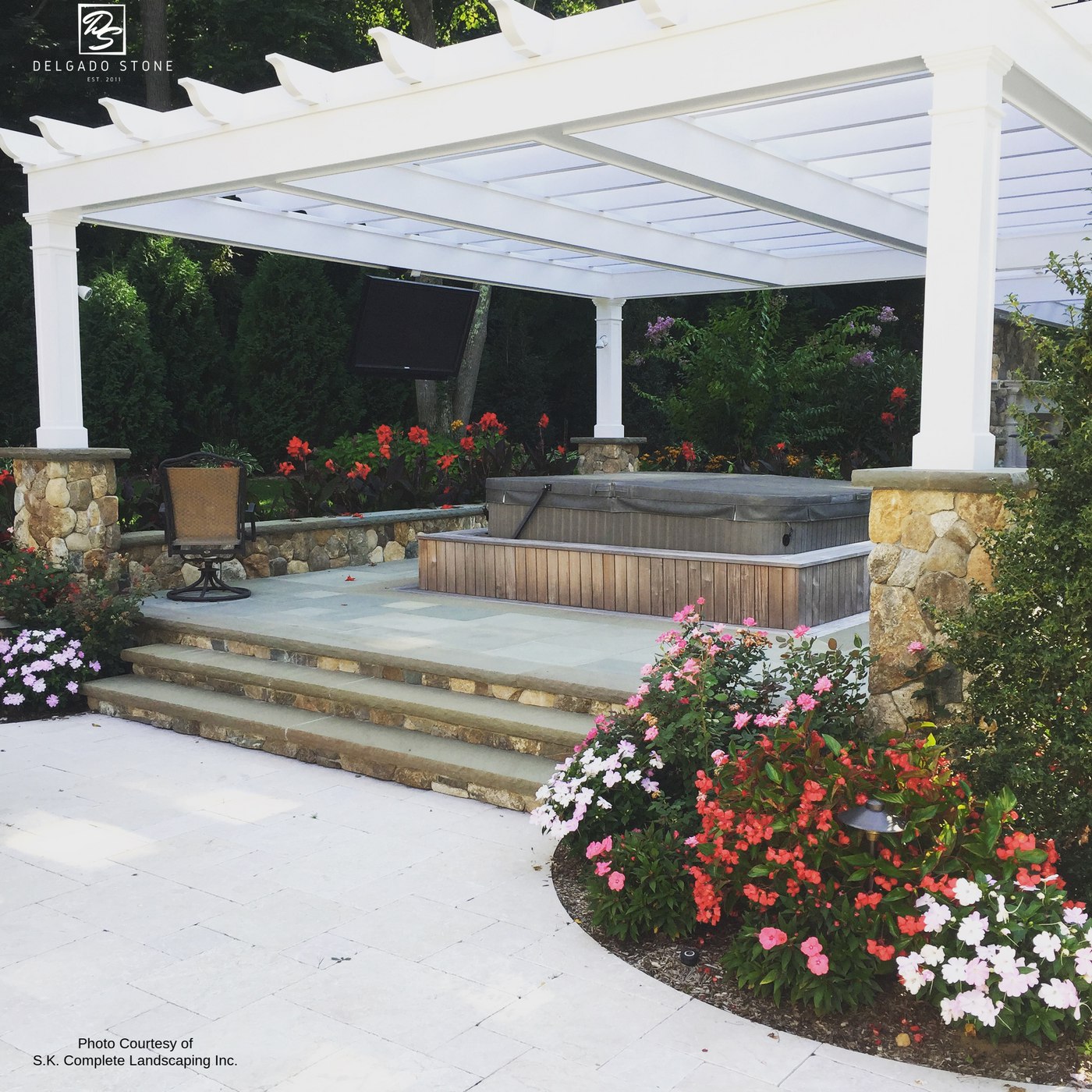 Old New England Rounds Rise, Wall and Pillars
3. Backyard Centerpiece
We often say you can use a little stone for a big impact and this fire pit is a testament to that. This outdoor stone area wouldn't be complete without this natural stone veneer gas fire pit and risers made with Newport Rounds. When complete this patio area will be the host of many outdoor celebrations.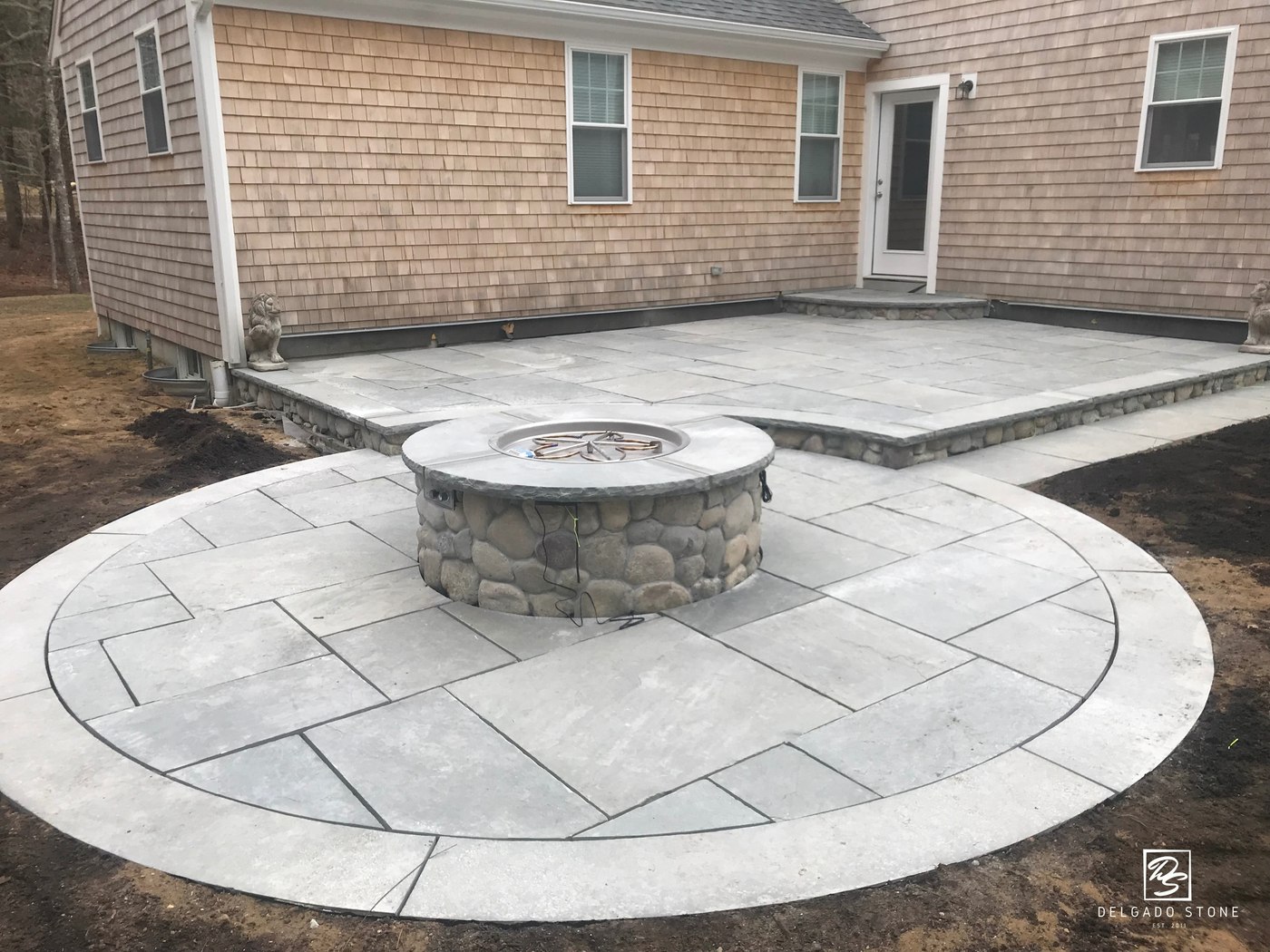 Newport Rounds Fire Pit
4&5 Outdoor Kitchen Inspiration
These two natural stone veneer outdoor kitchens add the texture and spark that a normal patio needs. Natural stone veneer isn't always a necessity but the impact speaks for itself. This Liberty Hill Mosaic turns a normal stone patio into an area where cooking for your friends is fun.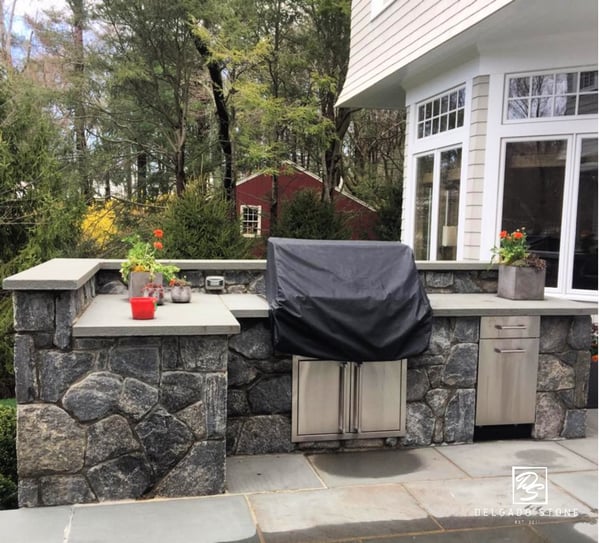 Liberty Hill Outdoor Kitchen
This Cedar Creek natural stone veneer outdoor kitchen is the center of this outdoor living area. The natural stone veneer rounds compliment the stainless steel finish of the appliances and will be the center of conversations.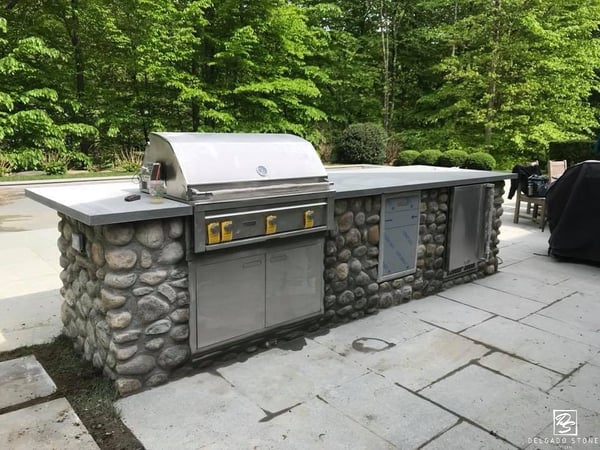 Cedar Creek River Rounds Outdoor Kitchen
These five projects showcase how natural stone can enhance any outdoor patio area and are a perfect starting point to get ideas for your next exterior home improvement.
DOWNLOAD OUR CATALOG