The Natural Stone Institute is a helpful resource for anyone looking for education, product information, and inspiration for natural stone projects, inside or outside of the industry. One of the many opportunities it offers, the Women in Stone program, can be an especially great asset to women in the industry, and help them develop personally and professionally. There are several ways to contribute toward the mission to "provide resources and opportunities to recruit, retain, and advance women in the stone industry," and here are three that can enhance your natural stone business, and in turn, help build your teammates!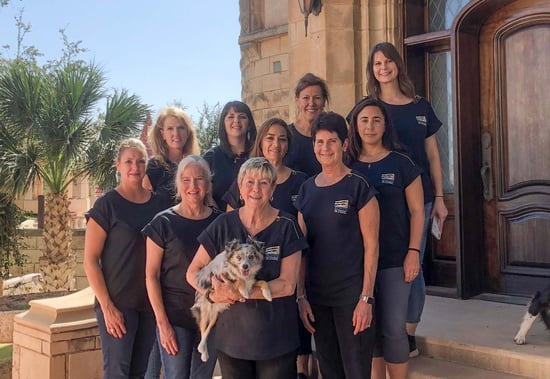 Photo of Women in Stone courtesy of Natural Stone Institute/Women in Stone
1. Women who are new to, or very familiar with, the natural stone industry can benefit from different roles in the mentorship program. Mentees are matched with mentors based on aligning their experience and goals, and meet virtually for one hour per month for six months. They focus on a variety of areas, including leadership and career advancement, sales, marketing, and communications, stone industry knowledge, and technical knowledge. For women getting to know the natural stone industry, this is a helpful way to begin networking, find encouragement and inspiration, and gain valuable insight for creating success in their current positions. For mentors, this is a great way to share experience, offer guidance, and invest in the future of the industry.
2. Joining a committee is a valuable way to get involved in different aspects of Women in Stone and the Natural Stone Institute itself. There are multiple opportunities here you can build on, while learning more about the organization and its members, and contributing to program development. Committee options include but are not limited to mentorship, internship, or communications subcomittees, industry event planning groups and other career development programs. Regular involvement leads to greater leadership opportunities in the "Steering Committee," where members play an active role in shaping the future of the group and its direction. Committee participation also enhances communication and collaboration skills, which are always an asset to your business.
3. Another great opportunity with Women in Stone is sponsorship, for those who want to support the organization and its mission. There are three different levels of sponsorship to accommodate different budgets, all of which offer tiered recognition on Women in Stone promotions through their website, social media, e-newsletter, and live events. Sponsorship also offers discounted registration for select Women in Stone events, providing additional ways to align your business growth with the mission to advance women in the industry. This is a meaningful way to invest in your own business by connecting with a greater sense of purpose, in the industry and in the world!
However you choose to participate in the Women in Stone program through the National Stone Institute, there are many ways to network, make connections, and create opportunities that will inspire personal and professional growth for women in your business and throughout the industry. Building a stronger support system while creating awareness of career paths for women offers rewarding benefits for everyone involved. For more details on how to join, visit the Women in Stone website. To learn more about our natural stone products and collections, download our catalog.