When it comes to using Natural Stone Veneer on the interior of your home the most common application is for a fireplace. While we love the hundreds of fireplaces we've contributed in creating like this Connecticut Blend Ledge fireplace below, we also like to see the different ways natural stone is used throughout a home.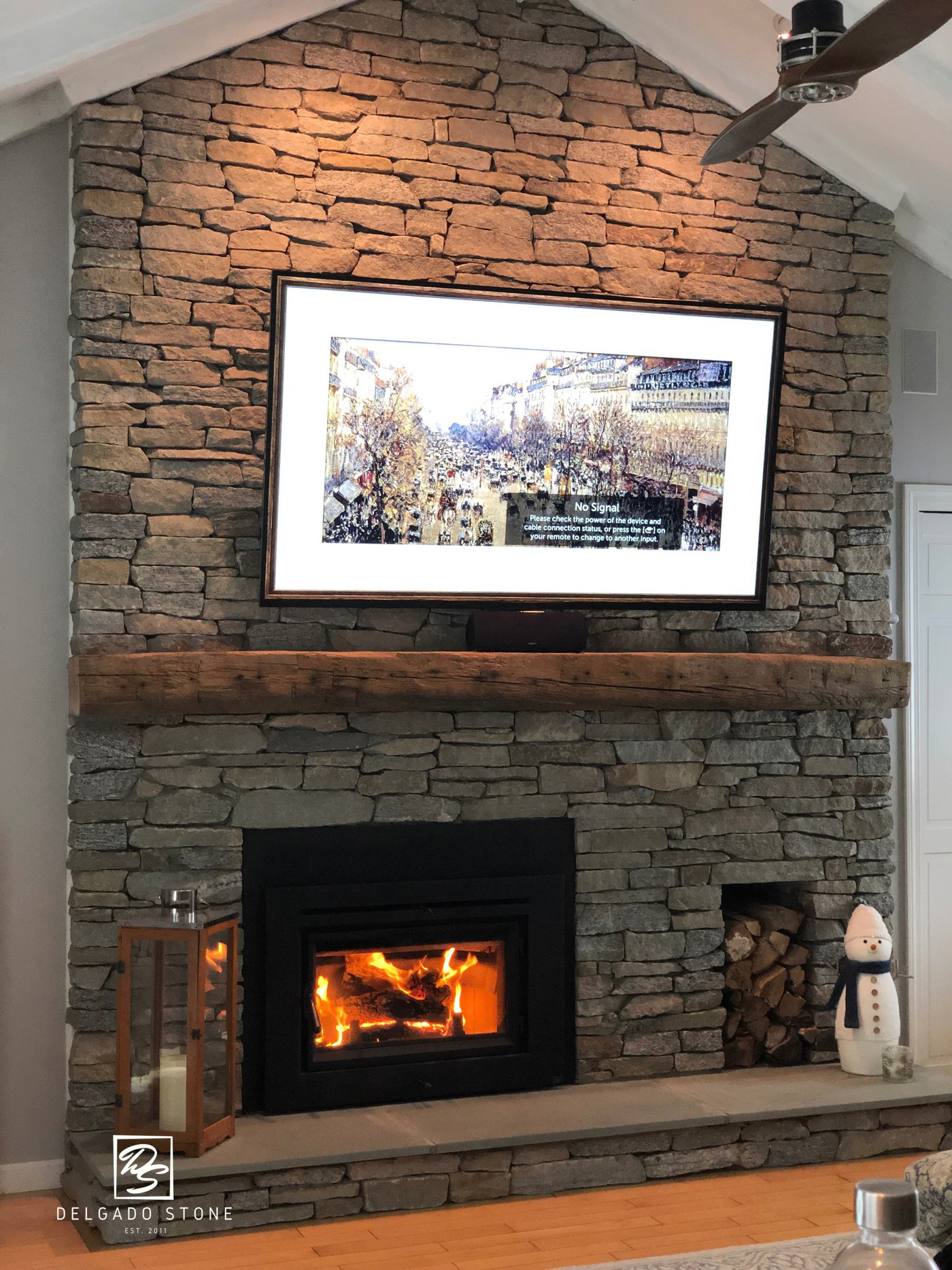 CT Blend Ledge Fireplace
These other projects include
3 Interior Stone Walls
3 Natural Stone Kitchen Projects
Interior Stone Walls
An interior stone wall can come in all shapes and sizes and these three are an example of that. The first one below which is a wall completely covered with Colonial Tan Mosaic shows the convenience and versatility of Thinstone Veneer. Thinstone is much lighter and easier to work with compared to Full Bed. Natural stone siding while rarely used on the interior can provide a unique look to any space.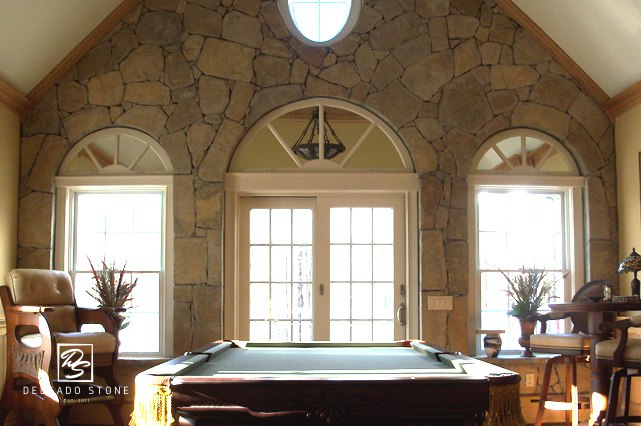 Wall Covered in Colonial Tan Mosaic
This piece below is the perfect addition to a home with a finished basement or garage. Walking into your home or going up and down the stairs will get a lot more appealing with a marvelous walkway like this interior stone wall made with Old New England Wall Mosaic.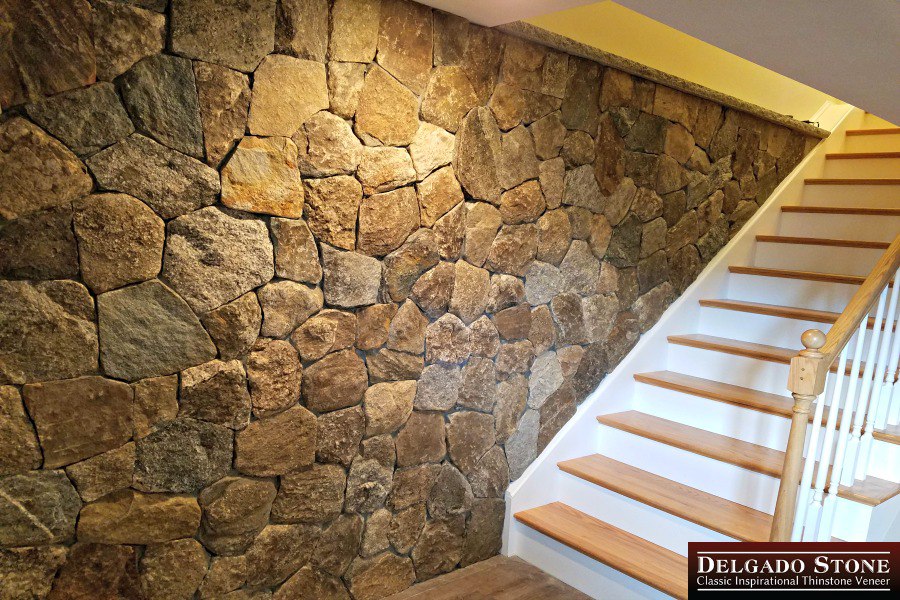 Old New England Wall Mosaic Stairway
This last stone wall is special in it's own regard even if there is a fireplace on the other side. This project shows how interior stone veneer can change a room. The versatility of this particular stone is also on display because this wall is made with the same stone in the same pattern as the picture at the top which is Colonial Tan Mosaic. The mason transformed these mosaic pieces into a wall that enhances the kitchen on one side and the living area on the other.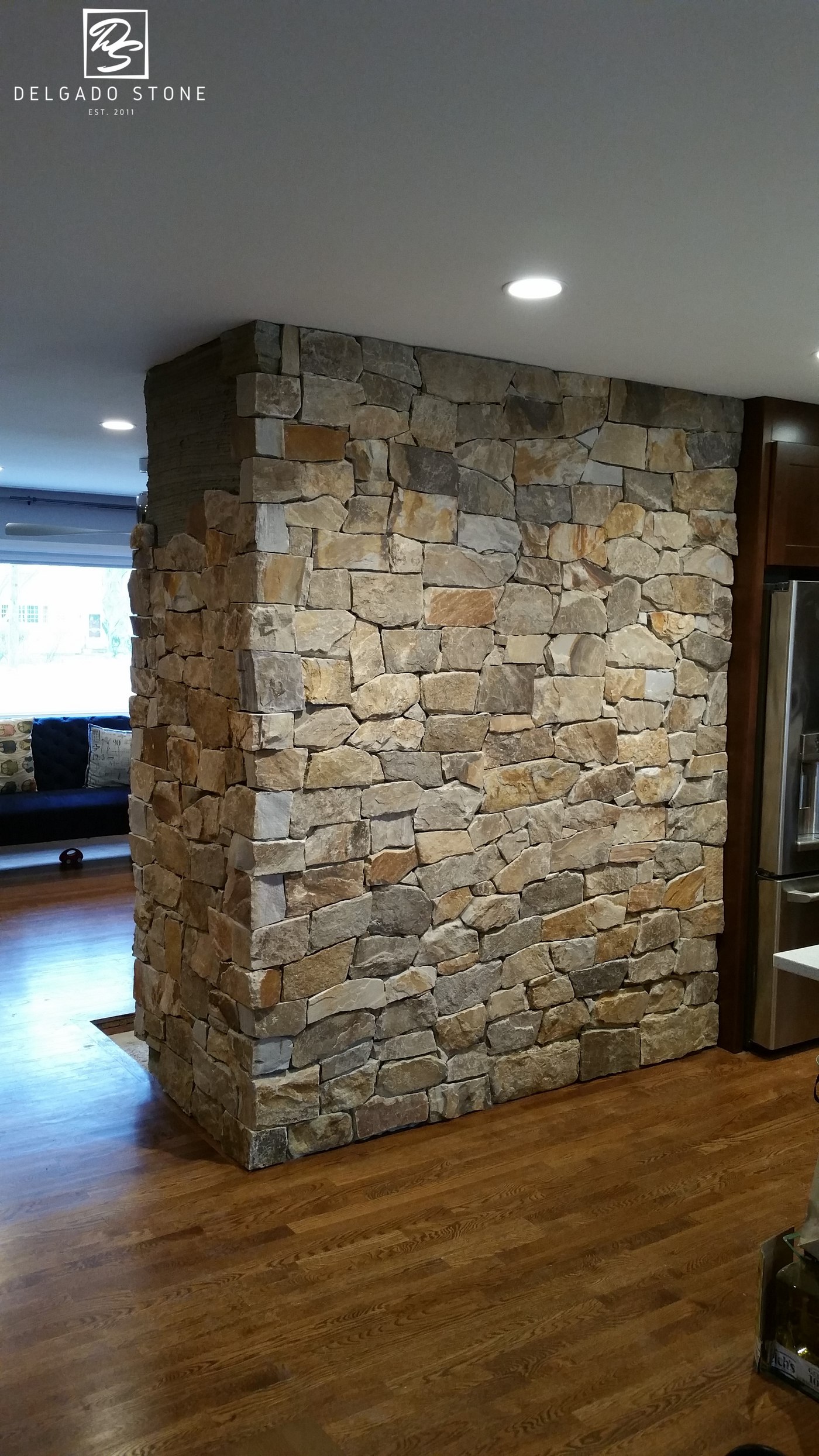 Interior Stone Wall Made With Colonial Tan Mosaic
Natural Stone Kitchen Projects
These three kitchen interiors made with stone veneer embody what a difference natural stone can make in any capacity. The most extensive kitchen project of the three is this first project made with Greenwich Blue Squares and Rectangles. Using this much natural stone in your kitchen requires planning and execution. The entire back splash and island are made with the same pattern with the faucet, outlets and stove built in. If that wasn't enough to tie the room together the main wall leading into the kitchen is also made with the same stone, completing this unique look.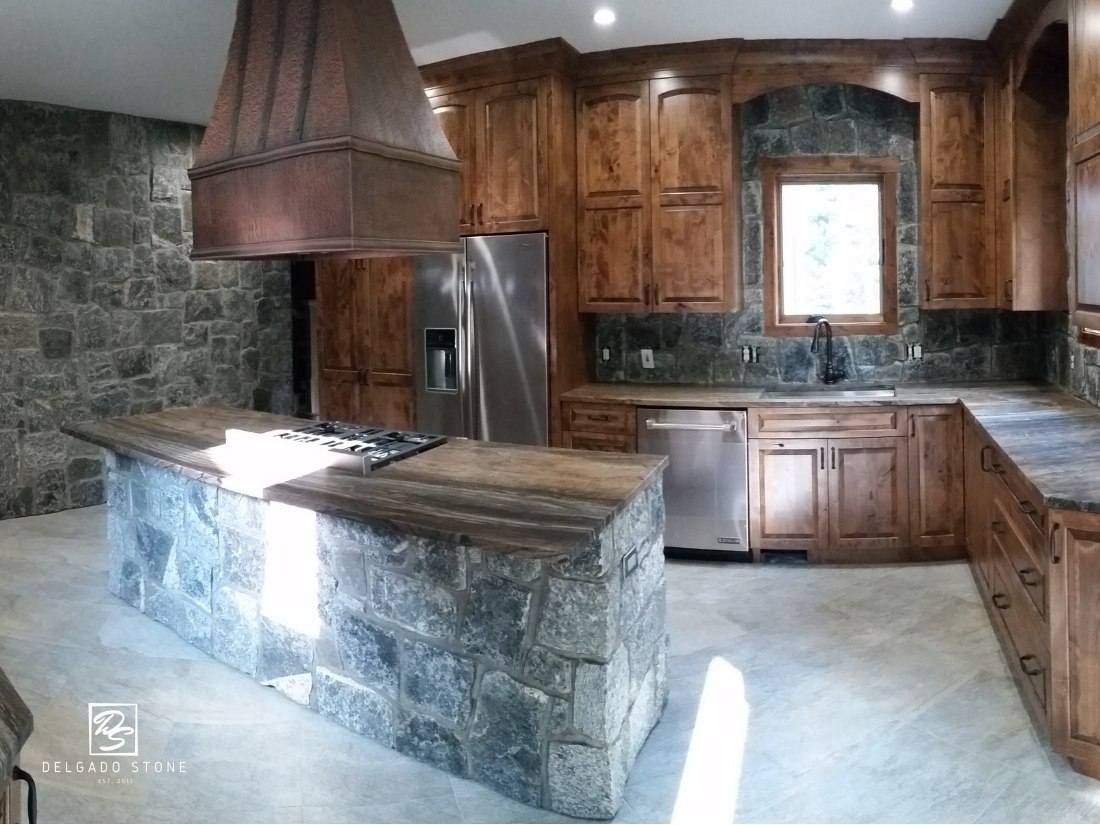 Greenwich Blue Squares and Rectangles Kitchen
This kitchen below is another great job done by the S.K Complete Landscaping team which they created with Nutmeg Ridge Squares and Rectangles. This stone work around the stove brings this kitchen to a new level and creates a great background for dinner or drinks at the kitchen island.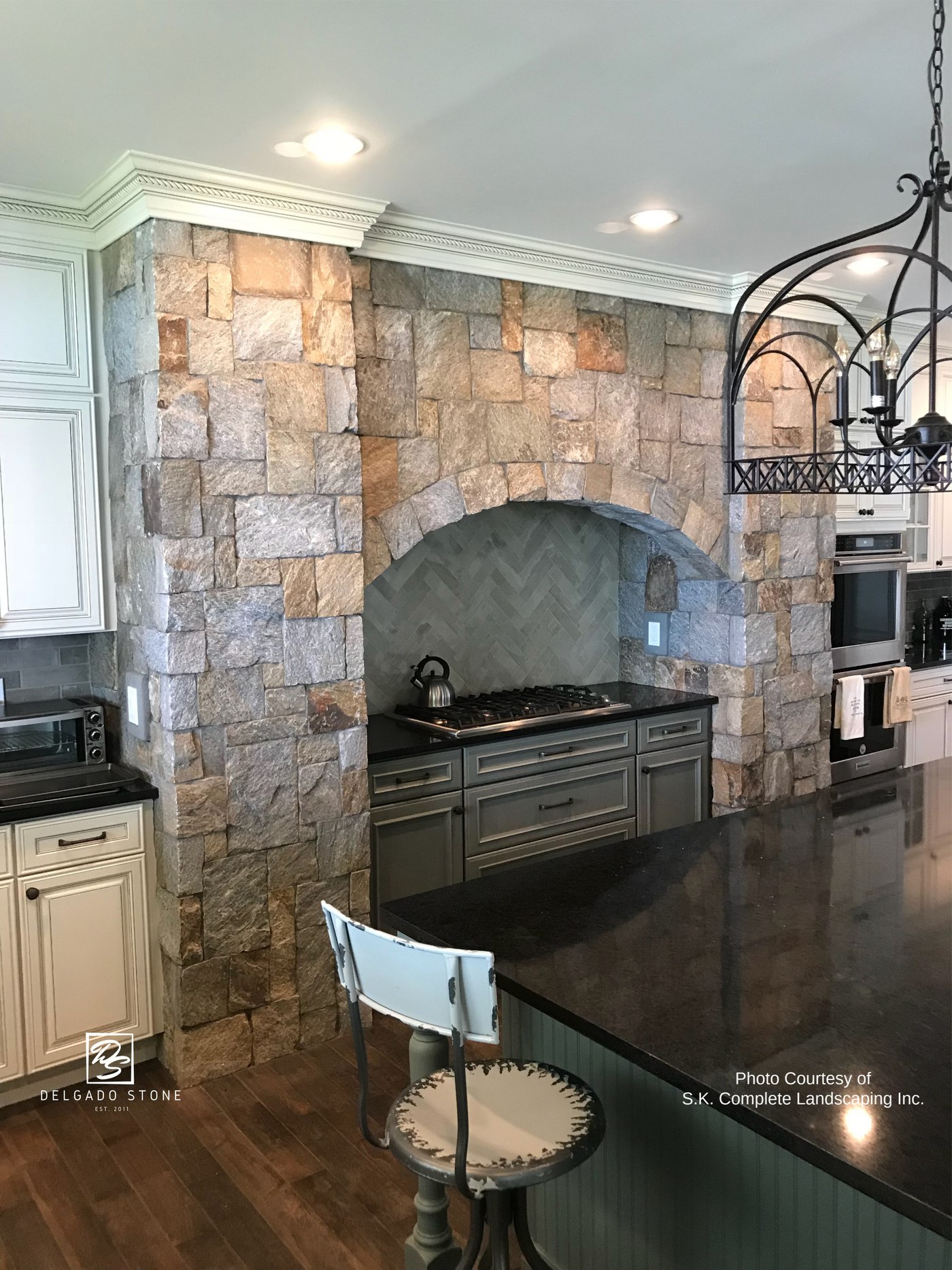 Nutmeg Ridge Square and Rec. Kitchen
This last feature makes doing the dishes not seem so bad. This Spruce Mountain Ledge back splash and siding was created around this small counter and cabinet area. The complimenting colors of the wood island, cabinets and hardwood flooring amplifies the color range of the Spruce Mountain. The TV mount built into the natural stone makes for time spent in the kitchen to be enjoyable whether cooking your favorite meal or cleaning after it.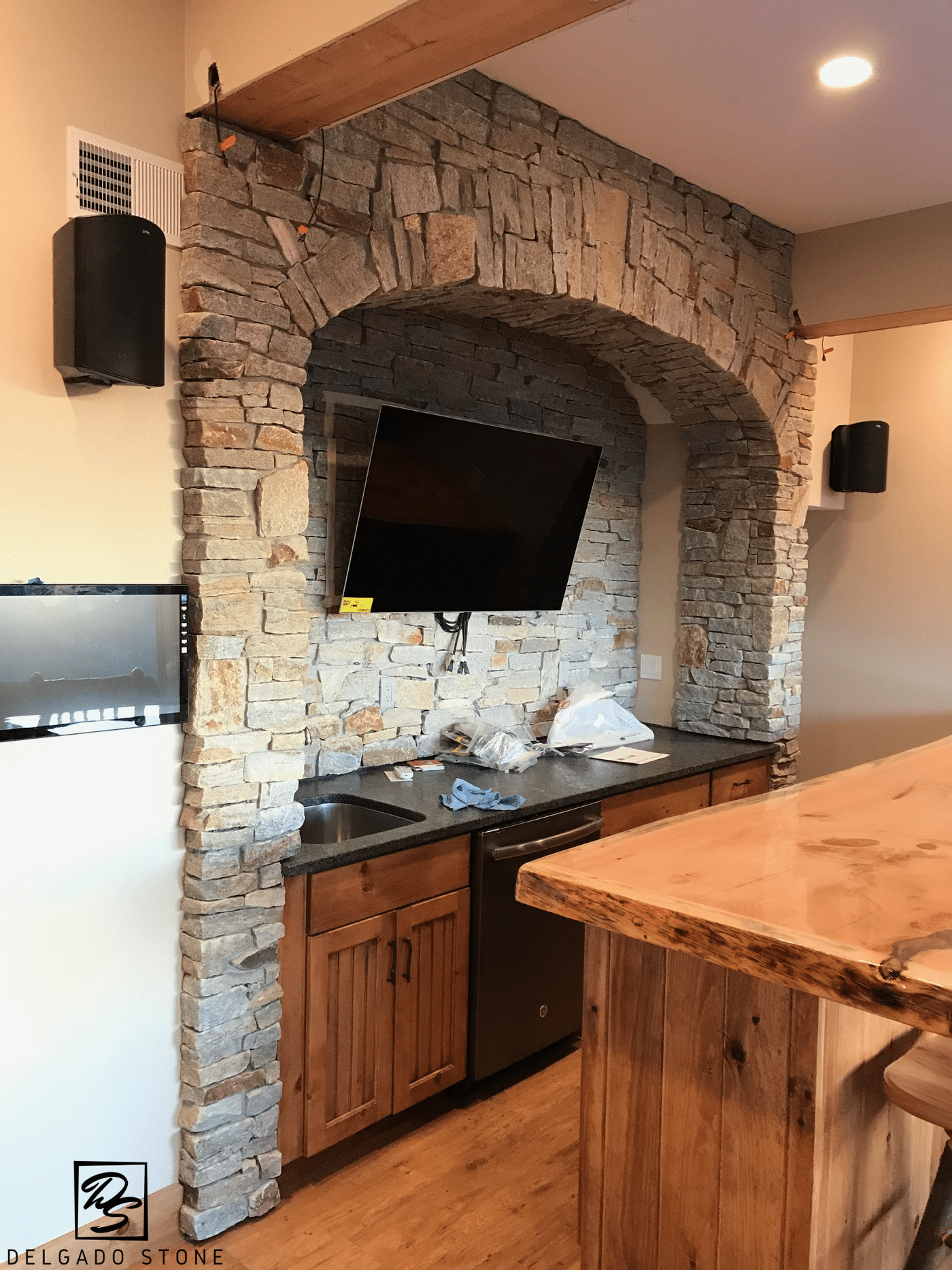 Spruce Mountain Ledge Kitchen Back Splash
These 6 interior stone veneer projects show the versatility and beauty of natural stone in multiple applications. Natural Stone can be used for a multitude of projects whether on the interior or exterior of your home.