Designing and building an outdoor fireplace sets the tone for personalizing your space and giving it your own signature atmosphere. Whether you go for basic functionality, incorporate specialty features, or create a backyard entertainment center, your fireplace is sure to spark conversations with visitors and be an asset to your daily life at home. Here are a few different projects where homeowners have centered living spaces around their outdoor fireplaces with incredible results!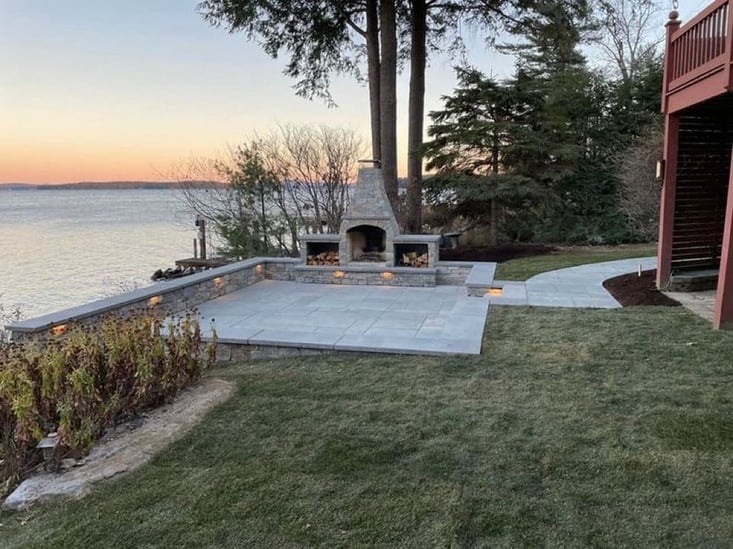 Patio & Fireplace By Brennen Lorden Masonry Incorporating CT Blend Ashlar Provided by Site One
Outdoor living spaces have become a must-have for new homeowners and when your home is on the breathtaking Lake Winnipesaukee, there has to be an outdoor setting to sit and enjoy the view. This patio space and CT Blend Ashlar fireplace are the space this home needed. With the natural stone veneer extending to a seating wall accompanied by the craftsmanship of Brennen Lorden Masonry, this fireplace blends seamlessly into the layout and also provides a memorable place to relax and reconnect with family and friends throughout the seasons.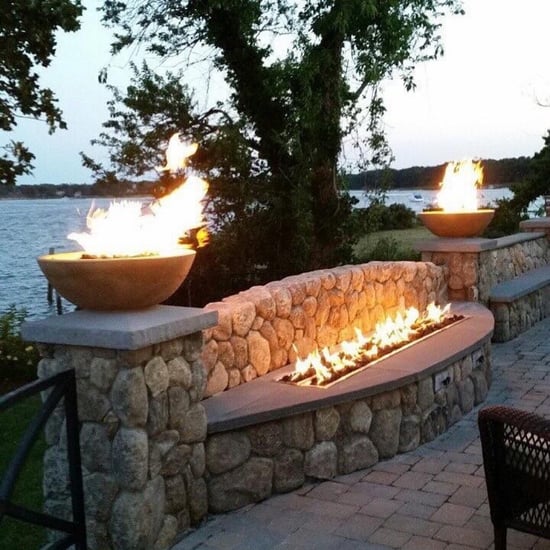 Old New England Rounds provided by Stonewood Products
Some custom features are all for show; however, this one combines the best of functionality, location, and impact in one structure. These South Yarmouth, Massachusetts homeowners worked with Able Landscaping to design and create this natural stone bench, featuring Old New England Rounds, that provides seating overlooking spectacular Cape Cod views, and doubles as a fire pit! This versatility makes the feature a definite conversation piece and allows the homeowners to make the best use of gathering space, and to warm up cooler nights as needed.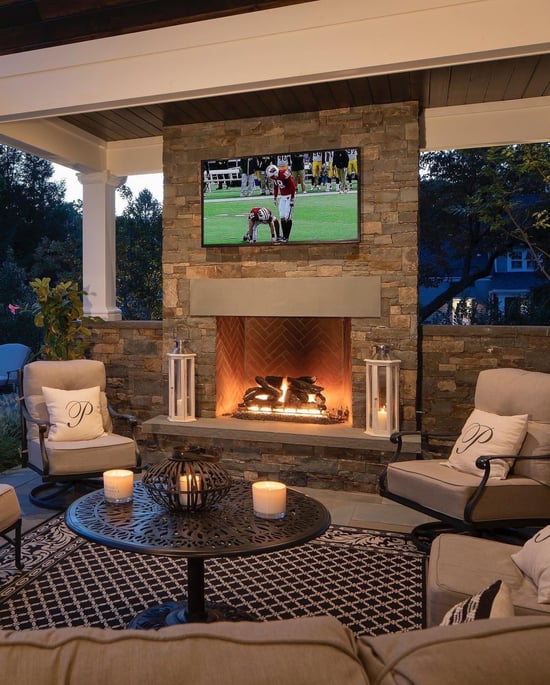 Fieldstone Dark for fireplace and seating wall provided by GW Lippincott
This project in New Jersey is a great example of how you can use an outdoor fireplace stone as the focal point of an outdoor space. These homeowners worked with Beechwood Landscape Architecture & Construction and chose Fieldstone Dark for their fireplace and seating wall--and built a warm, cozy seating area around it. It has all the comforts of inside with the perks of fresh air and open space outdoors. The pool area makes it an ideal spot for summer gatherings, but this space is the perfect place to entertain company, or enjoy some everyday downtime no matter what season it is.
Outdoor living spaces become the center of social activities during the summer, and the fireplace helps extend this into the cooler months of the year (making it an even better investment.) When it comes to creating a particular atmosphere, you can achieve a variety of looks and purposes by coordinating with your mason and reimagining your ideal space. For more fireplace stone inspiration, download our catalog.