Building a new home comes with its fair share of challenges, triumphs, and many moving pieces. For Wade Paquin, President and CEO of WKP Construction it involves a lot of hands-on management and communication within their team and planning for all the curveballs that are going to be thrown their way. The Build Show Network is currently shadowing Wade on his latest new home build on Block Island for their Building on an Island series. Building a new home on any island comes with a unique set of challenges and at only 109.5sq miles with 2 ports, Block Island does not make it easy. Through the entire series, Wade and Project Manager Dan McLaughlin showcase their expertise and insight into different building materials, handling logistics, and all of the hard work that goes into a new home build.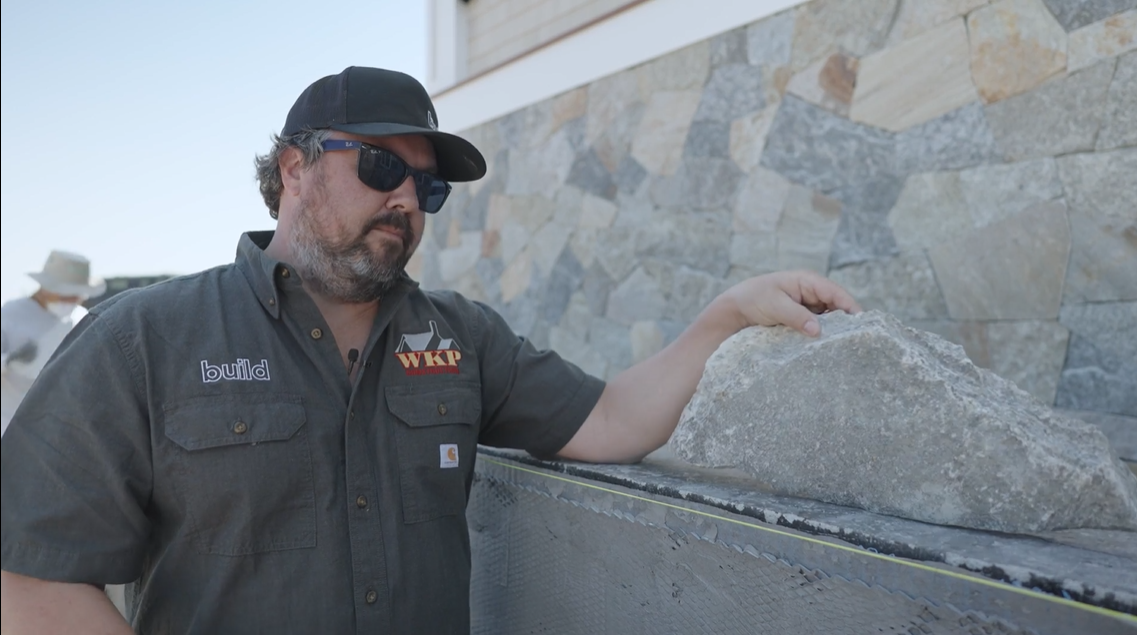 Wade Paquin with a piece of CT Blend Mosaic Thin Veneer
In the latest episode, Episode 12: Stone Veneer, Electrical Rough-In and Gas Piping, Wade talks about different installation techniques for the Connecticut Blend Thinstone Veneer for both a two-tiered retaining wall and for the wrap-around home foundation. When installing stone veneer many aspects need to be considered including climate, location, and building codes. For this project stone veneer is only one of many building materials and is accompanied by blue stone wall caps and sills, as well as weathered cedar shingles for this custom design. Follow along with us as the WKP Construction team continues to create another timeless New England home.