The Liberty Hill Collection is known for its predominant grey color that often features beige and pink in both the stone face and end grain(inside of the stone), adding a pop of color to all of the interior, exterior and landscape projects that feature this stone. When Liberty Hill Granite was made available in a range of fabricated products in 2020, it quickly became a premier building material in landscape designs contributing as flagstone, steps, wall caps, and more. While the landscape and saw shop material took off, the veneer grew in popularity as well. These projects are the inspiration behind the popularity of the Liberty Hill Collection.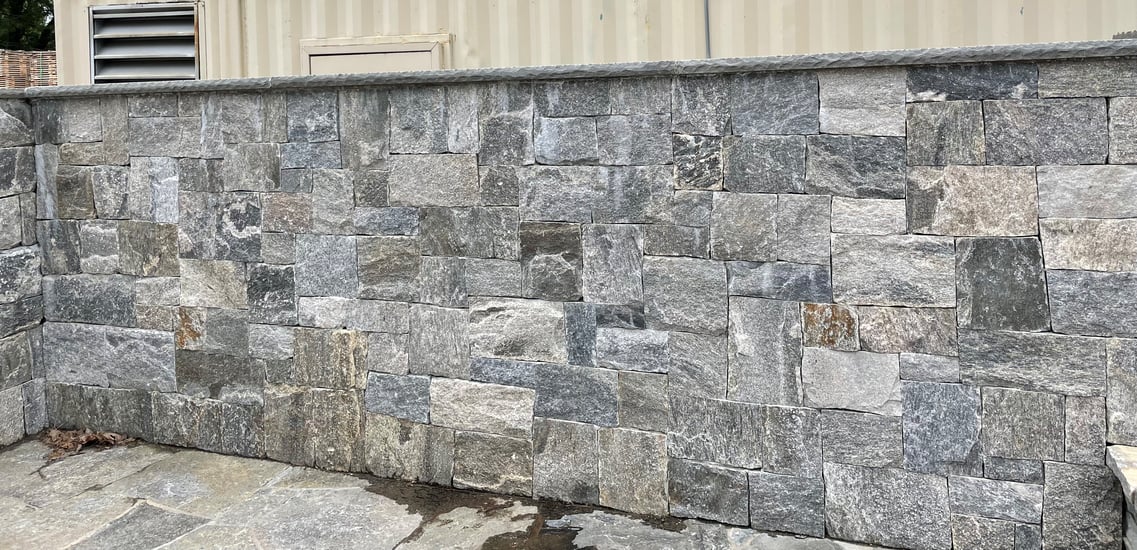 Liberty Hill Roughly Square and Rectangle Thinstone Veneer
The range of grey colors in the Liberty Hill Collection is what sets it apart from other popular grey collections like the Greenwich Blue and Fitzwilliam Granite, which both have a more consistent color. These beige and pink colors showcased above can be prominent enough that entire veneer pieces will have a small amount of grey. The color range of this veneer collection works alongside modern home builds and outdoor living projects alike.
Liberty Hill Granite Steps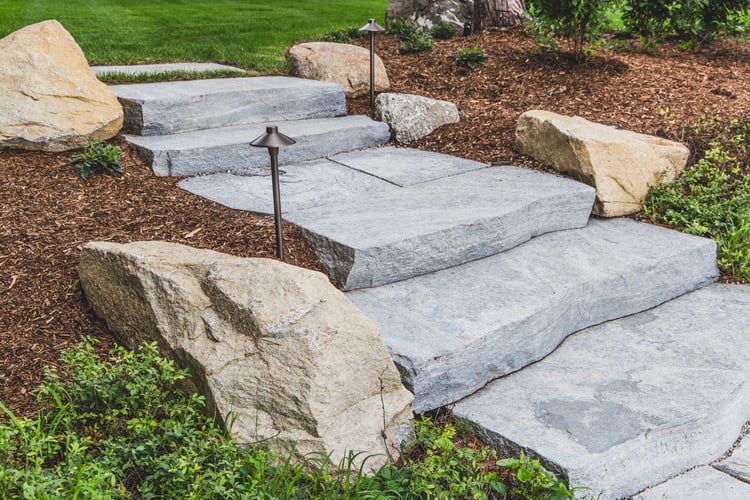 Liberty Hill Granite Steps Installed by Stephens Landscaping Professionals (NH)
Landscape design projects have been a popular home for Liberty Hill Granite Steps over the past few years and their beauty is on full display above. These are the Irregular Sawn variation of the Liberty Hill Step which are sawn on the top, bottom, and back with a completely natural rise(front face) and sides. The thermal texture on top of each sawn step accentuates the pink and beige striations that run throughout each step.
Liberty Hill Granite Flagstone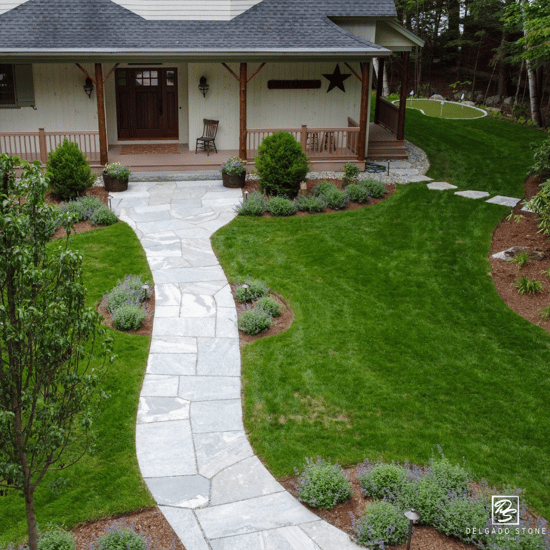 Flagstone Walkway in New Hampshire Supplied by New Hampshire Thinstone
The aerial view of this walkway once again highlights the range of the Liberty Hill Collection and how each individual piece has its own personality and profile. This sawn flagstone material is a popular option among walkways, pools, and patio projects. The lakefront properties in New Hampshire have been a popular home for the Liberty Hill Granite and on a rainy day, the dark grey and pink are especially prominent.
The Liberty Hill Collection in all forms has become a premier building material transforming interior, exterior, and landscape projects across the United States. The grey colors combined with the beige and pink make this collection a great option for projects looking for a sharp but not busy colorway.
For more information on fabricated Liberty Hill Granite material download our landscape and saw shop guide.