Natural stone flagging is growing in popularity as more people look to create something truly unique. While bluestone and pavers are common, we have noticed an increase in requests for natural stone steps and flag stone.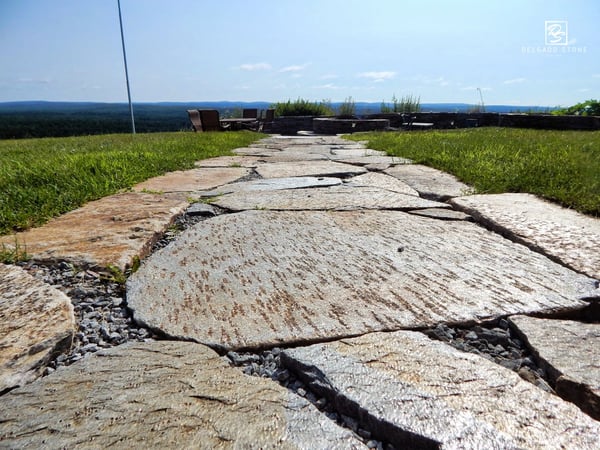 Colonial Tan & Spruce Mtn Flagging
Unlike pavers or bluestone, natural stone flagging (or flag stone) is palletized and comes in irregular shapes like the picture above. We suggest using the following as a guide when working with our flagging:
Thickness: 1-4"
Dimensions: Pieces are approximately 18"x18" and larger
Coverage: Approximately 50-75sf per ton
3 Common Uses for Natural Stone Flagging
1. Walkways: This is likely the most common use for flagging. Whether it's from the driveway to the front door, in a garden, or another popular walking route around your property, flagging is a cost effective way to create a walkway. If you're in a cold climate region, make sure the stone you select can hold up to the frost/freeze.
2. Your Patio: Once again bluestone and pavers are the most commonly used product for this application but we have seen an increase in requests for flagging to be used for this. Sometimes they want it to go with the rest of the project and other times it's to make it standout.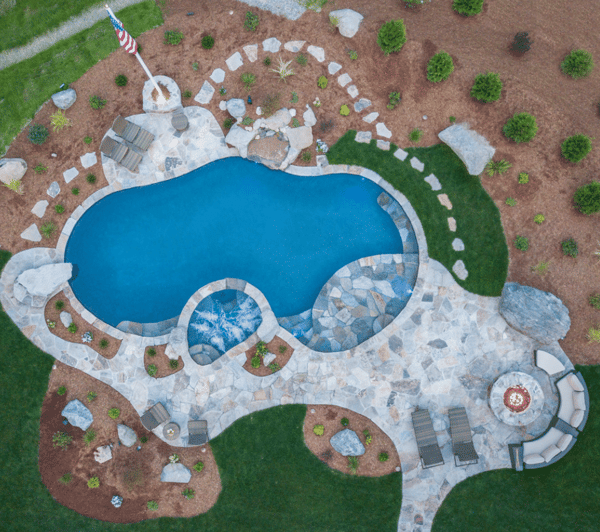 Various Flagging Products Were Used For This Unique Pool Design
3. Pool Surround & Coping: The picture above captures how a flagging might be used around a pool. Whether your pool is the size of the one pictured above or on the smaller side natural stone flagging is a cost effective way to add color and texture to create a special design.
Natural stone flagging is less likely to crack or break over time. If you want to use something that can withstand the elements and make your project stand out we highly recommend considering it for your upcoming project.