As we welcome spring and look forward to longer, warmer days, homeowners are trading time lounging in the living room for sun, fun, and socializing on the patio. We know patios are a must-have in new home designs, but if a move isn't in your plans, right now is a great time to make the most of the outdoor living space you already have. To answer the question of where to begin this process, here are a few things to keep in mind in the planning stage so creating your ideal outdoor space is as simple and purposeful as possible.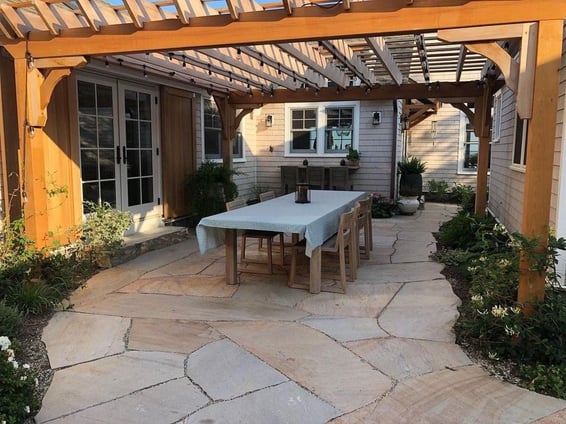 Sterling Tan Flagstone (Credit Piscataqua Landscaping)
Location: First, define goals for expanding or improving your space. Consider adding a patio that is connected or attached to the house for easy entertaining and kitchen access, if hosting is a priority. Or, you might want your patio in a separate space in your backyard, in closer proximity to other sources of outdoor entertainment such as a pool, hot tub, or firepit. Once you have clarity on the essential components, and what else you might want to incorporate in the future, you're headed in the right direction.
Size: There is no specific requirement for space. You can simply use the space you have to make the most of your interests. Decide what features would be most beneficial, and how much space you have to devote to them. Make sure it feels cozy and comfortable, and captures the setting you want without feeling cramped or cold.
Style: A popular outdoor living trend is to extend indoor living space outdoors, creating an extended space, a more open atmosphere, and a well- integrated theme. You can read more about how some homeowners are expanding their inside spaces outside here.
Material: Your new space is made for leisure and enjoyment, so make sure your materials add value to your time and experience, too. Natural stone is sustainable through seasonal changes and extreme weather, and requires very little maintenance. This makes it an excellent choice for your outdoor living project. Natural stone is also available in a variety of colors and patterns–and can be split or sawn to accommodate your individual design.
By envisioning your finished space and knowing what features are most essential, you ensure that the outcome is everything you imagined it would be. With some imagination and pre-planning, you'll be prepared to transform your backyard into your favorite place to be this summer and for years to come.
DOWNLOAD OUR LANDSCAPE GUIDE