The majority of new single family homes now have patios, according to recent census data. In fact more than 61% of the new homes started in 2020 will have a patio of there own. It's the first time since the survey redesign in 2005 that 60% has been achieved.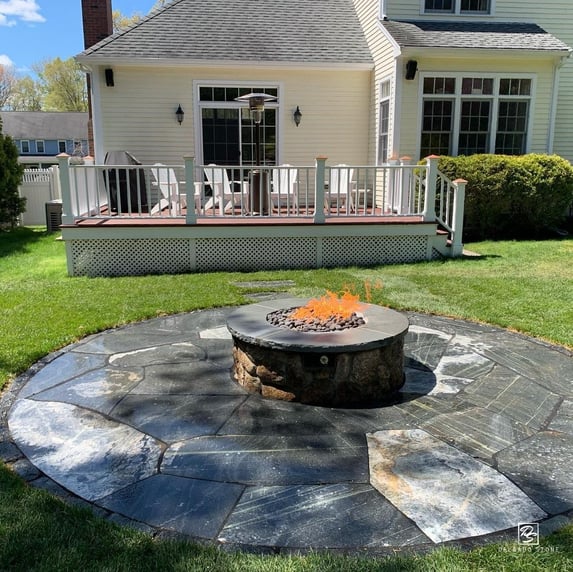 American Mist Flagstone Patio with Firepit by Redmond Design Group & Stone Curators
The trend does not come as a surprise as the COVID-19 Pandemic left many people rethinking the priorities for their new home, including outdoor living spaces, such as a patio. It's an affordable way to add value to your home without taking up too much space or sacrificing interior needs.
Patio's take up too much space, right?
One of the most common misconceptions about patio spaces is the amount of room required to add one. According to the 2021 BPS Report (Builder Practices Survey) the average size of a patio on a new single family home is about 278 square feet with geography playing significant role in the size of the patio.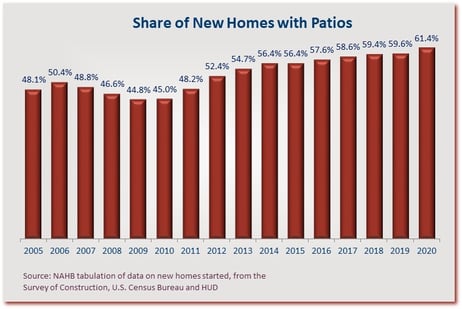 Share of New Homes with Patios (Source: NAHB)
It's not uncommon for people to think a patio requires a lot of space or only makes sense if you have a pool. The data tells a different story with less focus on the size of the patio space and more about extending your living space by adding functionality without breaking the bank.
New homes and renovations continue to focus on outdoor living spaces with various sizes, shapes, and functionality. As you look to build your new home or improve your current one don't overlook a patio as a great way to add value while you live there and when it comes to selling your home in the future.
DOWNLOAD OUR LANDSCAPE GUIDE