A fire pit is a great addition to an outdoor living space alongside a pool, spa, or outdoor kitchen--and in some projects, it's an entertainment center on its own. One of the best things about a fire pit is the built-in social appeal: it's made to gather around, rather than sitting in front of a traditional fireplace. The warmth from the fire extends the outdoor entertaining season, day and night, which makes it more convenient to plan events. Here are a few examples of fire pits that turn the backyard into a cozy, inviting atmosphere perfect for enjoying the fresh air, company, and outdoor fun throughout the seasons.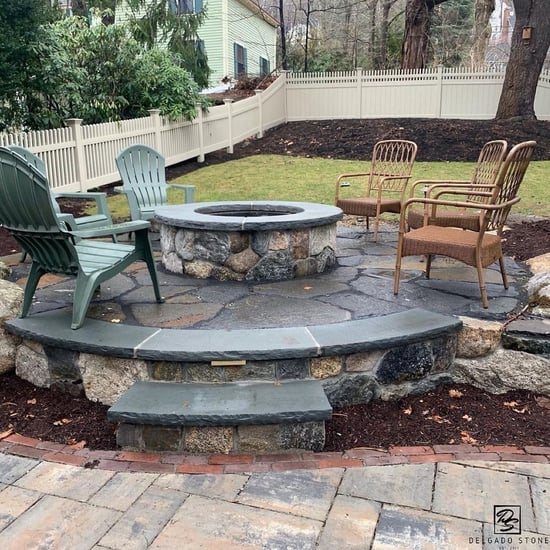 Split Fieldstone Mosaic fire pit.
This Split Fieldstone Mosaic fire pit by Redmond Design Group devotes a corner of the outdoor space to pulling up a chair to indulge in downtime or good conversation. The more intimate fire pit setup offers another spot to retreat to in addition to the nearby patio, which is an ideal place to extend the entertainment area for larger gatherings. The installation, including the step and accent wall, showcases the beautiful color range of the fieldstone collection including greys, tans, browns, pinks, and creams.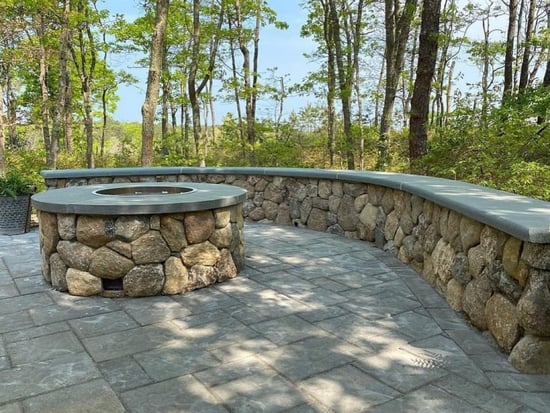 Old New England Rounds supplied by Stonewood Products for this fire pit and seating wall.
Cranberry Landscape used Old New England Rounds to create an incredible fire pit and seating wall in this Cape Cod outdoor living project. When homeowners want to warm up, immerse themselves in nature, or host a get-together, they have the ideal setup to any or enjoy all of the above. The weathered look of the fieldstone rounds adds to the rustic feel of this classic Cape Cod project that is sure to be a favorite spot during every season.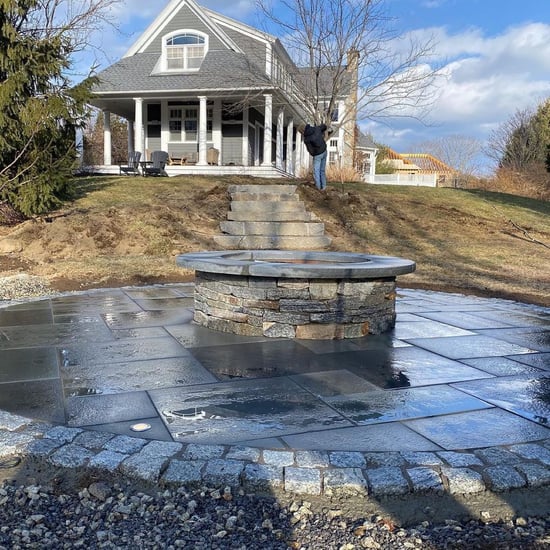 Connecticut Blend Ledgestone for the pit supplied by Martignetti Enterprises.
This outdoor living project by American Landscape Construction puts the fire pit on center display, using Connecticut Blend in the Ledgestone pattern to complement the bluestone treads and caps. The color range ties in with different elements of the home build and landscape. With the fire pit, the property offers multiple areas to socialize separately but nearby, with the steps in between making the design more accessible and cohesive.
Whether you decide to add a fire pit to a larger outdoor living space or create a simple space to pull up a seat and relax, a fire pit is a worthwhile addition to your exterior design. Adding other features and natural stone accents can also help create consistency between different components of your landscape. For more natural stone inspiration for a fire pit upgrade, or outdoor living project, download the catalog.