We are always inspired by the creativity in the design and installation of natural stone projects, and especially the way masons transform our products into functional, beautiful spaces for people to enjoy. Our conversation with Henry Brown, owner, and mason at 207 Stonework based out of Kennebunkport, Maine, reminded us that inspiration can be found in every aspect of the work. As a veteran who spent four years with the U.S. Marines, Henry's work is as beneficial for his peace of mind as it is to grow his business. "I like working with my hands; it's gratifying for me," he said. "It's also a great way to stay out of my head."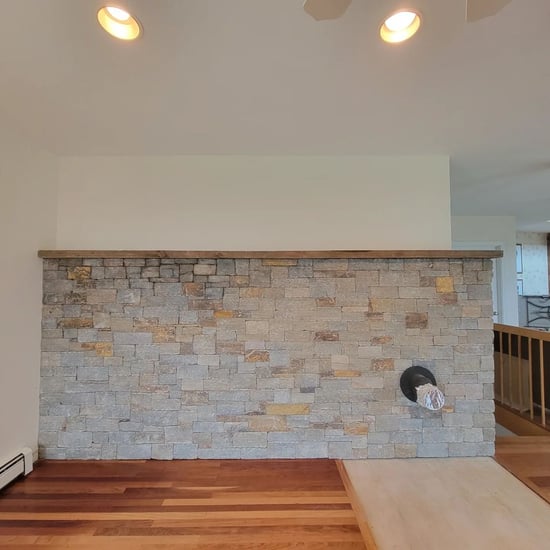 Colonial Tan Ashlar accent wall by 207 Stonework is a backdrop for a wood stove.
Henry enjoys taking on a variety of projects, including patios, walkways, retaining walls, fireplaces, and chimneys--and looks forward to taking on new opportunities as they come along. His passion for the industry runs in the family: Henry grew up alongside his father's general contracting business, where he became familiar with framing and building homes. He recalls going to work with his dad and running a drill at age 12, pitching in to help. More recently, Henry's brother was a mason in Boston, which gave him the experience to work with landscapes and hardscapes before starting his own venture in 2018. He was intrigued by the ability to choose what projects he takes on and when to schedule work or take time off. "I liked the freedom of it, and not being tied down," he said. "I'm still learning, but it's fun and I love it!"
Henry's favorite recent project included an interior fireplace, an exterior fireplace, and a chimney. "It took five months to do, which was a really nice way to spend January to June!" he said. Last year, he said he also enjoyed working on an outdoor spa room for a country club, which required a lot of attention to detail. When it comes to materials, and their impact on projects, he advised, "Always go through a trusted brand! Lining up the right product makes projects go smoothly and efficiently, and ensures timelines and quality line up as promised." And when he uses Delgado Stone, he especially likes the Connecticut Blend collection for the color tones and contrast. "It matches a lot of wood grain in people's houses, and has great contour to it! It's nice and sharp," he said. As for the best practices Henry uses to keep things running smoothly: "Show up 15 minutes early," he said. "On time is late." He said he finds his clients appreciate him arriving early, staying late, and putting in long hours as needed. "They appreciate hard work and getting it done and cleaning up after. The effort goes a long way--and word of mouth goes a long way!"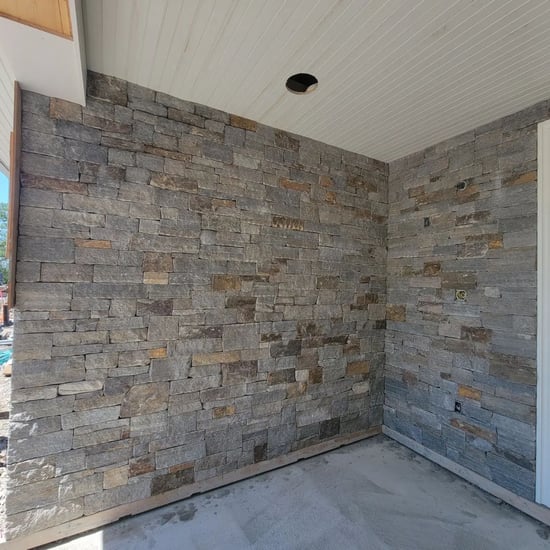 Connecticut Blend Ashlar exterior siding by 207 Stonework.
When asked what his favorite part of the job was, he said... "Seeing the end result! Looking back on the time, energy, and passion that went into a big build, and the the gratification. I love saying, 'I did that," and in 20 years, I'll still be able to point out that work. And I love seeing the smile on a customer's face knowing they love what I did."
The joys make the challenges easier for Henry to navigate, like when it comes to worrying about the next job coming in as he finishes up on a current one. "It can be terrifying when I need to find something else, or sub (contract) as needed for someone," he explained. He says he does his best to stay focused on the right things, like consistency, and making new connections by reaching out and giving out business cards, knowing that someone could reach out even months later. "The hardest part is trying not to stress too much about the bad things and keeping a positive outlook on everything. If you wait, and wait a little longer, that little bit of waiting pays off!"
Similar to other growing masonry teams, like Connor from Quinn's Stoneworks & Landscapes, Henry believes that building on the right principles takes time, dedication, and patience. Future hopes and plans include adding to his team--and while he's already active on Facebook and Instagram, he is currently working on a website and building an online presence. We look forward to seeing how Henry and 207 Stonework will continue to grow--and seeing more projects showcasing his skilled craftsmanship. To learn more, you can contact him by phone at 207-303-9047 or email at 207stonework@gmail.com. You can also find 207 Stonework on Instagram and Facebook. For more natural stone inspiration, and ways masons like Henry can use it to help you transform your space, download our Natural Stone Residential Design Guide.