Fireplaces are one of the most popular uses for natural stone--and we love how a well-executed design, skilled craftsmanship, and the right building materials blend together to bring new life to an old space. This Connecticut homeowner was less than thrilled with the old fireplace, which was original to the family's 1950s ranch: constructed from brick with a lower mantle, pine paneling, and columns on either side of the firebox. It served its purpose, but when it came to style and aesthetics, it was lacking. As the homeowner explained, it was "monochromatic, boring, and totally outdated."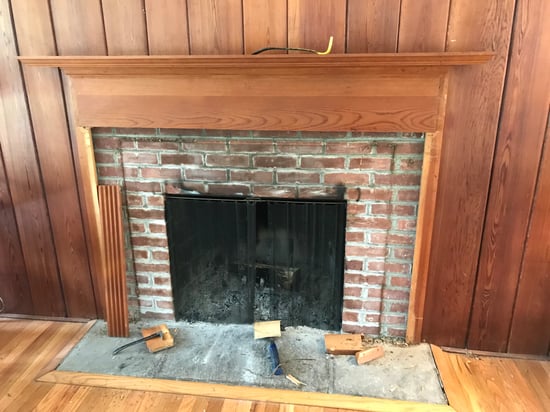 The original fireplace before the American Mist Ledge upgrade
With the design and creative expertise of mason Jesus Zarate, owner of Vision Construction LLC, who the homeowner describes as an "artist" with the stone, the space was reimagined. After removing paneling and trim, and reinforcing the structure, the fireplace was transformed
featuring American Mist in the Ledgestone pattern.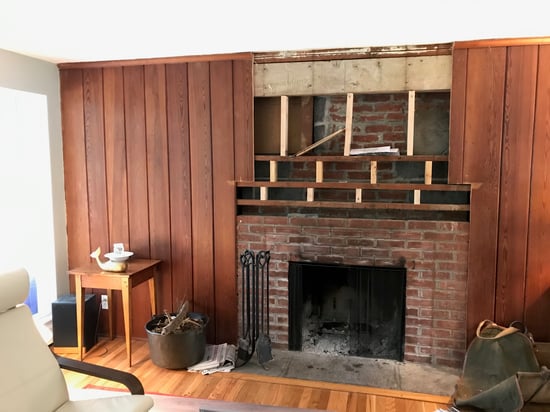 Ledgestone fireplace upgrade in progress
The American Mist Collection is a dark grey stone with white, tan, and hints of green, and is often recognized by the characteristic white lines that run through the end grain as you can see in the Ledgestone pattern. Throughout the different patterns of each stone collection, there are different characteristics including color and texture.
The new natural stone fireplace is accented by a black walnut live-edge slab for the mantle, which is 14' long and continues from past where you can see on the right, all the way to the wall on left.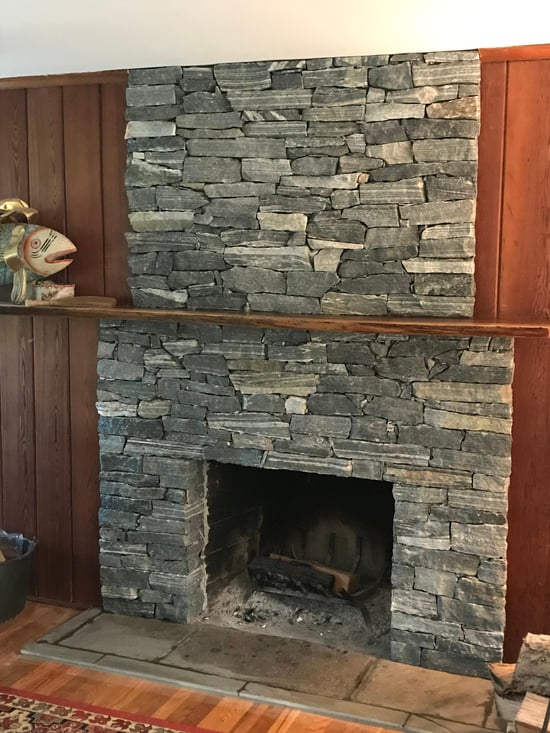 The new fireplace features American Mist Ledge supplied by Gray's Bridge Farm & Earth Products
The homeowners reached out to express how happy they are with their new ledgestone fireplace, and look forward to incorporating more natural stone into future projects (which may include a backsplash or accent piece.) As we often say, use a little stone for a big impact, and this project is absolutely a great example! A huge thank you goes out to the masonry team for the high-quality stonework using our material and to the homeowner for sharing these photos with us.
For more inspiration for your fireplace or next home improvement project, download our catalog.