One of our original teammates has provided her support and professional expertise in so many ways, it is difficult to limit her to one job title! Diana has been guiding her son, Brendon, since long before he founded Delgado Stone in 2010, but her company journey began from the time he was in the planning stages of the business. With a nursing career to enhance her natural impulse toward helping and caring for others, Diana has shared her passion for documentation and her organizational skills to help the company evolve. She has been an instrumental part of the administrative, customer service, and finance teams as well as taking part in the Safety Committee to provide better first aid and to prevent heat illness for production teammates.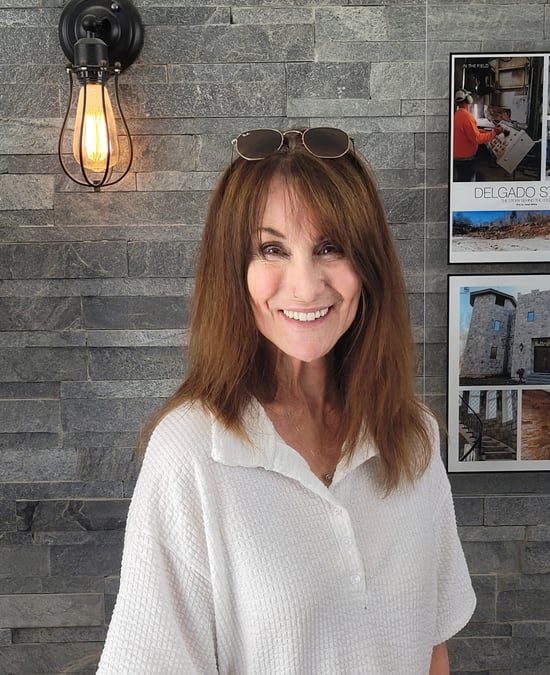 Featured Teammate, and Administrator, Diana, who has helped in more ways than we can count!
The mother-and-son duo of Brendon and Diana were also teammates in previous ventures. As Diana explained, Brendon started out as a landscaper in his early 20s, moving on to excavation, and then opened up a masonry division, while she provided customer service, bookkeeping, and administrative support. "I visited job sites to admire the stonework, fascinated at what could come of a pile of rocks," Diana shared. When asked how she became interested in working with natural stone, she said, "It wasn't intentional; it just came with the job. I am an avid learner with an interest in just about anything; stone was just added to my life's list of interests. Plus, Brendon was a great teacher for me, a willing student."
Diana's commitment to continuous learning makes her a great asset to the team; she puts her experience to good use and is equally enthusiastic to research or explore when new challenges arise. That has been one of her favorite parts of the work, but as for the best part of her job over the years, Diana said, "People. Being supportive when needed. I love all of the people associated with the company and would do just about anything to help out wherever I can. I was given the nickname of 'company therapist,' as whenever anyone was upset they'd come into my office for five minutes and would leave saying, 'I feel so much better now.' That's the rewarding part!"
Diana credits her motivation and work ethic to her upbringing and looks up to her father who worked 12 hours a day six days a week, cutting his hours to "part-time" with 45 hours a week at age 72. "I am the same way," she said. "I am 73 and retirement is not yet in my vocabulary!" She explained she also learned very early on that no matter what the job, you give it 110% and take pride in what you do. And in a proud mom moment, she shared, "It is uplifting to see that this has been evident in my sons."
Diana said she wishes more people knew about natural stone's versatility. "It has so many applications; most people don't think beyond a stone wall. I wish more people realized that considering that stone is forever, it is an investment well worth the money!" And while she doesn't physically work with natural stone, she still has a favorite: "I absolutely love everything about the American Mist Collection. It's beautiful with the white striations."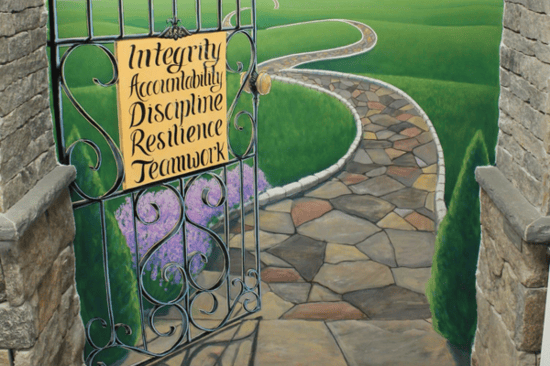 Mural featured in Delgado Stone's new conference room dedicated to Diana.
A few of Diana's interests outside of work include piano, guitar, and all kinds of music, having come from a family of musicians. (She even got a mandolin and ukelele during COVID!) She said she enjoys craft projects, and is currently, making jewelry. She also likes sewing and has made three wedding dresses, including her own, her sister's, and a friend's. One of her biggest passions, she said, is words! "Before electronics, I used to have Webster's Dictionary and Roget's Thesaurus as my bedside reading material. Words have fascinated me since early childhood. By six I would accompany my 12-year-old cousin to the library, and come home with a handful of books - every week. I live for word games, electronic or otherwise. You can catch me playing Words with Friends daily with people all over the world. It's fun learning about other cultures!" On a day off, Diana is most likely to be playing the piano, crafting, entering new words in her word journal, and playing word games. She also loves spending time with her granddaughter, Meredith.
As a tribute to Diana's many contributions to Delgado Stone, and to the personal and professional growth of the team, the company's new conference room was dedicated to Diana earlier this year. She's always around to support with products, getting information, and sending inspirational messages to the team," Delgado Stone CEO, Mike Wolfe said. We are grateful to have Diana as part of our team and look forward to the many ways she will continue to inspire, motivate, and encourage us to be our best. To learn more about what we do at Delgado Stone, and how we can help you bring natural stone products to life, download our Natural Stone Residential Design Guide.
About Featured Teammate: We manufacture and distribute natural stone products, but the people behind the scenes are what sets our brand apart. This new feature is an opportunity to highlight the individuals who bring their talents, passion, and dedication to our team and our daily routines.