You would think buying thin stone veneer would be simple. Find the color (or colors) you like, pick the pattern, purchase, and install. Those may be the steps but I can tell you from my experience working with customers it's never that easy. I understand why… it's a big decision. If you buy the right stone veneer you likely won't have to replace it in your lifetime... maybe even two lifetimes.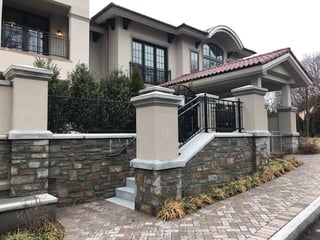 "The Bronxville Blend"
If it's not as simple as I stated above, how do you buy the right thin stone veneer so you don't have to worry about it in a couple of years? It comes down to research and asking the right questions. Since you, as the consumer, don't live and eat stone everyday (I'm on a diet so I only eat it on occasion) these questions will get you started:
5 Keys to Buying Thin Stone Veneer
Research: Your research will likely start on the internet (you're reading this) but it should go beyond that. Look at pictures, order samples, ask your local supplier…Get to a point where you're comfortable with the decision you make.
Feel the Stone: When you see pictures of a completed project it only tells have the story. Real thin stone veneer doesn't come perfect and it has color variations. A picture from 10 years ago will not suffice. We're always sourcing new pictures but you need to see and touch the stone yourself. It's the only way to make a real decision.
Don't Go Direct: This may sound counter intuitive but the truth is your local supplier can make the process easier and share expertise you won't get if you buy direct. We rely on our dealers to educate the customer and work with them so we can focus on what we do best: make high quality stone veneer. We love answering questions and helping customers but without our Authorized Dealer Network we wouldn't be the The Company we are. Our focus on quality and manufacturing allows our dealers to work with the customer and know they can rely on us.
Pick the Right Company: It seems like everyone is in the "thin stone veneer" business. While we're native to natural stone veneer there are companies that bought a saw or were in the countertop fabrication business who figured "we can do this too". Will the company be around in 5 years (or less in some cases) or are they a pop-up? Are they the cheapest because they simply have a cheap product? Not all stone veneer is created equal.
Quality: How much waste can you expect? Is the product consistent or do you get something different every time? Does the company stand behind their products if there is a quality issue? Will it hold up for many years or will there be breakage and fading? These are some questions to consider when it comes to quality. Our QA Team is relentless (this doesn't mean perfect) in the pursuit of excellence. No matter how much stone we produce we know each one is important and it motivates us to be the best.
There are many ways to buy thin stone veneer and countless options. Hopefully this article made it a little easier so you can make the right decision when it's time to make your purchase.