We know selecting the right stone veneer for your project is not an easy task. I struggle to make a decision when there are too many options on a menu and that's one meal. The stone veneer you are selecting is likely something you will look at every day for many years to come. We want you to get it right so you have something you are thrilled with every time you or someone you are with sees it.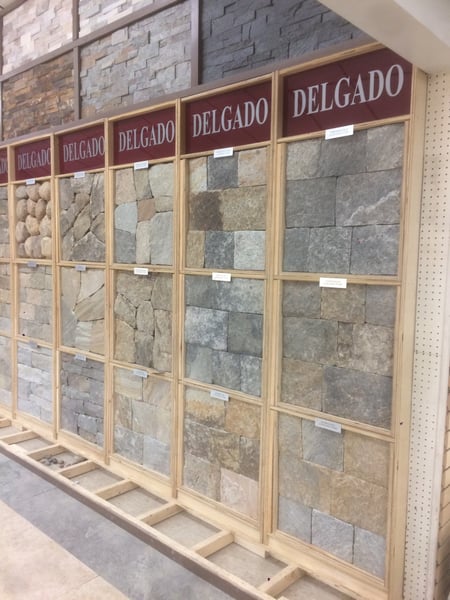 Authorized Dealer Display: Don't Rely on Pictures, See It Before You Buy It
Now that you have made the decision to work with stone veneer we have a few suggestions on how to make it a positive experience and allow you to end up with stone you'll love for years to come.
5 Tips for Selecting Stone Veneer
1. See it in Person: This is my number one for anyone making a decision to work with stone veneer or any natural stone product. Natural stone changes over time and it's strongly recommended to see it in person before you buy it. Our Authorized Dealers do a great job of displaying our products to make the decision easier or you can order samples from our website.
2. Plan in Advance: Good stone takes time to prepare and although we do our best to keep products in stock it's a challenge especially on larger projects. If you know what you want don't wait to order it. Ordering in advance and having the material onsite will prevent project delays and unexpected costs. Do your best to avoid waiting until the last minute if you can help it.
3. Plan for Waste: No matter what anyone tells you there will be waste when it comes to natural stone. If you try to order the exact amount you can leave yourself short which will cause project delays and increase your costs. We suggest using a 10-15% waste calculation on most projects but for those requiring more working of the stone (saw cutting sides for perfect fit) you should plan on more waste. We created our Product Spec Guide so you know what the stone will look like when it arrives one the pallet. Natural stone requires work for a beautiful install, make sure you're prepared.
4. Use Your Team: Another benefit of our Authorized Dealer Network is the ability to work with a local expert. Many of our Authorized Dealers have experience working with stone veneer and those who have not personally done it have local connections that have. We do our best to create educational content and materials to help everyone but having someone local to rely on is one of the reasons we use our Authorized Dealer model. They have the stone, materials to install, connections, and expertise so you're never alone when it comes to selecting the right stone for your project.
5. Remember, It's Your Project: There are more stone veneer options now more than ever: thinstone, full bed, manufactured/cultured, stacked stone... the list goes on. You will receive unsolicited opinions and you could spend forever going through Pinterest and Instagram (@delgadostoneusa) looking for what other people have done. Remember this is about you and what you want. You have a budget, a vision, and a reason for doing the project and other people have theirs. Avoid unrealistic expectations and select a stone veneer product you want as part of your life for the foreseeable future.
Selecting natural stone veneer should be an exciting and fun part of the project for you. There are many other things to consider but we hope these five help you get started.
What's your best tip? Leave a comment!