When considering the possibilities for your outdoor living project, a pool is a great opportunity to explore and get creative with natural stone design. Natural stone is a great fit for many reasons, including the fact that many of its characteristics make it a "natural" choice for any part of a pool environment. The ability to endure constant exposure to water, harsh chemicals, and traffic without compromising the structure is an important factor when selecting construction materials. Using natural stone in your pool design, whether for the main components or accents, helps ensure years of functionality, as well as fun, entertainment, and memories with family and friends!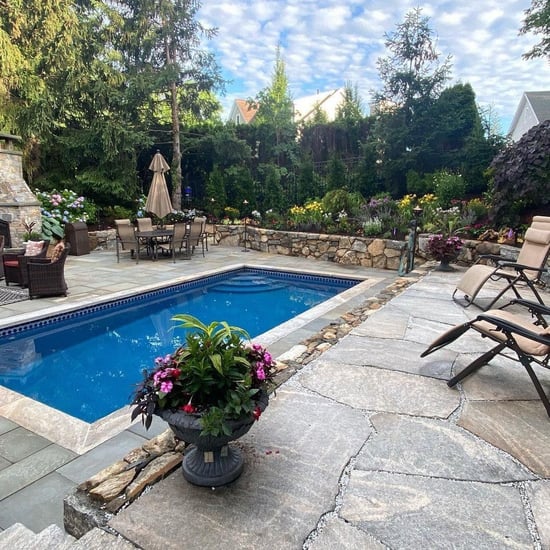 Old New England Wall Mosaic and Liberty Hill Flagstone provided by Byram Mason Supply
Natural stone is durable and resistant to weather variations and needs little maintenance, which makes it a great material to invest in for a hardscape project, among others. Natural stone is less porous than other popular pool area materials, and it does not fade over time. Another bonus to using natural stone in pool design is that stones like granite have a slightly coarse finish, which contributes to safety with anti-slip properties. While manufactured materials may last for decades, natural stone can last for centuries, leaving more room to focus on leisure once the project is completed. The renovation in the photo above, in Westchester, New York, features natural stone in two different components. The raised patio area was designed with Liberty Hill Flagstone, and the fieldstone retaining wall is made with Old New England Wall Mosaic.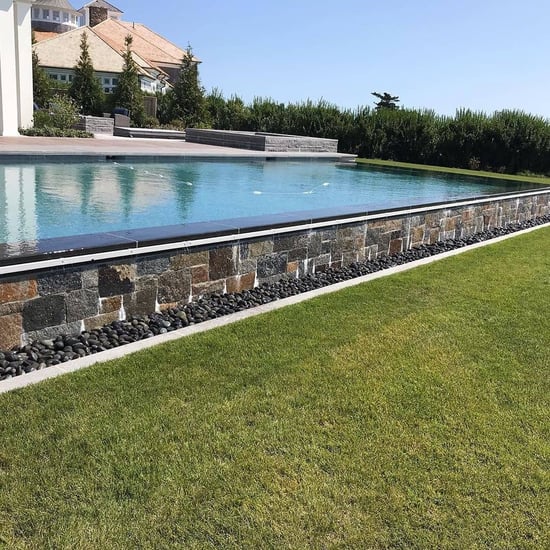 Connecticut Blend Square & Rec provided by Hi-way Concrete
Another way to incorporate natural stone design in pool areas is with accents. Each stone has its own variations, and every installation is completely different and unique. Stone creates a natural look that is connected with nature and evokes a soothing atmosphere ideal for a recreational space. This Massachusetts homeowner used Connecticut Blend Square & Rec as an accent alongside the pool. Combined with the loose stones, the installation adds a color range that brings different elements of the property together and a special touch to the landscape.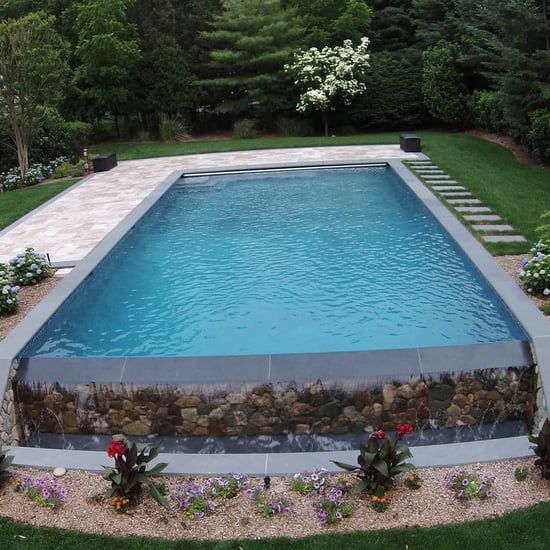 Old New England Rounds provided by Nasco Stone Supply
Another example of an accent is this project above by SK Complete Landscaping. Using Old New England Rounds as the backsplash of a waterfall, this renovation adds a stunning component to the landscape design, and helps immerse the senses in nature while enjoying leisure time.
Because natural stone is a versatile building material that is as visually impactful as it is functional, it is a great option for outdoor living projects and pools. Natural stone design, combined with designer expertise and the skilled craftsmanship of masons, offers a variety of ways to customize any project and make it stand out. For more design inspiration, download our catalog.