I am excited to share the pictures of this interior stone fireplace a customer sent us. This was the final piece of the puzzle, as they moved into their new home and we were honored to be a part of it. There were some struggles along the way, but the important thing was everyone worked together to make sure this family had a fireplace they would be happy with for many years to come.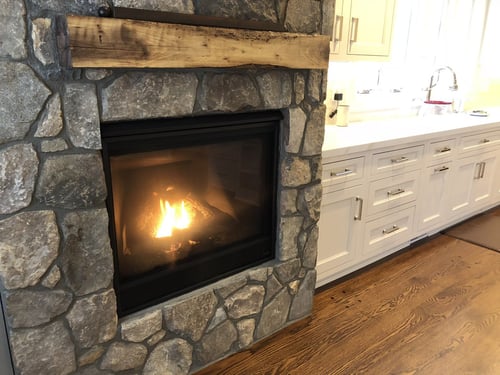 Stylish Farmhouse Design: Custom Blend Old New England Wall & Fieldstone Dark Mosaic with Wood
The homeowner was in search of stone for their fireplace and looked at a variety of products and brands. They initially selected our Old New England Wall but were concerned there may be too much color variation. Expressing their concern to us, we were able to work with the homeowner, Authorized Dealer, and designer to understand the needs of the project. Ultimately the homeowner was comfortable with the stone they were going to receive.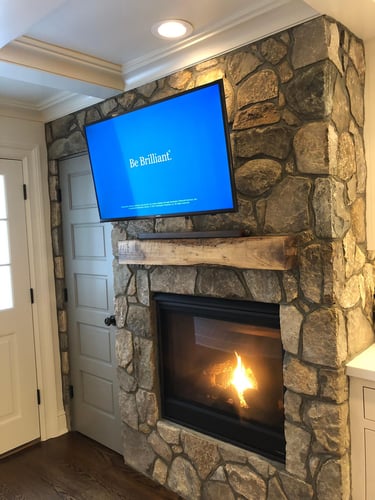 We love the wood mantel and flat screen TV!
The combination of our Old New England Wall and Fieldstone Dark (both fieldstones) products provided them with the end result they desired (pictured above) and these were sent to us shortly after moving into their now completed home. We rely on our dealers to educate the consumer on our products but it's important for our Authorized Dealers to know they can come to us to help make sure their customer gets what they want. We take pride in our products but we take even more pride in being the best service-based company in the industry.
Congratulations to this homeowner on their new home and thank you to the Delgado Stone Authorized Dealer that worked with us and their customer to make this a memorable project.
These pictures were emailed to us with a note that read: "The fireplace stone is fantastic and we love it! It turned out so well and I'm not sure these pictures do it justice".
The end result and the customer experience are important to our team so you can imagine how much this note meant to us.