Steps can be a crucial part of the landscape design of a property. They help create and navigate between functional spaces throughout the property while connecting them more conveniently and safely. Natural stone steps are a great choice to enhance the visual impact of landscape design projects and offer benefits including durability, longevity, and minimal care and maintenance. There are three main types of natural stone steps available: Quarry Steps, Irregular Sawn Steps and Dimensional Steps.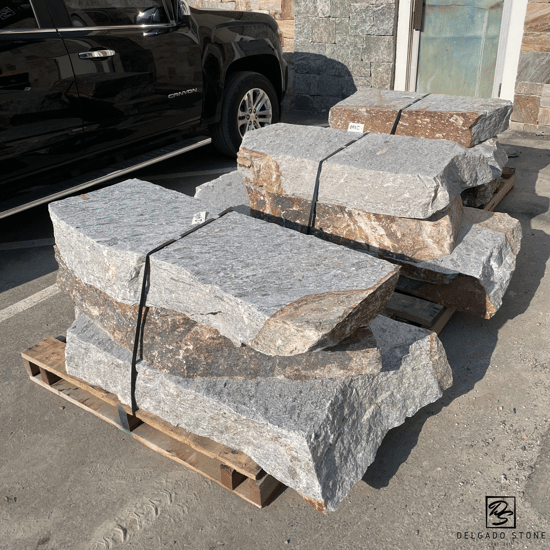 Palletized Spruce Mountain Quarry Steps
Quarry Steps are the most natural of the different step options, and are, palletized, delivered, and installed in their original state. This option is a great fit for homeowners wanting a rustic, timeless, and natural look for their project. Each step on a pallet with vary in size but will fall within these approximate dimensions: 5"-9" rise x 16"-36" depth x 36"-72" long. While the natural variations are part of the appeal, they can also make the steps more difficult and time-consuming to install.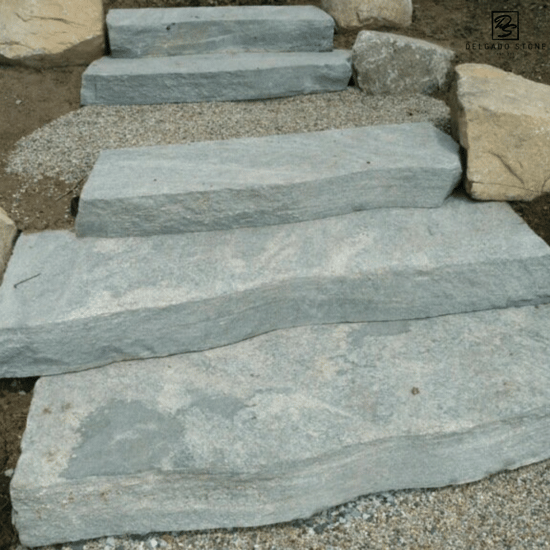 Liberty Hill Sawn Irregular Steps installed by Stephens Landscaping Pros.
Irregular Sawn Steps are a good fit for homeowners looking for an option in between Quarry Steps and Dimensional steps, with a natural look and improved ease of installation this step option is the most popular. Irregular Sawn Steps incorporate the natural rise and sides much like the Quarry Steps, but are sawn on the top, bottom, and back to create a uniform height while making installation easier. They also have a thermal finish on the top which creates a slip-resistant texture while bringing out more of the color range. The approximate dimensions for these steps are 7" rise x 16"-30" x 36"-72" long but can be adjusted to project-specific needs.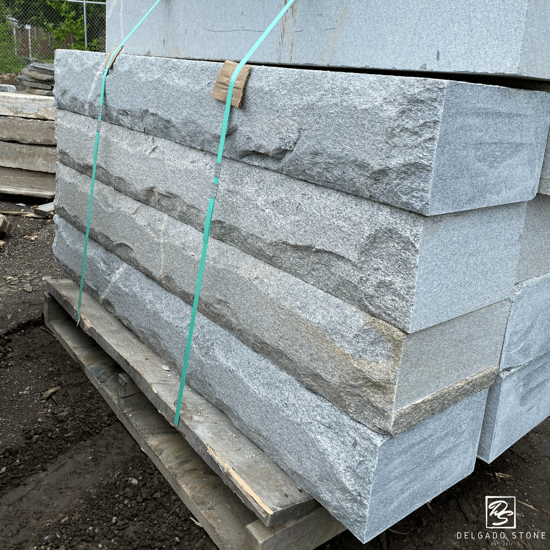 Palletized Dusty Rose Dimensional Steps
Dimensional Steps offer the most room for customization and vary from project to project. They are rectangle-shaped and sawn on all sides, for a smoother and easier installation. Dimensional steps are available with a rock-faced finish (as seen above), which provides a natural look, or a thermal textured finish, which creates a different texture, depending on the look the homeowner is going for. Either finish can be applied to any of the sides, but most commonly, the top(face) has a thermal finish and the rise(front) is rock-faced.
When choosing between the different natural stone step options it is important to take the design and color of the material into consideration while also considering the over look that is trying to be achieved. Whether looking for a modern, uniform set of steps or irregular & natural there is a step option for your project. The different options also offer a variety of custom ways, to make the most of the design, goals, and existing landscape. For more information download the landscape and saw shop specifications guide.