As if picking out which stone veneer product wasn't a hard enough task, you will then have to pick out a pattern that will provide the best look and fit for your project. At Delgado Stone we offer over 20 different stone types and 5 different patterns (6 if you count Rounds).
Whether you want thin stone veneer (1" with ¼" tolerance) or full bed veneer (3"-5" thickness), you'll need to understand the the pattern types. The patterns we offer are Mosaic, Strip, Square & Rec, Ashlar, and Ledge. Let's take a look at them:
Mosaic Pattern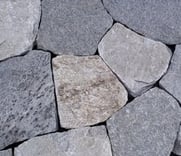 Our Mosaic pattern is made up of irregular pieces of stone that fit together to create your custom design. While each piece is uniquely shaped, the face area is commonly .25 - 1.25sf (square feet). Mosaic corners are sold by the Linear Foot and are 3"-6" by 4"-12". You'll notice mosaic patterns used for both interior and exterior projects on residential and commercial projects.
Strip Pattern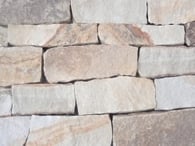 Our Strip pattern most resembles a "brick-like" design. Strip offers a flat face which can vary from 5"-8" in height and 12"-18" in length. Since the stones are all cut to almost the same dimensions they fit together to form a flatter surface. This pattern is often used for walls on both the interior and exterior. Strip corners are sold by the Linear Foot and are 3"-6" by 4"-12".
Square & Rectangle Pattern
The Delgado Stone Square & Rec pattern is sorted and split into pieces that are square and rectangular in shape. Commonly cut at 6"x6", but can be extended for the rectangular pieces. The face area ranges from .25-1.50sf. Square & Rec corners are sold by the Linear Foot and are 3"-6" by 4"-12".
Ledge Pattern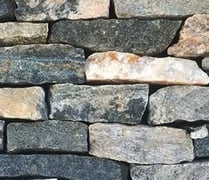 Our Ledge pattern (or Ledgestone) offers thin cut strips of natural stone often used for siding. Ledge pieces often run 1"-4" in height and 6"-14" in length. This popular pattern in used on the interior or exterior of residential and commercial projects. Ledge corners are sold by the Linear Foot and are 3"-6" by 4"-12".
Ashlar Pattern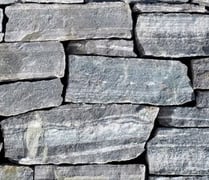 Our Ashlar pattern is a combination of mostly Strip with Square & Rec and Ledge making up the rest of the pattern. The combination of these three patterns provides the mason with flexibility to create a unique design for the project they are working on. The Ashlar pattern is common for interior design on walls and veneer stone fireplaces. Ashlar corners are sold by the Linear Foot and are 3"-6" by 4"-12.
As you can see, there is no shortage of choices when it comes to selecting a pattern for your project. In some cases, you may even decide on a pattern before selecting which natural stone you will use. When making your selection talk to you mason, architect, and dealer to see what price and pattern might work best for you.