Walkways are a defining element of exterior home design; they create access between different exterior spaces and help them to connect more conveniently across the property. Walkway designs and construction can also bring different building materials and areas of the property together. One of the most popular materials for natural stone walkways is flagstone, which is available in a variety of collections, each with its own color range, and available either split approximately 1"-4" thick or sawn 2" thick with a thermaled finish.
Here are a few examples of natural stone walkways that showcase different flagstone collections and installations, inspired by the talents of the designers and the skill of the masons.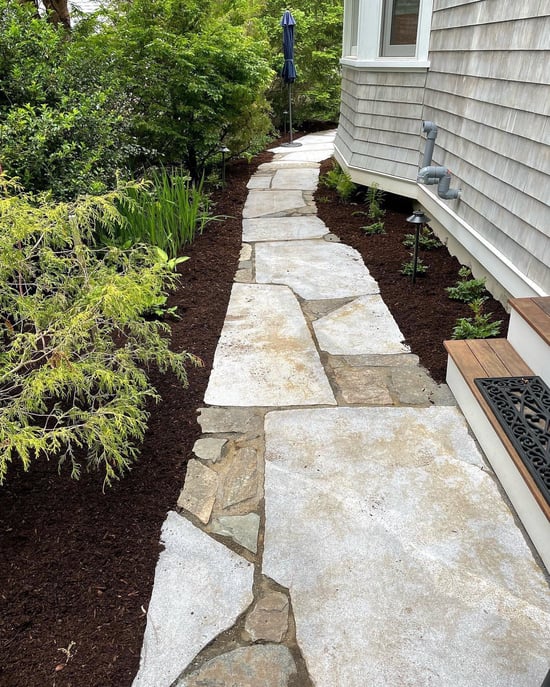 Fitzwilliam Flagstone alternated with existing fieldstone from the property creates a custom look.

The natural variation of flagstone, between the color range and shape, ensures a unique look for any project. For this project and installation above, though, the design by 603 Stonework NH and JL Young Landscapes combined Fitzwilliam Flagstone with fieldstone found on site to create a completely customized walkway. The natural stone from the two different sources adds a personalized element to the project and to the property itself.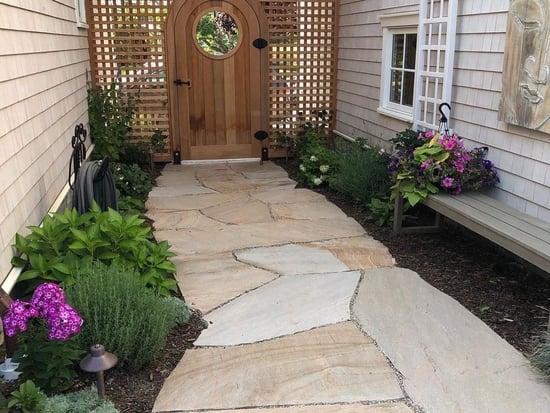 Sterling Tan Sawn Flagstone provided by Landcare Stratham Hill.
This Sterling Tan Sawn Flagstone walkway is part of a bigger outdoor living project designed by Woodburn & Company, and installed by Piscataqua Landscaping. This walkway connects a covered patio and entertainment area with easy access to the kitchen and indoor amenities, making outdoor gatherings a breeze. The walkway helps tie the overall design together, which creates an open-air atmosphere for socializing and blurs the lines between indoor and outdoor spaces.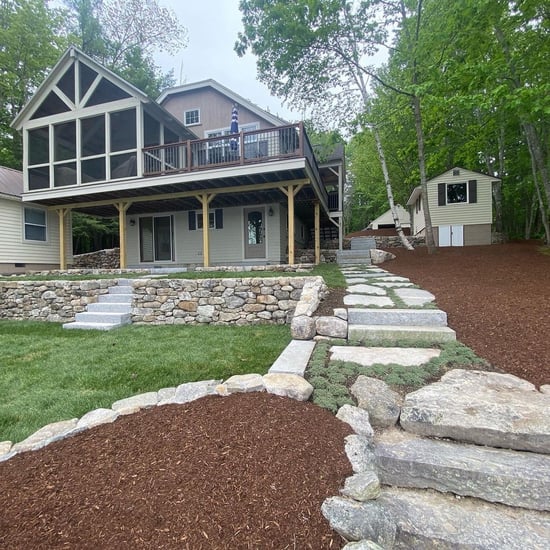 Liberty Hill Flagstone provided by The Rockshop at New Hampshire Thinstone.
The best walkways lead to the water, and the Liberty Hill Flagstone along this backyard project makes the path as intriguing as the destination. The layout of the stones gives the walkway an even more natural feel while blending with the rest of the landscape renovation by Blue Ridge Landscaping.
Whether you're looking for a classic walkway to connect exterior spaces or one that adds personality to a larger exterior landscape renovation, flagstone is one building material that will help make your project stand out. For more information, download the Landscape Spec Guide.