Delgado Stone Distributors is excited to announce that former COO Mike Wolfe has been named Chief Executive Officer effective December 1st. Mike takes on the responsibilities of CEO while Director of Ops, Tyler Czado will oversee day-to-day operations at the Brookfield, CT facility.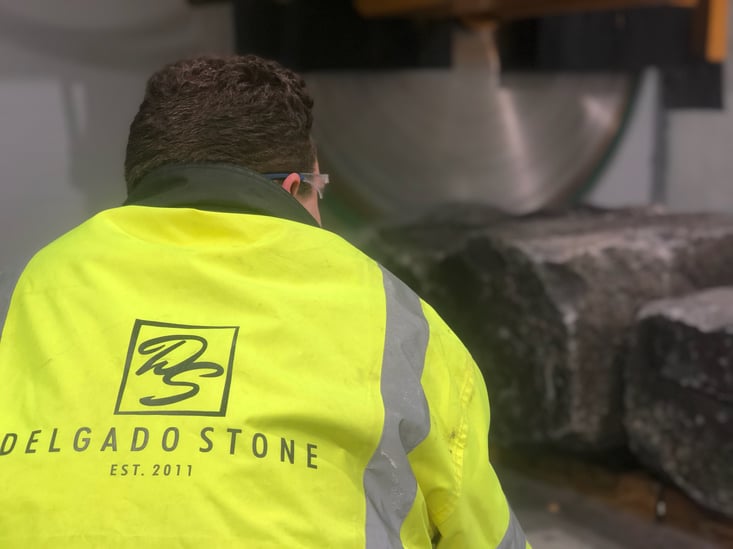 CEO Mike Wolfe at the Delgado Stone Saw Shop
Owner and Founder, Brendon Southard had this to say when discussing Mike's journey to CEO: "When I hired Mike to do marketing for Delgado Stone, 6 1/2 years ago, I had no idea that he would shape the future of the company. Delgado Stone was growing and he was the only person who recognized that I was too busy to do everything on my own and would ask, "What can I do to help you?". When put in charge of production, the changes he made showed major improvements from the start. As he took on more tasks and gained more trust, I could see how much he cared about his job and making an impact on the company. As Director of Operations, he would spend hours analyzing the current processes to find ways to make things run more efficiently. As COO his competitive spirit and constant drive motivated him to push for higher and higher levels of success. Becoming CEO was a natural progression. I have complete faith and trust in Mike, not just as my CEO, but as my friend."
As Brendon expressed, Mike has been a huge part of the growth Delgado Stone has seen since joining in 2016. Along with helping the company achieve new heights, Mike has brought the best out of other team members as well. One of those team members, in particular, Director of National Sales, JP Acosta praised the culture Mike has helped create across the entire team saying "Watching Mike work relentlessly on improving himself and then sharing that growth with his colleagues is inspirational. Mike is the epitome of Lead by Example." Going on to say "his eagerness to see his colleagues succeed is most admirable. He wants everyone to know that their role is important and that each and every one of us contributes to our successes." JP continued to say that Mike has successfully built a culture that team members want to be a part of and "lives it every day whether dressing up on Halloween, manning the grill for company BBQs or learning how to hold a conversation with a team member in Spanish."
Having spent two months as the acting CEO of Delgado Stone, Mike had this to say about this next chapter... "I am grateful and excited for the opportunity to lead our company. We have an incredible team that understands the value of the work we do and how it impacts our people, company, customers, and industry. I look forward to the challenges we will face and overcome as we work to achieve our goals and grow as an organization. It's truly an honor that Brendon and our team believe in me to lead us into the future."
About Delgado Stone Distributors
Delgado Stone Distributors is a manufacturer and distributor of natural stone. Based in Brookfield, CT, Delgado Stone offers a range of natural stone materials that are used for residential, commercial, landscape, and hardscape projects, both new construction and additions. Since 2011 Delgado Stones' vision has been creating a "people-first" company culture that drives us to create the highest quality products and provide industry-leading customer service while continuing to be industry innovators. Through our network of Authorized Dealers, we are able to supply the entire continental United States and parts of Canada.