If you're reading this from the Northeast, Midwest or Canada you are well aware of the following fact: Winter Is Coming. This time of year the air starts to cool and the leaves start to turn, a telltale sign of winter being on the horizon. These next few months of weather are the most precious time of the year and it's important to spend it wisely. We suggest getting together with friends and family (safely, of course) and spending time around an outdoor stone veneer feature .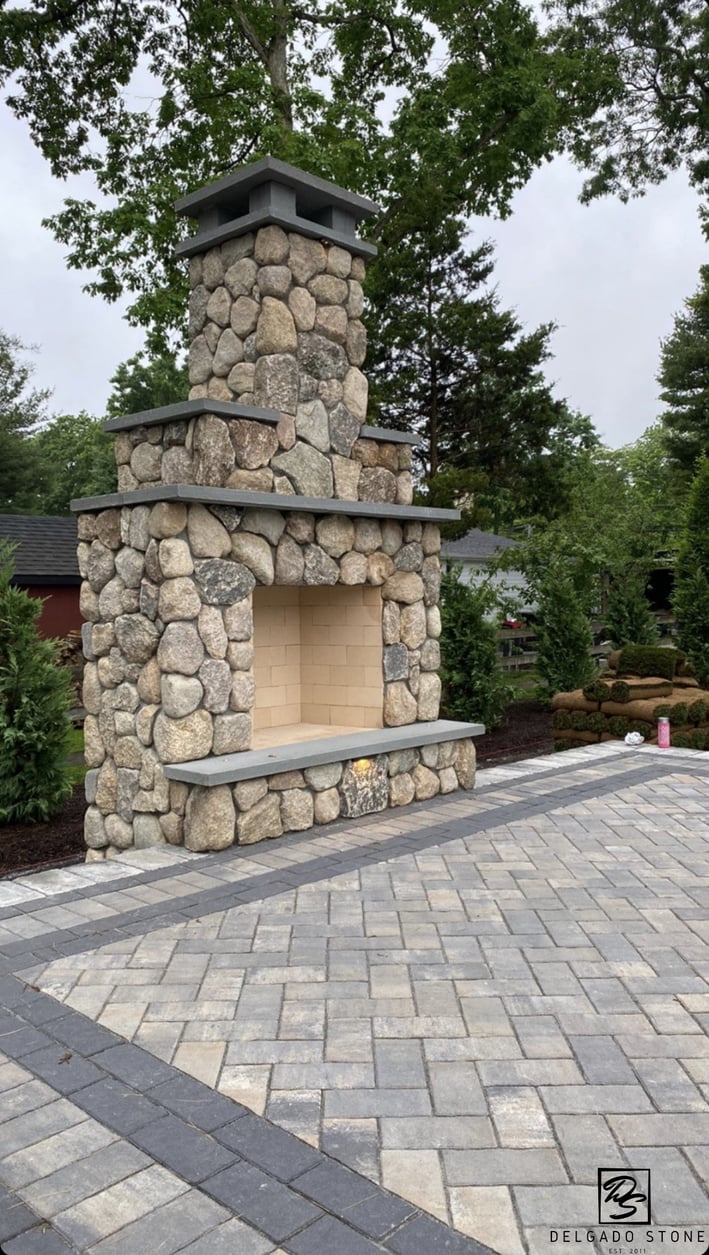 Old New England Rounds Fireplace
Luxurious Long Island Landscape
Mason: Barry Bros Landscape Design
Stone: Old New England Rounds
An outdoor transformation that demands to be seen. This Long Island, New York space went from ordinary back yard to outdoor oasis with the addition of a pool, outdoor kitchen and the featured project; an outdoor stone veneer fireplace. This centerpiece feature will be the host of many gatherings between friends and family as well as a spot to break away from the main patio. Old New England Rounds thinstone veneer continues to be a popular selection for its versatility in multiple applications.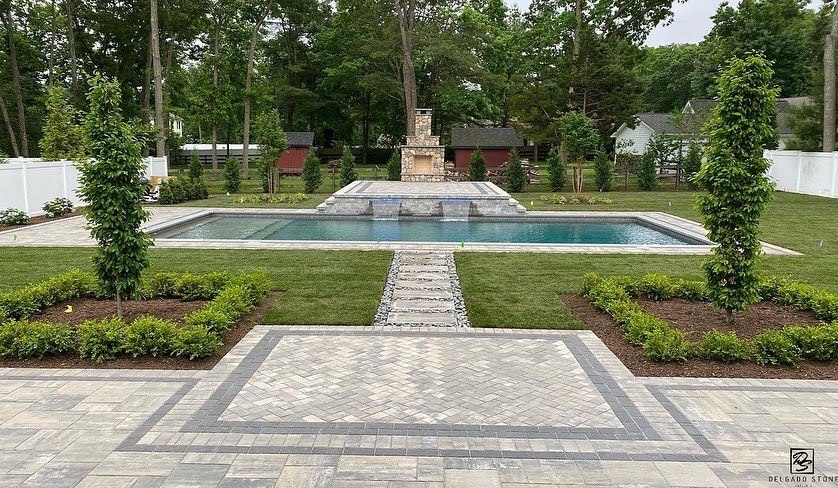 Pool and Patio Backyard Transformation
Under The Gazebo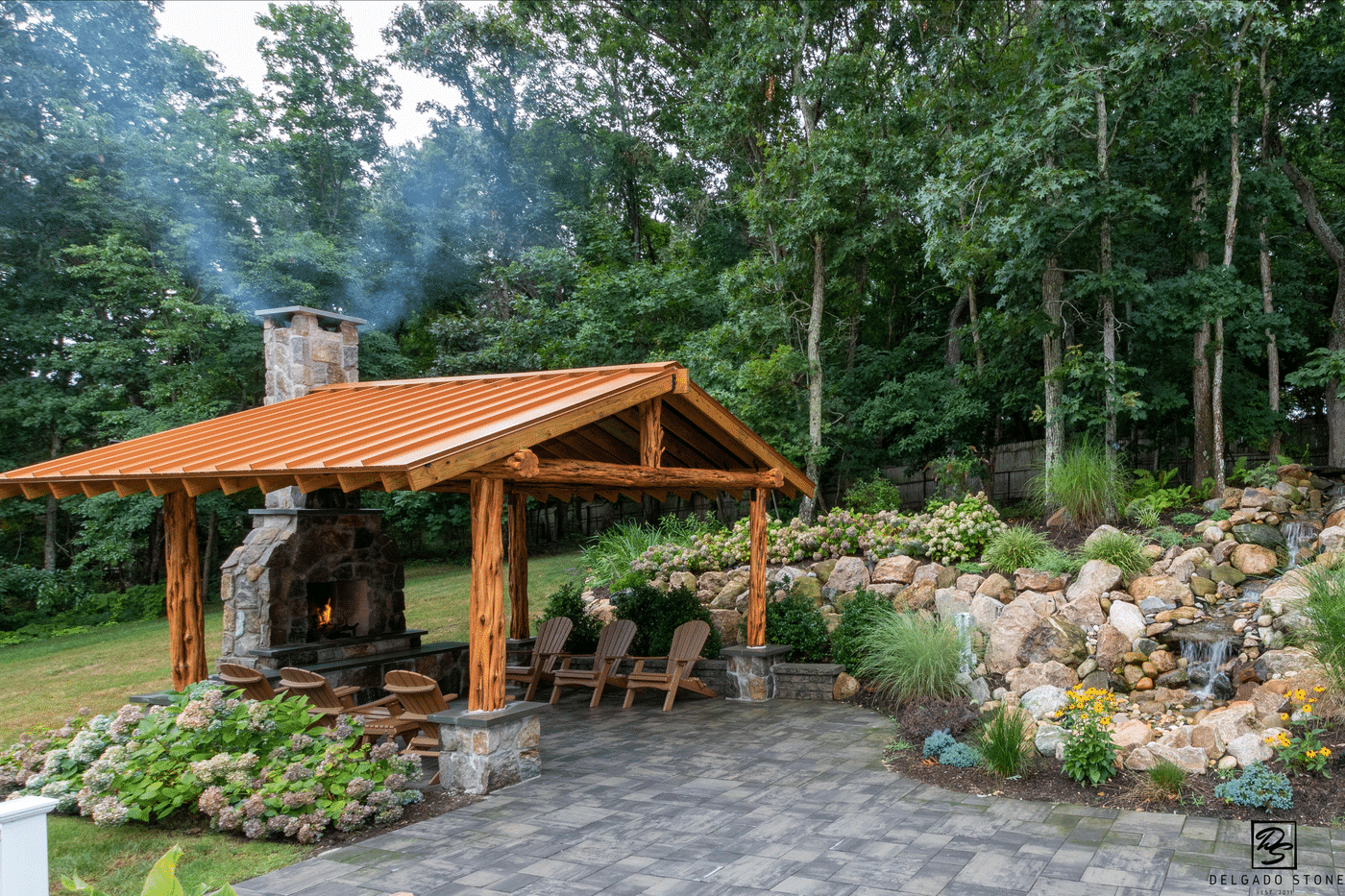 Outdoor Living Area With Montauk Blend Veneer Fireplace
Mason: Daniel De Mato
Authorized Dealer: Laurel Stone Supply
Stone: Montauk Blend Mosaic
An outdoor fireplace feature that has been showcased at many different stages has now added a gazebo to finish off this patio design. This fireplace which was originally the backdrop for a wedding is now a space to gather even when the weather is an obstacle. The homeowner and DIY magician behind this stonework and gazebo Daniel De Mato chose the Montauk Blend and liked the turnout so much he added it to the columns of his newly constructed gazebo as well. A picture perfect scene for a fall night.
Backyard Getaway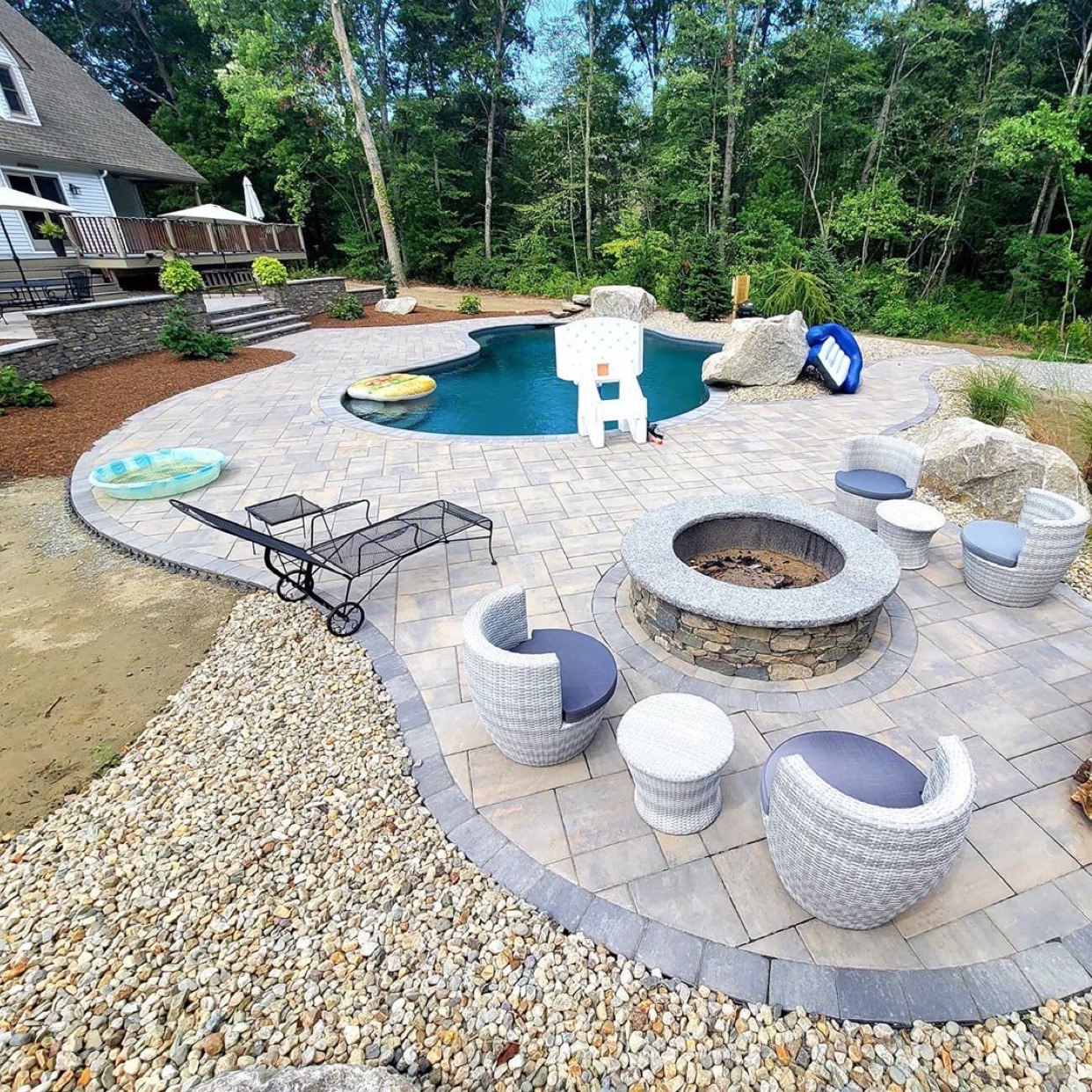 Pool Area With Stone Veneer Firepit

Mason: ET Landscape
Authorized Dealer: Landscape Depot
Stone: Fieldstone Dark Ledge
A pool project at the end of summer can be bittersweet, luckily in this case the outdoor transformation included a stone veneer firepit to spend time around as well. As pool days come to an end and pools sit dormant throughout the fall and winter the addition of a firepit will keep the outdoor living going.
Complete Outdoor Living Space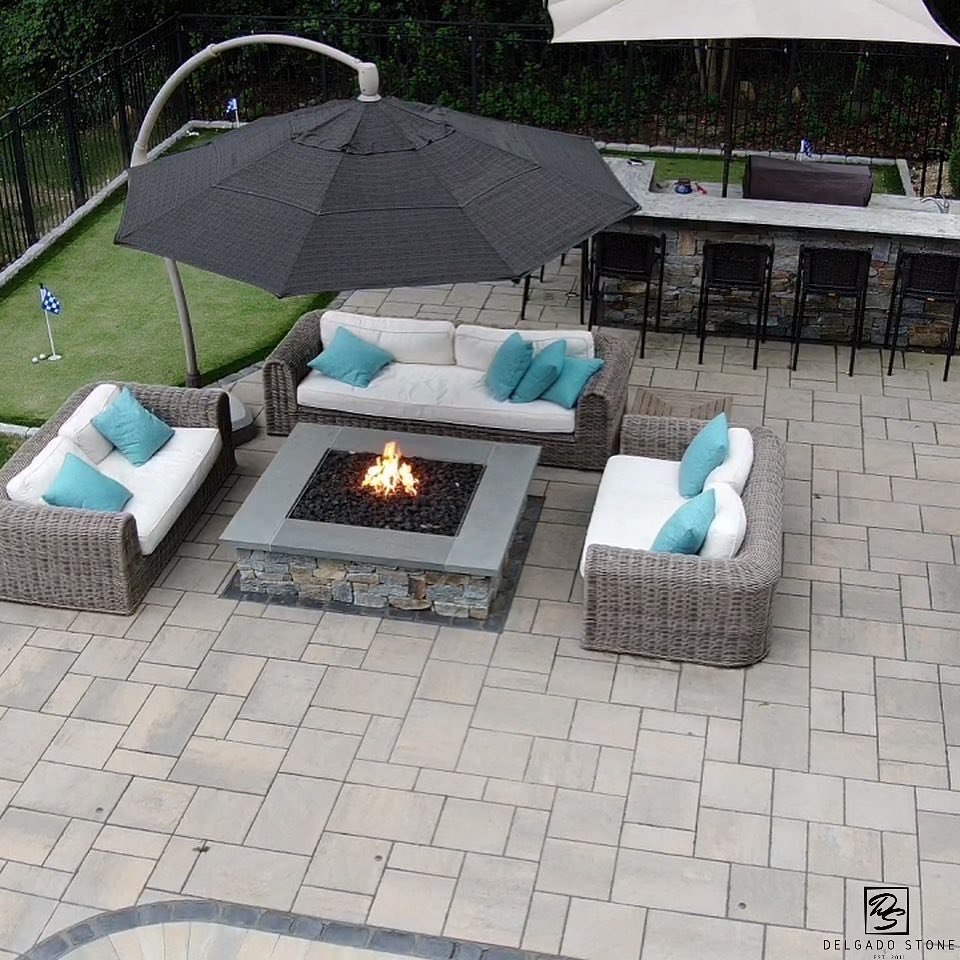 Firepit and Outdoor Kitchen Area

Authorized Dealer: Division One Landscaping
Authorized Dealer: Arnold Lumber
Stone: CT Blend Ledge
When designing an outdoor living area creating a space with multiple features is a recipe for success. With the addition of a pool, spa, fire pit and outdoor kitchen this project has all the pieces to fit your needs for hosting during different seasons. The use of the same stone veneer throughout the project also tied the project together well. Whether it's time cooking outdoors during a pool day, sitting by the firepit in fall or hoping in the hot tub in the winter this project has all of the necessary outdoor living components.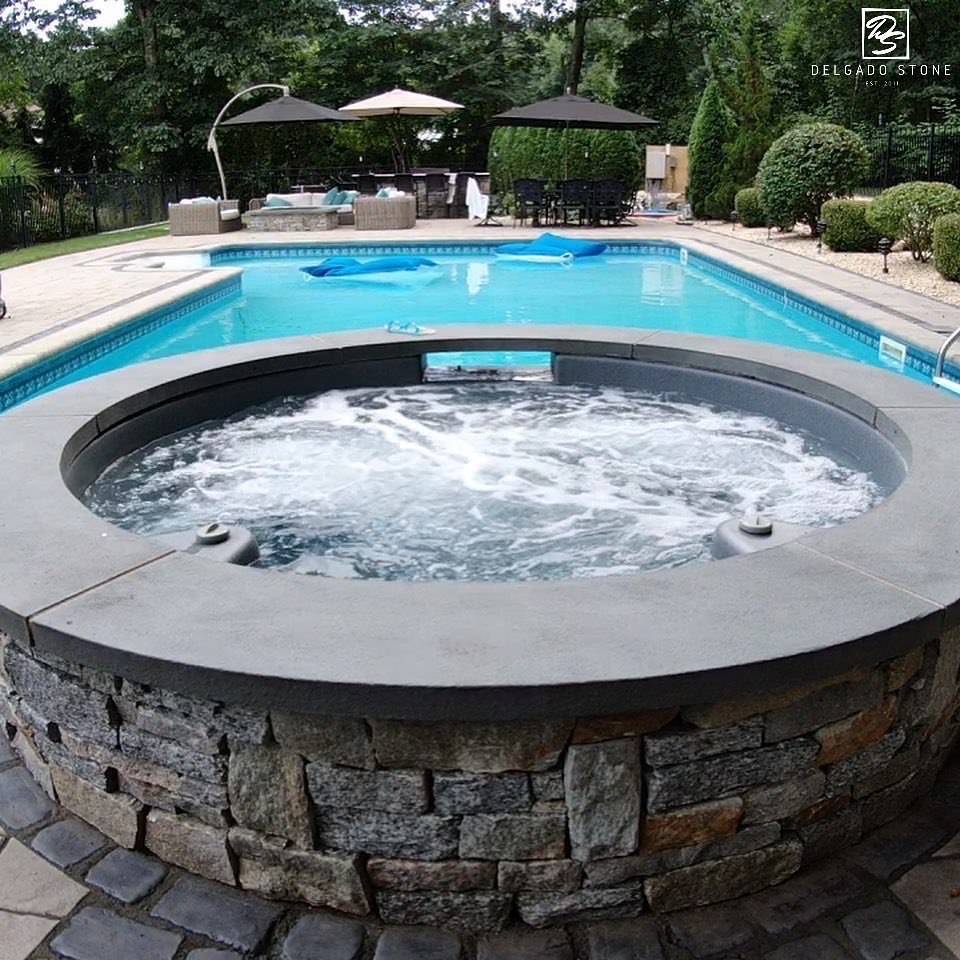 Spill Over Spa With CT Blend Stone Veneer