When people consider thin natural stone veneer they immediately think it's too expensive. It isn't until they explore the alternatives that they begin to understand that natural stone is not only comparable to the alternatives, it's actually an investment!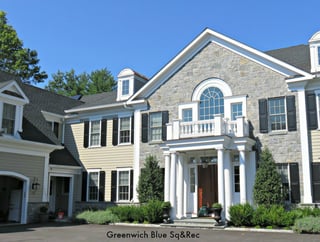 The durability and beauty of natural stone make it a wise investment in whatever real estate you own. There is the potential for the initial cost to be on the higher side but if you analyze the durability and resale value of real stone it becomes an asset, not an expense. Thin natural stone veneer will typically outlast other exterior applications which will reduce the cost to repair in the future and it will lose less color over time so it keeps the "new" look.
Using Thin Natural Stone Veneer
Exterior Siding: This would project would be on the larger side and be more expensive but many residential projects are using thin natural stone for exterior siding. It could be partial or the entire exterior. The main reasons are beauty and durability… it can handle tough weather better than other applications.
Backyard Oasis: If it's a stone fireplace or grill natural stone provides color and pattern options that you wouldn't find with brick or clay. You can make it unique and it can match your entire patio or pool area if you want it too.
Interior Fireplace: We are seeing more customers use our thinstone for their interior fireplace. The color that are options available make it easy to match any decor you have in place or it can be the focal point if you're redoing the entire room. (This blog post highlights that!)
Small Projects: Don't overlook those small projects that will be low cost but add curb appeal. The side of your steps. a walkway (natural stone flagging) and the base of a front porch, or maybe your garage. A small project will be low cost but can still add a "wow" factor.
Thin natural stone veneer continues to grow in popularity and there is not shortage on choices. Local quarries or companies, fieldstone, imports, panels… the list goes on. Don't assume it's too expensive and look at the long-term benefits. You may end up making more on your investment than you think!