Fireplaces are one of our favorite projects to share, since they can be the focal point of any indoor or outdoor space. As homeowners consider the best ways to utilize their space, more home improvements are incorporating multiple features and functionality into their fireplace additions or renovations. Outdoor fireplaces have their own special charm, especially during warmer months, but indoor designs have a greater need to integrate with everyday use. Using natural stone for a fireplace can help create beautiful and functional spaces with efficient features for leisure and entertainment throughout the year. With good design, planning, and execution it does not take a lot of space to transform a room into an ideal atmosphere. Here are three different ways natural stone used in a fireplace project can achieve different home improvement goals.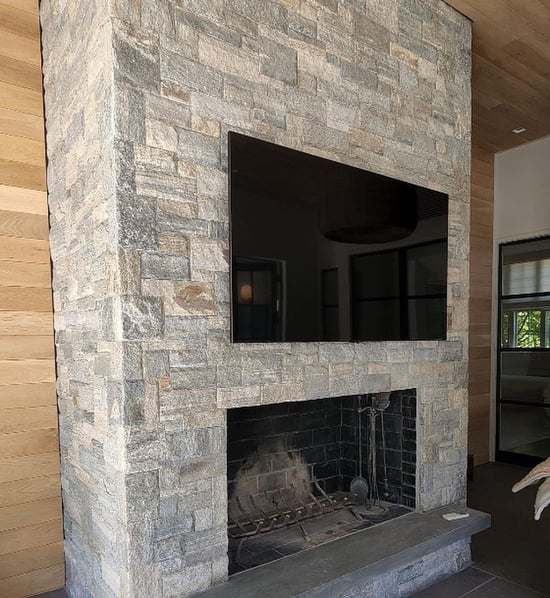 The Liberty Hill Ashlar fireplace also makes a stunning backdrop for entertainment.
1. Entertainment
The MCN Construction team designed this fireplace and TV combo with a beautiful Liberty Hill Ashlar backdrop (stone provided by Prospero Nursery.) While the fireplace is a worthwhile point to focus on, this setup offers a multipurpose design solution for another important source of entertainment. Whether it's a game night or low-key leisure time at home, this design showcases both simultaneously, although each can still be enjoyed without the other.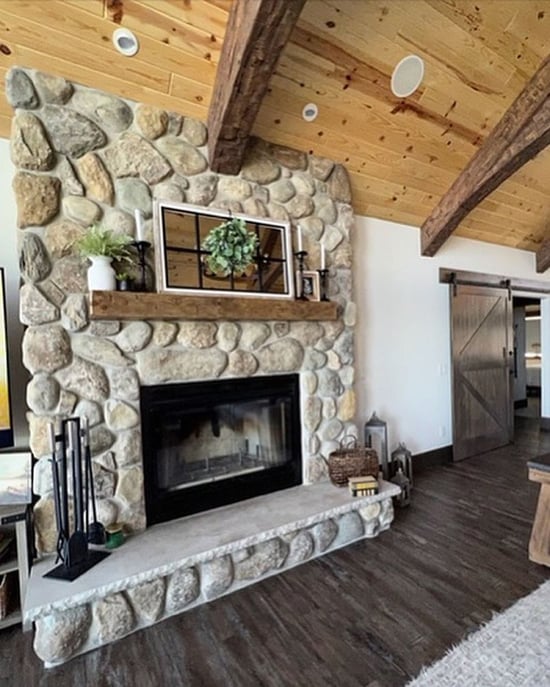 Old New England Rounds are a standout feature when combined with wood and natural light.
2. Decor
Even though fireplaces get the most use during cooler winter months, the atmosphere speaks for itself all year long. This project showcases how well natural stone (Old New England Rounds, in this case) and wood complement each other, and the decorative accents make it a conversation piece as well as a place to relax and warm up.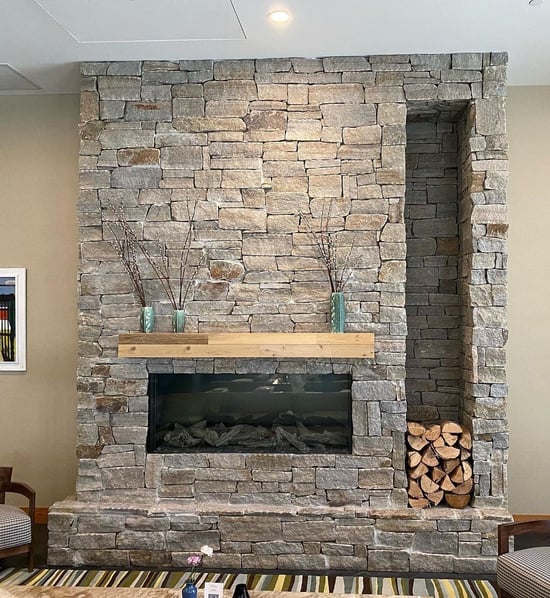 This Spruce Mountain Ashlar fireplace doubles as a storage area for firewood.
3. Special Features/Built-in Storage
Better organization makes any space look better! At the Lockwood Hotel in Waterville, Maine, the Spruce Mountain Ashlar fireplace design incorporates storage space for firewood, adding even more to the rustic feel. Taking advantage of available surface area results in a more integrated look that ties different needs and purposes together, all with a stunning appearance. (Stone provided by Gagne & Son.)
When designing an interior fireplace, making the most of the functional space is also a great way to complement the visual impact of the fireplace stone. A little bit of natural stone - and creativity - go a long way toward creating a memorable and useful space.
For more natural stone inspiration, download our catalog.