An interior makeover in a rustic style can be a truly evocative decision for any homeowner. Not only will it satisfy some of the most primal yearnings of guests and residents — desires of comfort, protection, and security — but it can also be a pleasant emotional journey for the decorator too. Before looking at fabric swatches or pulling out books of paint samples, consider the following tips to nail the perfect style.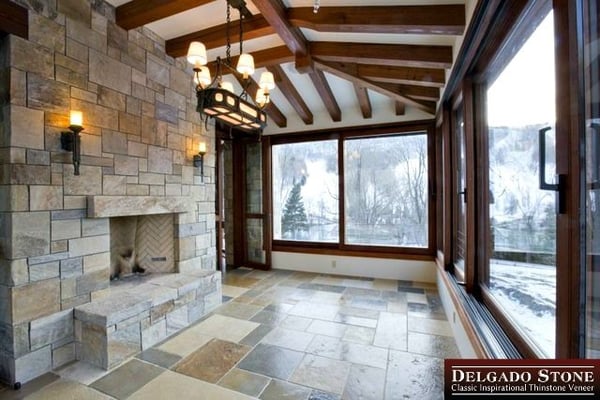 Sterling Tan Roughly Square & Rec Fireplace
Remember the Basics
The idea behind rustic decors is to take people back in time, which means decorators have to scale their vision to a much simpler era. The materials should be natural, the colors should be earthy, and the decorations should be recycled items. When people enter the home, they should instantly feel as though they're welcomed by the interior. The home should look as though it's been loved by many generations without looking as though it's weathered one too many storms. Straight lines, expensive modern furniture, and shiny accents throughout the home will work against everything that 'rustic' stands for.
Add More Wood
When in doubt, try adding more wooden items throughout the home. Ideally, homeowners should be looking toward distressed wood to get both a texture and color that screams rustic. The idea is that people can derive a sense of contentment merely from running their hands over the wood and feeling the knots and imperfections that make it so endearing. From the frame of the bed to the bench under the kitchen table, wood provides warmth to every room where it makes an appearance. Decorators can also whitewash their shutters or furniture to create a monochromatic look that's anything but boring.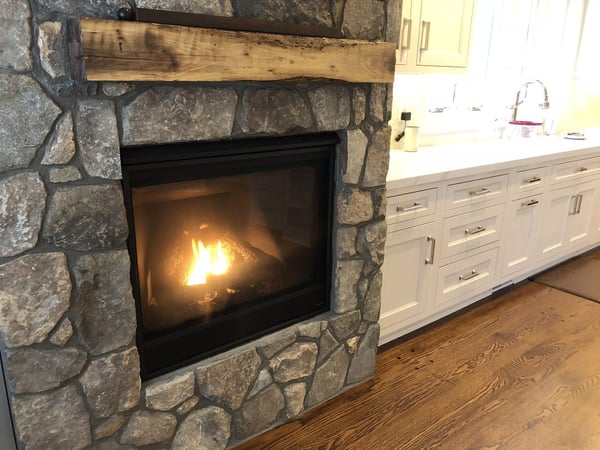 Natural Stone & Distressed Wood Fireplace
Create a Tactile Experience With the Right Materials
Rustic decor is supposed to make you want to take off your coat and stay a while. An easy way to do this is by choosing materials that are interesting and soothing to touch. As with distressed wood, select fabrics that are inherently irresistible. Velvet, lace, cashmere — these are all tactile materials and fabrics that beg to be felt. Decorators can also choose wicker items to take this important sensation to new heights.
Look to contrasts for a little extra charisma, such as a polished floor against stone veneer running down from a smooth ceiling. A stone veneer fireplace can inspire even the most hassled of people to take off their shoes, kick up their feet, and breathe easier. While it might be tempting to try and DIY some of these projects, consider utilizing the services of a professional when making these kinds of installations. The years of experience are worth their weight in gold when it comes to creating a new aesthetic in a home.
The colors and designs of rustic decor can go a long way to create an ambiance that is instantly beloved by friends and family alike. From daily life to major events, rustic materials can truly bring a room to life. Those who love to entertain may be surprised at just how important and well-received their events are once they're able to settle on a single vision. The impression that the right rustic decor makes may be undefinable but the good news is that it will be anything but forgettable.
About The Contributor
Preston Guyton is a native of the Grand Strand and Broker in Charge/Managing Partner of CRG Companies, and is a big proponent of homeowners customizing their space for maximum enjoyment.